Book review: eMarketing – the essential guide to digital marketing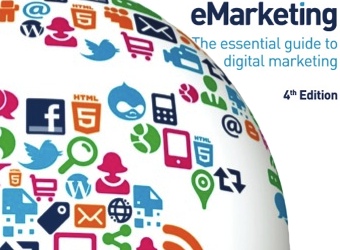 eMarketing – the essential guide to digital marketing
Author: Rob Stokes/Quirk Education
Weighing in at over an inch thick, this 'beast' is less of a book and more of a bible for the digital marketing world.
Accordingly, this is not going to be your average book review because I didn't read or evaluate it as I normally would, say, Seth Godin's latest publication.
In fact, I didn't read it cover to cover. It's not that type of book. eMarketing is a textbook, but not of the dusty, crusty variety (unlike most textbooks it's well designed and easy on the eye). It is very up to date – this is the forth edition since 2008 – which is pretty admirable given digital marketing morphs and changes at a pretty rapid rate.
eMarketing is comprehensive and a 'must have' for anyone wanting to gain a more thorough understand of digital marketing. It's 'required reading' for people working in the digital space, and 'recommended' for those involved in advertising, PR, social media and other areas that are 'touched' by digital. Having this book on your desk as a reference tool will keep you ahead of the game.
eMarketing is split into four core areas (I've included some of the topic areas which will give you a good idea of what's covered):
Part One – Think: digital marketing strategy, market research, crowdsourcing,
Part Two – Create: web development and design, writing for the web, mobile development,
Part Three – Engage: email marketing, online advertising, affiliate marketing, SEO/SEM, PPC advertising, social media, CRM, mobile engagement, and
Part Four – Optimise: web analytics, conversion optimisation etc.
Each one of these topics is introduced, explained, pulled apart and summarised in language that's easy to understand (including definitions of key terms and concepts – very important with an area like digital marketing which is awash with jargon). Importantly, it contains examples and case studies such as Zappos.com, Navteq, Nokia, Virgin Atlantic and Hyundai.
Reiterating: this is less the type of book you read cover to cover but ideal to have on-hand for reference. I have found myself dipping in and out of it over the past few months, reaching for it as a for when I needed more information on a particular area of digital marketing, or clarification of a technical term or phrase.