BRW best places to work 2014: IT and advertising companies dominate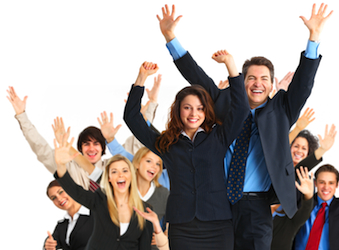 Information technology and advertising companies have dominated the BRW 2014 list of Australia's best places to work, with 40% of the top 25 being IT companies. Sydney-based software development company Atlassian topped the list.
This year was the first that BRW also put together a separate list of the 25 best places to work with fewer than 100 employees. Eight came from IT (32%), and advertising companies were far more successful on this list than on the other (seven companies – 28%).
In the list of larger companies, the advertising and health industries were represented with the equal second largest amount of companies, with four each (16% each).
In second place was last year's winner, financial services and insurance company, Optiver, and salesforce.com came in third.
The top three best places to work with fewer than 100 employees were health company The Physico Co, camping gear manufacturers Coleman Brands and Sidcor Chartered Accountants.
What makes Australia's best place to work?
Big business winner, Atlassian, creates Australia's best work culture with the following activities:
Allowing employees to spend some time working on their own projects,
using a 'mood-app' which can quickly identify issues,
executives hosting 'open-mic' time,
giving employees time to help their chosen charity,
paying new hires to take a holiday of their choice before starting, and
taking graduates to the beach for a week to have fun completing challenges and getting to know the company.
If all of that isn't enough, just some of Atlassian's office perks include a drinks fridge, boutique beer on tap, a pick'n'mix station, table tennis, a pool table, video games and board games.
Some top-25 companies respond
Adobe
IT company Adobe made the list for the second year in a row, jumping to 14th position from 37th in 2013.
Adobe managing director for Australia and New Zealand, Chris Skelton, said the company worked hard to create an inspiring and fulfilling environment for its employees.
"Our collaborative offices offer a fantastic environment where our team can thrive. Adobe is changing the world through digital experiences and attracting the most talented and creative people to our organisation is key to that."
MediaCom
15th place-winner, MediaCom's national people and culture director Alaina Hawley praised the company's "talented and passionate people".
"We are delighted to be recognised for the fourth year running as being one of Australia's best places to work. It acknowledges the hard work and commitment to developing our people, and the importance of creating an environment that people enjoy coming to everyday."
OMD
Media communications agency OMD has made the list for the sixth year in a row, this year coming in at 21st place.
OMD Australia chief executive officer Peter Horgan described the company's ability to make the list was "no small achievement" but also "no accident".
"We were the first media communications agency to be ranked in the listing by some margin, and our people mission to be 'The best place to work, and the place doing the best work' remains as relevant to us today as it was six years ago."
SAS
Business analytics software and services company SAS came in at 23rd place this year.
SAS Australia and New Zealand managing director, David Bowie, said the company's inclusion on the list was testament to its culture of employee empowerment.
"Our people see that their commitment and hard work directly adds value to both the success of our customers and the continued healthy growth of our business.
"During the past 12 months we have continued to implement new and improved ways to attract outstanding new recruits, and develop and grow all our talented people. We focus on employee feedback to identify opportunities for improvement. This has enabled us to build a culture that is defined by leadership, work-life integration, and an excellent work environment."
Zinc
Advertising company Zinc ranked 9th in the list of small businesses.
Zinc chief executive officer Peter Cleary said making the top 10 was great for both the company and its clients.
"Our vision at Zinc has always been to build the best company in Australia to work in, and that has always been our goal from day one.
"Being recognised as a great place to work isn't just a trophy for us in the pool room, it's something that our team gets behind, and is proud to be part of something bigger".
Female-friendly workplaces on the rise
BRW noted that Australia's best workplaces were more likely to have a woman chief executive officer than companies on the ASX100.
Seven of the top 22 companies were run by management teams dominated by women executives.
The survey that determined the list found some differences in approach between male and female executives and employees.
Female employees tended to agree more than men on the following points:
Management hires people who fit in well,
management has a clear view of where the organisation is going and how to get there,
management would lay people off only as a last resort, and
people avoid politics and backstabbing as ways to get things done.
Males were more likely than females to agree that they received a fair share of the organisation's profits.
"Gender also affects the more superficial side of being a great place to work – the perks of the job," BRW said.
"For example, while IT companies are known for office foosball tables and free beer, female-dominated Estée Lauder offers free monthly massages."
BRW's best places to work in Australia (more than 100 employees)
Atlassian
Optiver
Salesforce Australia
Universal McCann Media
MECCA
McAfee Security
Starlight Children's Foundation
NetApp Australia
Novo Nordisk Biotechnology
Dale Alcock Homes
kikki.K
AbbVie
Autodesk Australia
Adobe Systems Australia
MediaCom Australia
Xero Australia
Mindshare Media
PayPal Australia
Interactive
Mars
OMD
Estee Lauder
SAS Institute
Marriott International Australia
Stryker South Pacific
BRW's best places to work in Australia (fewer than 100 employees)
The Physio Co
Coleman Brands
Sidcor Chartered Accountants
Maxus
Ansarada
Campaign Monitor
Amobee
Ignia
Zinc
E-Web Marketing
Rackspace
InfoTrack
Kiandra IT
Maple Event Group
Re-Engage Youth Services Inc
Alluvium Consulting
Altis Consulting
Webqem
Sentis
MatchMedia
12WBT
The Web Showroom
IMC Financial markets
NetSuite Australia
Radiation Oncology Queensland