Building a master brand
Campaign: Masters Home Improvement brand creation
Client: Woolworths Limited/Lowe's joint venture
Agency: Hulsbosch
Background
Masters is a new DIY retail concept launched into the Australian market on 2 May 2011. Hulsbosch was appointed to work with Woolworths, in partnership with US home improvement giant Lowe's, to create the new Masters Home Improvement brand. Hulsbosch was entrusted with designing and overseeing all brand applications including the name, identity, signage and the complete in-store experience.
The idea behind the Masters brand was a strategic business move by Woolworths Limited to break into the $42 billion home improvement market, currently dominated by the Bunnings Warehouse chain owned by Wesfarmers. With Bunnings as the clear market leader, the importance of creating impact was key to the new brand's successful launch.
Masters offers a range of over 35,000 home improvement products to trade and retail customers include lighting, paint, flooring, kitchens, outdoor furniture, appliances, gardens, walls and windows, power tools, storage, plumbing and bathrooms, and its 12 current stores are intended to expand to a network of 150 sites across Australia over the next five years.
Objectives
The big picture challenge that faced the brand was entering a market which was lead by an established and sole competitor, Bunnings, and having a strong enough brand proposition that could promote interest and trial, thereby winning customers in order to build a loyal customer base.
In 2009 Woolworths appointed Hulsbosch to develop the name, identity, the brand's entire look and feel, store interiors, livery, uniforms, signage systems, collateral and merchandise. The retail brand was to be timeless, memorable and instantly recognisable.
In a market dominated by competitor brand, Bunnings, Masters needed to have a positioning that could instantly capture the attention of retail and trade consumers of both sexes of all ages and cultural backgrounds.
Having an existing relationship with Woolworths, Hulsbosch had an opportunity to evolve Woolworths' positioning strategy of 'Better quality, better service, better price' by empowering customers with information on how to select and use specific products.
With customer service identified as a key area that could set the brand apart, Hans Hulsbosch travelled to the US to experience hardware shopping at Lowe's and their competitors first hand.
Strategy
By immersing itself in the home improvement market both nationally and internationally, Hulsbosch armed itself with extensive research to develop the Masters name and visual identity.
The solution for the name, 'Masters', came from a simple insight. If you want to build or renovate your home or business, who do you trust to do the job? Answer: the master builder; the master painter; the master craftsman.
Woolworths recognised the values inherent in the name. It is synonymous with excellence, skill, professionalism, trust, guidance and artistry and backs up the Woolworths positioning from which Hulsbosch had borrowed inspiration.
So too, it could connect with both staff and customers alike empowering them with clearly defined goals to be 'masters' of customer service and their DIY projects, respectively.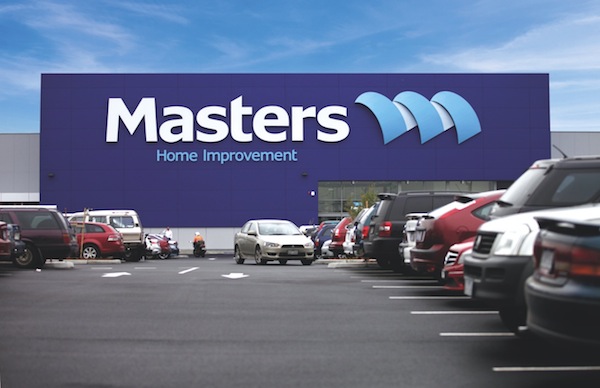 Execution
The visual articulation of the brand identity was inspired by the turning thread of a drill-bit. The forward motion symbolises the search for a better future and the colour of dark blue is the tradesman's colour, chosen to represent the brand.
Through collaboration with Leffler Simes Architects, Hulsbosch created bright, airy and spacious store interiors. Stores are brightly lit and colourful with polished concrete flooring to place more emphasis on attracting female shoppers.
Buzzers are located around the store which, when pressed, alert a nearby staff member to that location to assist customers. Customers can use pagers to enable them to continue shopping while their paint is tinted, and selling more 'non-hardware' lines such as white goods, as well as having McDonald's restaurants and McCafés in selected stores are all intended to create a completely satisfying in-store Master's brand experience.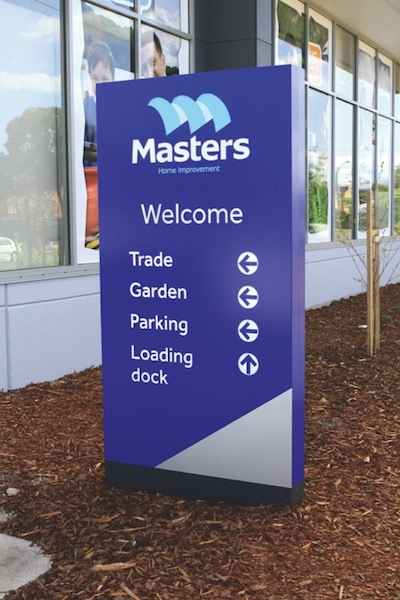 Stores have defined areas for trade and retail customers, and there is a consistency of message articulated through a distinctive visual language from the store's exterior signage, which sees the identity brought to life with a 3D treatment, to the way-finding car park signage, high level in-store corporate banners, in-bay signage and self-service checkouts.
To develop the educational signage system, Hulsbosch worked with dozens of client vendors, breaking each product category down into simple 'how to' explanations. The team developed a colour strategy to classify products by task, type and quality. In all, Hulsbosch designed and implemented over 3,000 internal signs. Other brand iterations included truck livery, merchandise, staff uniforms, credit cards, name-tags and brochure work.
Results
Half-yearly results showed Masters clearly outstripped Bunnings in growth, posting a 16.4% increase in sales figures in the six months ending 31 December 2011 – almost two and a half times the growth experienced by Bunnings.
In Woolworths Limited third quarter sales results for the 13 weeks ended 1 April 2012, it reported an increase in total group sales of 3.8%, to just over $14 billion.
While most of the company's divisions saw modest improvements, Masters was once again the stand out of the group, posting a 29.4% increase in sales, from $163 million to $211 million, year-on-year.
The launch of Masters has generated a significant amount of press coverage, which is likely to translate to increased brand awareness over time, and the brand launch has been welcomed by the industry as it introduces competition in a sector that was being driven by one major player.
Additionally, the company has announced that it will be launching a Masters Home Improvement transactional website in the fourth quarter of the fiscal year as part of Woolworths' new 'multi-option offer'.
The below video features an interview with Hans Hulsbosch detailing the inspiration behind major aspects of the brand creation as well as briefly illustrating its development.