Burberry top brand in cyberspace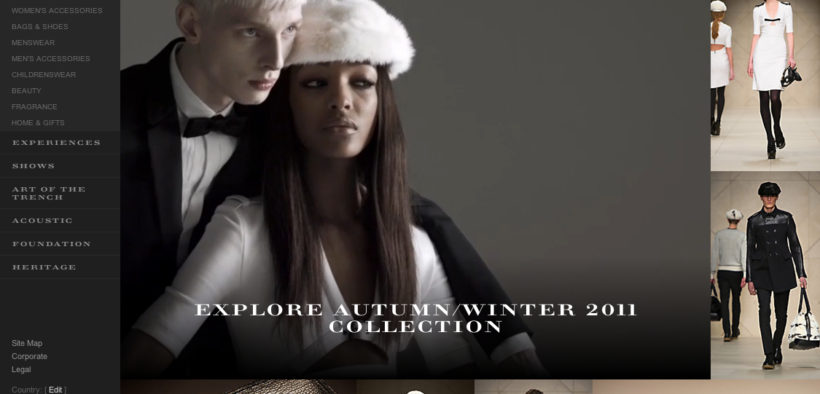 Take a walk down New York's Fifth Avenue, Sydney's Castlereagh Street or even a trip down to Victoria's Chadstone Shopping Mall's 'golden strip' and you'll see how the world's top design labels battle it out for the most stunning window front and shop designs.
Louis Vuitton never fails to feature a travel theme, littered with its renowned monogram, while Chanel wows with classical style. However, that will no longer suffice. For luxury retail brands, new media is the next warzone.
With the growing number of consumers choosing to shop with clicks rather than heading into a store, websites, blogs and apps are now an integral part of many luxury labels' marketing and sales strategies.
According to the 'Digital IQ Index 2011′ by specialist think tank L2, Burberry tops the charts as the leading brand in cyberspace.
In the last year, Burberry not only saw its Facebook fanbase expand by 448% to over eight million people, the brand also uses Facebook and Twitter for live streaming of runway shows, has a strong presence on Instagram sharing pictures, and has its official video reaching over 1.8 million views on YouTube.
Kate Spade, a new entrant to the three-year-old annual survey came in second, scoring high for its active social media voice, while American label Coach gets awarded third place for its work in the blogosphere and in providing an enjoyable website experience.
Accoding to Scott Galloway, founder of L2 and clinical professor of Marketing at NYU Stern School of Business, "the [fashion] industry has also been among the first to pilot marketing initiatives on Foursquare, Tumblr, and photo-filtering and sharing app Instagram."
In fact, Galloway singles out Ralph Lauren's 4D building façade and Ermenegildo Zegna's virtual store on the iPad as 'bleeding edge'.
"However, most fashion brands still approach digital as a series of pet projects rather than presenting a coherent multi-platform strategy," says Galloway. "Although 94% of brands in the Index have a presence on Facebook, one in five brands still lacks e-commerce capability. ROI-proven tactics such as email marketing CRM and search engine marketing are underutilised, and site navigation is still an afterthought — 30 percent of brands lack basic site search."
Two of the world's most coveted labels, Prada and Hermes, were cited as the biggest losers of this year's study.
While both brands were highly commended in 2009 for their innovation foray into new media, today, their websites are labeled as 'uninspiring' and 'disappointing'.
"We believe these brands are victims of their own success, believing iconic status can be a substitute for innovation and investment online," says Galloway.