Campaign weekly wrap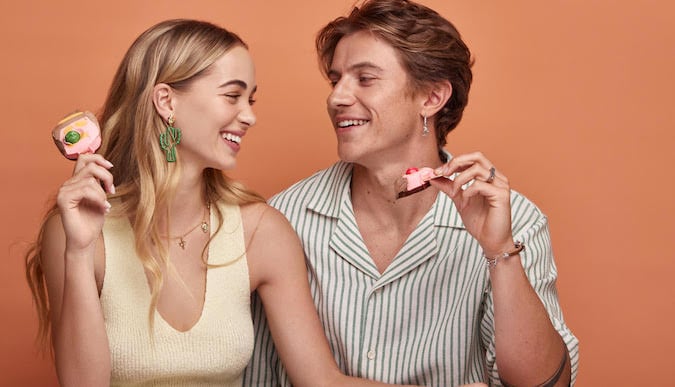 Wear your love of ice cream on your sleeve, or at least on you somewhere! Streets has teamed up to make some ice cream themed jewellery. Smirnoff and Jungle Giants join forces to find some emerging artists, and TikTok shows how stories can be told through their platform.
Ice cream brand Streets dabbles with jewellery
Iconic Australian ice cream brand Streets has found a unique way to show off your love of ice cream. Partnering with Couture Kingdom, it's releasing a 54-piece pop-culture collection of jewellery, including pieces honouring Bubble O'Bill and Paddle Pop. 
The Bubble O' Bill 'Pastel Cowboy' range consists of 30 pieces and the Paddle Pop serves up 24 delicious 'Rainbow Safari' pieces.  Each piece in the 54-collection is gold plated, crafted with a high shine finish in either white or yellow gold. The range is made up of necklaces, earrings, bracelets, cufflinks and rings and are on sale now. They'll set ice cream lovers and trend setters back between $25 – $89.
Smirnoff teams up with The Jungle Giants
Local band and ARIA number one holder The Jungle Giants teamed up with Smirnoff this week to announce a new initiative – Ads for Artists. In support of the musicians and artists who suffered at the hands of on-going restrictions on live music, the vodka brand and The Jungle Giants will be giving away more than $1 million of advertising placements.
At the hands of the band, The Jungle Giants have been tasked with finding Smirnoff's new sounds of summer. Twelve emerging artists will be chosen and will appear on Smirnoff's new Seltzer product's billboards, YouTube, Spotify, Instagram, Facebook and Snapchat.
The campaign will go live in January 2022.
TikTok launches intriguing new campaign that "you just have to see"
TikTok has launched a major campaign, and it features an unexpected star. Culinary icon and entrepreneur Martha Stewart cameos in the campaign, as well as some of the rising stars in local creator talent.
The 'You Have To See It' campaign showcases incredible storytelling that is shared on TikTok. From baking to cleaning, comedy, DIY and life hacks, the platform has no limit when it comes to creativity. The point of the campaign is to show the incredible depth and wealth of content that has organic reach through the platform. 
TikTok is scoped to become the number one active used social media platform in Australia next year, so this is only the beginning of what's to come.