Career movements: January to March 2015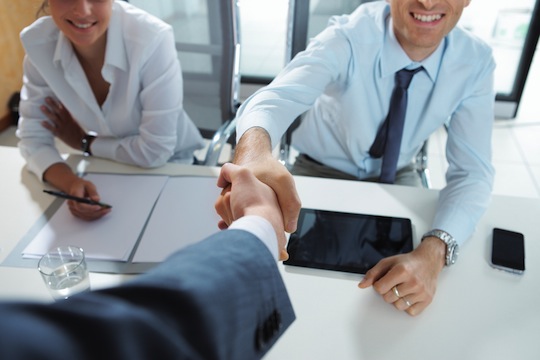 Here are the latest career movements of the past few months in Australian marketing. 
Marketers
Mike Wehrs has joined Appster as global CMO and head of US operations. The former Microsoft executive is tasked with driving the company's US expansion, global partnerships and consolidating Appster's marketing function.
Linda Deubel has been appointed as the new director of brands and marketing for BBC Worldwide Australia and New Zealand (ANZ). She replaces Melissa Madden, who will be moving to the UK for a new role at BBC Worldwide.
Dave Malcolm has been appointed as the marketing director for GoCatch. Malcolm previously held the head of marketing and PR position at Rockstar Games ANZ.
Debitsuccess has appointed Toni Rennie as marketing manager. Rennie has previously worked with Marbletrend and SCA Hygiene.
Nicolette Onsley joins Val Morgan Outdoor as marketing manager. Previously at NBN Co., Onsley will manage communication and maximising marketing efforts.
Fastaway Couriers has appointed Simon Sproule as global marketing manager.
Professional bodies
Murray St Leger has announced he will be leaving as CEO of the Copyright Agency in July 2015 to return to the UK for family reasons. The board is commencing a recruitment process for a new CEO.
ADMA has announced Jeannette Scott will be the new director of legal and regulatory affairs. Richard Harris has been appointed as the new commercial director and will oversee membership, education and partnership/sponsorship divisions.
Darren Wooley has succeeded Graham Wright as chair of The Australian Marketing Institute. One of his first projects was to spring a service enhancement levy on members.
AANA has appointed Simone Brandon to director of policy and regulatory affairs. Brandon was the former deputy general counsel for Vodafone Hutchison Australia. Former senior marketing manager of Telstra, Lucy McKee, has been appointed to the newly created position of general manager, marketing. And Katrina Harrison has been appointed member relations manager, responsible for strengthening members relations, programs and services for AANA membership.
The International Advertising Association (IAA) Australia Chapter has announced five new directors will join the board of directors for 2015: Rochelle Burbury, principal, Third Avenue Consulting; Adam Donnelly, managing partner, DDB; Rowena Newman, head of media ANZ, RB; Dr Martin Williams lecturer of advertising, marketing and corporate communications, UTS; and Chelsea Wymer, national trade marketing director, Fairfax Media.
Agencies
Designworks has appointed Brad Doble as managing director, Australia,
Kirsten Galliott will join Medium Rare Content Agency as editor-in-chief of Qantas' print and digital publications and Travel Insider website,
STW has appointed Rose Herceg as chief strategy officer,
Brightcove has announced Mark Blair has been promoted to VP of Asia Pacific role. Blair will replace Dennis Rose, who has been moved to a global SVP role at the company's Boston's headquarters,
Hulsbosch has appointed Brooke Hinman as group account director,
STW has announced the resignation of chief operation officer, Chris Savage,
The Explainers has appointed Nathan Fitzpatrick as commercial lead,
Noisy Beat announced Christine Isaac has been appointed as joint creative director, Olga Budimir as general manager in London and Lucy Lloyd has been promoted to digital director,
Mark Gandy has been appointed as Bluemarlin's new global brand director, and
DT has appointed Saul Flores to general manager in Sydney. David Pountney and Kacey D'Odorico have been made managing partners and Tim Matheson chief operations officer.
PR Agencies
Ogilvy PR Australia has appointed Nino Tesoriero to director, Ogilvy Corporate, and
AMPR has announced Lisa Curtis will join the company as general manager. Stephanie Taylor will lead the health and lifestyle section.
Media Agencies
ZenithOptimedia has promoted Jo Fawkner to Melbourne investment director,
Brandfit has made new appointments to its team, appointing Clare Whitman as strategy manager and Sammy Dalglish as marketing manager,
OMD has announced several new appointments: Nathan Young to business development and marketing director, Daniel Clark to business director, Thomas Hutley to head of OMD Word and Jeremy Clark to head of Fuse, and
Ai-Media has announced its new management line-up. Daniel Abrahams will take on the role of chief operating officer, Stephen Muldoon has been appointed as live operations manager, and Namik Sedlarevic as offline operations manager.
Media
Pacific Magazines has appointed Darren Kerry as head of digital and innovation,
Mary-Ellen Mullane joins SBS's National Indigenous Television (NITV) as its new senior commissioning editor,
Rebecca Caratti has been appointed to editor of Buro 24/7 Australia,
Vice has named Ellis Jones as the magazine's first female editor-in-chief for America. Alex Miller has appointed to Vice's global head of content,
Crocmedia announced the appointment of Tim Griffiths as commercial director,
The Australian has announced five new leadership appointments: Stuart Fagg, head of digital product; Andrew Webster, digital editor; Rod Dalton, editor for tablet, mobile and emerging platforms; Angeline Nicholas, digital sales manager for The Australian and Business Spectator; and Jo Barton, head of strategy and partnerships at The Australian,
News Corp Australia announced several new appointments: Craig Herbert, has been promoted to mX editor-in-chief; Emma Wardill to mX digital editor; Melissa Matheson to a senior writing role with The Sunday Telegraph; Sylvia Bradshaw to managing director of News Corp in the Gold Coast; and Kathryn Carter to NSW sales director,
Fairfax Media has announced Lucinda Burtt will be leading the newly established mobile creative unit as mobile producer, with Basten Val joining the team as mobile creative designer.
Ross Blackam has been named Fairfax's national sales director – performance, data and programmatic, and
Kristiaan Kroon has been appointed as Fairfax's director of commercial development and partnerships for its Australian publishing media division.
Market Research
Jeff Sanders has been named CEO of Beyond Analysis, and
Ipsos Brisbane has appointed Kathy Benson, Kylie Brosnan and Anna Eden as senior research directors.
Events
Swarm has announced the appointment of six leading figures to its inaugural board to join co-founders Alison Michalk, Quiip CEO, and international online communities expert Venessa Paech. They are: Anne Shea, University of Melbourne social media manager; Matthew Cox, Dialogue Consulting managing director; Nicole Jensen, social media strategist; Scott Drummond, Medium Rare content agency social strategy director; Nicole Thomas, SANE Australia community manager; and Sarah Hawk, FeverBee head of community.