City of Melbourne taps social analytics to enhance Fashion Week experiences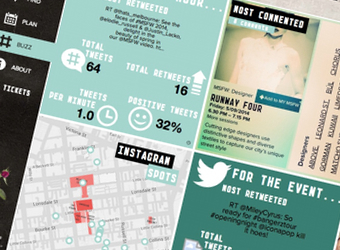 IBM and the City of Melbourne have kicked off a three-year partnership with an interactive online hub and social analytics effort for this year's Melbourne Spring Fashion Week (MSFW).
The online hub aims to enhance the event for attendees, and marks the beginning of a three-year partnership between the City of Melbourne and IBM as the 'Official Innovation and Technology Partner' for MSFW.
Social media analytics technology will provide insights for understanding sentiment around popular shows and events across MSFW, to help plan future events.
IBM is working with the City of Melbourne throughout this year's MSFW, which runs from 29 August to 7 September, to leverage the benefits of mobile devices, social media and data analytics technology for event goers.
An interactive website, hosted on IBM Cloud, will enable consumers to plan their evening (using any device) by viewing the event schedule, plotting their shopping experience on a virtual map. The site will also allow them to receive event updates, retailer special offers and personalise their entire experience over the course of the event.
Chair of Marketing Melbourne, Councillor Beverley Pinder-Mortimer, says, "We are excited to be partnering with IBM for one of Melbourne's most iconic events: Melbourne Spring Fashion Week. This year, we will get to see first-hand how technology can create unique experiences for Melburnians, as well as businesses across the city."
IBM will use social media analytics technology to analyse online conversation across Twitter and Instagram throughout the whole event. The analysis will provide insights for City of Melbourne to understand sentiment around popular shows and events across Fashion Week, to help plan future events.
Brock Douglas, strategy and analytics lead for IBM Australia says, "In a trend-based industry like fashion, understanding consumer desires is crucial to market success. Using insights from big data analytics, we have helped transform the way businesses engage with their customers to lift the consumer experience. Through this work with MSFW, IBM is committed to helping retailers stay ahead of the trends and the City of Melbourne get closer to the wants of their stakeholders."
The real-time analysis will be available on melbournespringfashionweek.com.au for shoppers to see what's trending.