Convenience the key as Target rolls out new generation of stores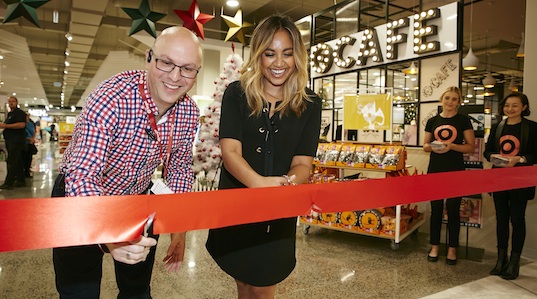 Target has now opened the third of its 'next generation' stores, at Eastland Shopping Centre, in Melbourne's outer eastern suburbs.
In response to disruption of traditional retail by online shopping and changing consumer demands, Target is aiming to rejuvenate offerings through the inclusion of personal shopping assistants, in-store cafes, garment alteration and a click and collect service.
Since the store's opening on 29 October, feedback has been positive from customers who are enjoying the new systems and interactivity.
Marketing spoke to Target general manager of corporate affairs and PR Kristene Reynolds on Monday to see how the new stores aim to help Target adapt to changes in consumer trends and demands.
Marketing magazine: What are some of the key differences in these new stores which set them apart from existing Target outlets?
Kristene Reynolds: This is our next generation of stores, the third one actually, we did Werribee, Chadstone and Eastland and basically it is to offer that easy to use facility for our customer. The features slightly differ from store to store but if you look at Eastland, we've got a Style Me Target personal shopping service, in which we have dedicated stylists. They will talk to customers about the latest fashion, they will style them with what looks good, take them to a special area where they will fit them, and talk to them, and go through all fashionable pieces that are on the floor. That's a really new point of difference for us. That's a free service. You can book in on that service, or you might be working the floor and one of our Style Me stylists will come and approach you and start talking to you. That's a really good one that's doing really well at Chadstone, so we're really excited about that. We also have a digital photo kiosk, which has a t-shirt printing station, we have a kids play zone, we have a great instore cafe. So while mum's been shopping for the last half hour or so, she might feel like she needs a quick coffee to recharge her batteries, so she's able to sit in the cafe and enjoy a coffee or a snack. We also have an instore clothing alteration service as well. There's a few key facilities that we're looking with regards to trying to give that more personalised style but also around convenience.
MM: Were there any particular problems or main areas in Target stores which needed attention, that these new offerings aimed to address or improve?
KR: I think it was all around convenience. When you look at who our customer is, mum is a part of our brand, and she's working part time, runs the household, but in saying that, dad has also picked up a bit more of the responsibilities as well. She's really busy, she's increasingly busy, she's quite time-poor, so she needed from us a one stop shop, where she could absolutely have that convenience and know that everything was under that one roof for her, so she could get what she needed in that short amount of time that she had. That's kind of where we're building on that, it's more around convenience, giving her a service that she probably wouldn't expect from us, but in the one shop.
MM: How would you describe today's modern Target shopper in comparison to the Target shopper of 10 or 15 years ago?
KR: They're busier, they're time-poor, they want to make sure that wherever they go, they know exactly what they want, and they know exactly where they can get it from.
MM: Were there any other systems you had in place to attract online shoppers, modern shoppers, perhaps people who don't already shop at Target, to these new stores?
KR: We've worked the technology piece into it as well. We've recently launched our app which is getting some great signup from users. At night, mum can browse the website or look at the app, pull together a list, or know what's available online, and then knows that she can go into the store and find it instore, find exactly what she's looking for when she leaves the house, based on the technology that she's been using through the app and website. We've also got Click and Collect. That's a click and collect service we've got in trial stores at the moment. It's reducing the wait time for delivery from days to hours, about 77 Target stores are live with Click and Collect, you can order online, and have that option of either picking it up in a specific store, or getting it delivered. That's just trying to cut back on delivery time but also offering convenience. Also, say you go into a store, and you're looking for an item that we don't actually have in that store, we have the assisted ordering kiosks as well. That allows the customer to order products which aren't in stock. We have them in 52 of our stores, and that number is about to increase as well. Again, it's all about convenience, making sure we're one step ahead for our shoppers and for mum. To make sure that in this busy, crazy world we all work in, we're making her life that little bit easier.
MM: Now that you have started launching these stores, does the customer feedback play a big role in opening the following stores, or are the new systems set in stone ready to go?
KR: We're always here to learn more. We take our customer feedback very, very seriously, and we build on that. Whenever there is a complement or a complaint, that is distributed to the appropriate people. Customer feedback is so important, so critical for our success.
MM: In terms of the rollout of the new Target stores nationally, how are these being promoted to attract public interest?
KR: We do ads in papers, print advertising, that's the main driver of how we let people know, and also we'll do some local area marketing as well, in the area that we're opening. We'll work with where the shopping centres are as well. There's a lot of local advertising that we look at promoting these as well as through print and flyers, also some radio as well.
MM: What do you see as the future of the family department store retail?
KR: It's all around innovation, if you look at our new format, it's one way of showing innovation, but it can also demonstrate that we can be different in this department store space that we're working in. If you look at what we've introduced with regards to the Style Me option, the modern in-store cafe, even the T-shirt printing station. I think it's just making sure we're convenient, but also innovative. We do that not only within our store, but also through the app that we've just launched.
MM: In terms of a growing demand for online shopping and rapidly changing trends in retail do you see Target fitting in well?
KR: Absolutely, as long as we continue to listen to our customers, and provide great quality, great fashion at an affordable price, then I think we can offer all that for our customers.
Photo courtesy of Dave Field