Cudo changes hands in further consolidation of daily deals space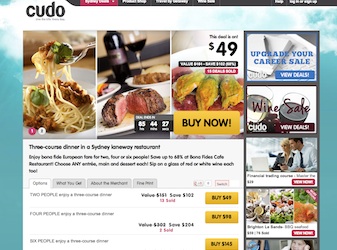 Ecommerce group AussieCommerce has today announced its purchase of Cudo, taking over the business from Mi9.
AussieCommerce is the owner of Deals.com.au, TheHome, Ouffer.com and Pop.com.au and now owns the Cudo business outright after purchasing it from the Microsoft and Nine Entertainment Co joint venture, Mi9 (formerly Ninemsn).
With the acquisition of Cudo, AussieCommerce is forecasting 2013 sales of more than $100 million across the group.
"Combining Cudo with the Deals.com.au and Ouffer platforms means that we can give our merchants access to a much larger audience," says Adam Schwab, managing director of the AussieCommerce group.
Cudo CEO Mike Sneesby welcomed the sale saying, "This is the perfect fit for Cudo and for all consumers who love buying online. In an industry that continues to consolidate, it makes sense for AussieCommerce to take the Cudo business forward. I'm also pleased to announce that Cudo and AussieCommerce will maintain a long-term association with Mi9 through an ongoing marketing partnership."
The deal enables AussieCommerce to combine operations and optimise the businesses through cross-promotion and increase market share.
Deals.com.au was founded in 2010 and merged with Ouffer.com in 2012 to form AussieCommerce and has since expanded with sites TheHome.com.au and Pop.com.au. A new travel website, LuxuryEscapes.com, specialising in premium overseas hotels, packages and cruises is expected to launch in the coming weeks.
"We worked extremely hard to put some real rigour and process around group buying by putting customer service at the forefront of the Cudo experience. We're confident that AussieCommerce will continue to ensure Cudo's customers receive excellent customer service and support," says Sneesby.