Ending the disconnect between branding and interior design
Brand strategy underpins every architecture and interiors project by Fady Hachem's agency, Hachem, but he's one of the designers defying industry norms. A disconnect exists between designers and branding, he believes, and he's committed to combatting it. Hachem credits well-researched and thoughtful brand strategy for his self-described "very high success rate" for bold redesigns of Melbourne venues including Bond, Adelphi Hotel and Mon Bijou, and architectural projects such as Ecoville. Marketing finds out more in this interview.
Marketing: Can you start off by telling me a bit about your approach to design and how branding comes into that?  
Fady Hachem: When I first started I actually had a degree in graphic design, so I've come from the idea of branding, and then I moved into interiors and architecture. And I felt there was a disconnect between what we were producing from a design perspective and what the actual branding was. What often happens is the client will come and engage an architect to do something and then they'll go and engage a branding or graphic designer to do something else and there's a disconnect between the two. For me it was always about, 'What's the initial idea?' and that's a branding thing. I always start from the branding ideals, what the project means, and that informs the design.
From a branding perspective, we go in there, we delve into what the brand needs, and that includes research: what's the target market, what the consumer expects, what's the edge and also what we can value-add, through the design or through the experience.
M: One of your well-regarded projects was the redesign and rebrand of the Adelphi Hotel. Can you tell us about that project?
FH: They commissioned us to do the interior and there was no discussion about the brand, it was just, 'Okay, come in and re-do the interior'. They had a hotel, it was failing miserably, it was in receivership twice, it just was a bad project. We started questioning, 'What are you actually marketing? What's your brand? What's your demographic?' They really didn't have the answers, so they were sort of shooting in the dark as well, and they thought the design itself would just make it successful. I mean, it really is a key component but that doesn't mean that if you have a beautifully interior designed hotel that you're going to be successful, because you see a lot that are beautiful but they fail – it comes down to what the brand means. Then I sort of educated them into actually going for a brand strategy first and then delving into the interiors.
My first protocol was to investigate the reasons why it failed. It had such a great start, you know, 20 years ago, DCM [Denton Corker Marshall] converting this old industrial building into this hotel. The trend was this warehouse conversion, from warehouse into dwellings or apartments. They had a great success, it was groundbreaking for that time. They had an overhanging pool and all the interiors had kind of like had this industrial, clean, stark look and feel. But that was 20 years ago and obviously trends have changed. It changed hands a few times, and I think over the years it got derelict, there was no love. The other thing was the staff had sort of all but given up as well, and once that creeps into the culture, it's only downhill from there.
We investigated the history, we spoke to the previous owners, the new owners, all this research that was involved and it all comes from the branding point of view. Nothing to do with the interior at the moment but we're just trying to figure out why it's failing. One of the other things we did is conduct a survey, so I took in about 20 people to experience the hotel for a night, that included some of my staff who were working on the project, their partners and a few other key people, just to see what are they offering in this hotel. You need to experience something before you start designing, in my opinion.
M: So out of that, after all the research, you put together some ideas and started to form what the interiors could be?
FH: Yes, well first of all what came out of it, was the Adelphi name still resonated but the actual brand image of Adelphi had failed. No one actually had any positive [comments]. There was positive feedback from old clientele that remembered the Adelphi Hotel in its heyday and how wonderful it was, but all the new generation had no idea. They knew the name but they didn't actually know what it was about.
So in order for us to change everything and give it a new start we had to come up with one big idea, something that would break that negative stigma. Being in the Flinders Lane precinct, which has become the Mecca for food and art I think in Melbourne – it's got some of the best restaurants in the country, Chin Chin, Coda, Movida – it had a very distinctive, understated element to it, so I wanted to capture that. But what I did find out through the research is none of them had been involved from a food perspective in desserts, and I thought that was a niche market that we could break into. Out of that came the idea of, 'What about if we just convert this into a dessert hotel?' So we started doing research into dessert hotels around the world and we couldn't find anything at all. So it was an idea, and it came through the research and seeing what that district was about. When I presented it to the new owners, they loved it but they were very nervous because it was such a bold idea. I did say to them, 'You've got to break the market, you're a boutique hotel in a very competitive market. What's your edge? Here's the history of the Adelphi Hotel, so doing an interior design to make it look pretty doesn't necessarily mean its going to be successful. You need to start marketing or have a brand that can actually resonate with the public'.
The other thing was they had to get an anchor tenant in my opinion, a restaurant on level two. So what better anchor tenant than a dessert restaurant? Then we created the Om Nom dessert restaurant, and it had its own marketing strategy, backed by [head chef] Christy Tania who was creeping up to the food popularity as a dessert chef. That also helped to develop people's perception of the hotel as well, because that experience at Om Nom also carried through the experience in the hotel. That whole strategy did inform the design, so we ended up doing the rest of the interior design based on that dessert concept.
It's not Willy Wonka-type design, its more refined and luxury, but it has that dessert element to it – the colours, the textures, the tones… and it was also about the five senses, because one thing that came out of our strategy was, you're in a hotel, it's all about the sensory experience. You've got dessert smells throughout the hotel, we accentuate the leather smells as well, and for the touch experience it's very textural, and there's the sound component as well. The owner, Dion Chandler, is really open-minded too, so we're having a client that actually thinks outside the box. We also had a discussion about what kind of experiences people were going to have.
M: Going back to what you said at the start: that you found interior design/architecture clients have that disconnect with branding, why do you think that is? Where does it come from?
FH: That's a good question. The disciplines of interior design and architecture, come from a longer history than branding or graphic design, so that whole thing about understanding what the brand is you're not taught in university. So there is that immediate disconnect. I felt that disconnect doing my first major interior job, Bond bar, and this was 15 years ago I think.
I did the interior but I started learning that the branding ideals are just as important, because it really does define what the project is. Clients come to me often with the planning for an apartment block and they want to brand it, and it's like, 'Well what's your point of difference?' and they have no point of difference – it's just an apartment block. What we often end up doing is a branding strategy and then changing the design to suit the strategy. For us it's about the success of the project – you have to really understand what you're trying to sell: 'Alright, you're selling an apartment, but so is everyone else in that market. What's your point of difference?' Really minimising the risk and increasing the chances of success, we do that through the branding.
M: Going back to Bond, in your biography that I was sent, it says you convinced the owners you could develop the interior concept and you were just straight out of uni. That sounds pretty bold. Could you go through that story?
FH: I was at the end of my uni, I was studying graphic design and working at a venue as the doorman. The client was actually looking at the place down the road, and he didn't have a lot of money. It was about 600 square metres; pretty big for a bar in Melbourne 15 years ago, and it's under a basement of a carpark. The rent was cheap, he wanted to do it, and I just put my hand up and said, 'I'll do it', and we just struck a deal. I did it for basically nothing and for me it was more of an experience of what I could take out of it, and I designed it and also built it. I basically aged 10 years in two! But for me, I don't back down, if I've got something I want to do, I just do it. Now I think, 'How bold was I back then?'
It was really successful. The brand came into that – the whole curvature of the ceiling was really groundbreaking back then, and it had good accolades because it was so different. I realised from then if i can do something different its probably better than doing something safe. so go bold or go home, pretty much.
M: Do you get the impression that your approach to design is unconventional in that you're so in touch with the branding side of things? Or are there other designers out there that are getting on board this and helping the clients in that way?
FH: I think when I first started, people thought I was crazy. There were all these territories: if you're in branding and graphic design, you don't go into interiors. It's actually merged now. You get a lot of architecture firms hiring graphic designers to be part of the process, so the mindset has changed. But I still find it hard to find someone who's skilled in all three disciplines, but the lines are becoming blurred now, which is a good thing for the industry. That's why I think you're finding the level of design and branding at a much higher level now than it was, say 10 years ago.
M: Do you see that clients' expectations are changing as well? How have you seen that working across the course of your career with lots of different clients?
FH: I find clients don't actually really understand what the process involves, either in interiors, architecture or branding, and from branding its sort of like this unattainable value, because when you're building an interior, you've actually got physical materials you're buying that you can physically see but with branding its kind of this mystery. But I'm finding clients are becoming a bit more aware, a bit more savvy. Because of social media, you find people are being drawn to better ideas, more unique ideas, and then clients see that and then they see value in that because of the comments that are coming out. Back 15, 20 years ago, internet was scarce, so really it was just word of mouth and from people that would talk about a nice interior but branding was sort of left behind.
The dessert hotel's getting recognition worldwide, and that draws attention to a project where 15 years ago it was more local.
M: What other interesting projects are examples of this branding approach to design?
FH: We did Mon Bijou actually before we did Adelphi, which was the function space. It was failing because originally it was just so narrow and not practical, and they went through five design changes and ideas before they engaged me, which was bizarre.
When I got there, the entire brand strategy that they had was just wrong. So we turned the whole thing into like a French jewel, art deco jewellery, and because its a function space, it generated good business particularly with weddings, and we knew that the wedding market was a good market to get into particularly in the city. This space was quite unique, it has great views, but people are going there I think simply because of the brand and design and the uniqueness of what they offer.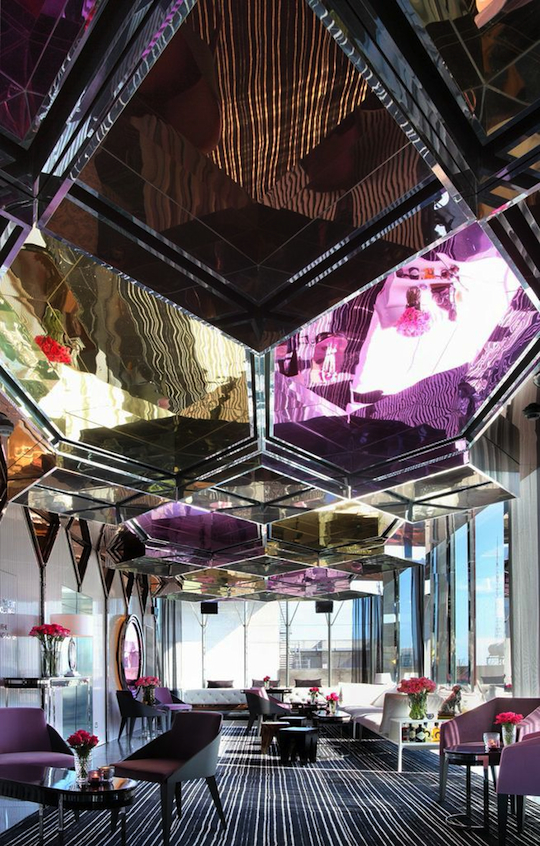 On more of a larger scale, the Ecoville project [in outer-west Melbourne suburb Tarneit]. There was this subdivision, this was probably five years ago. These subdivisions where they do housing estates are quite sad if you ask me, there's no love – it's just about cutting up parcels of land and selling it off. We got this client with 365 lots, who was really struggling to sell them, and again, we went through this whole branding strategy before we even touched the architecture. We just looked at it and we thought, 'Why would you want to live there anyway?' People down the road were selling properties that had better infrastructure.
So what we did is we actually convinced the owners to give up 12 parcels of land, which was really hard for them to do, for us to convert into a public park. It's got a sustainable edge to it, and it's a community park for the residents owned by the residents. By doing this it sort of generated interest. And we ended up underpinning it with architectural feature, which is a civic building, which has this beautiful steel work, a really unusual architectural piece for the western suburbs, usually they do really cheap and nasty stuff, so we actually went overboard, but by doing that it actually drew attention. They started selling blocks 40% more than the neighbours – a complete turnaround. Because when we went to the market with this project that had a community park, a civic building, an amphitheater – all these things that involved community ownership – their competitors weren't doing that. Again, we didn't touch the architecture before we knew what we were trying to market.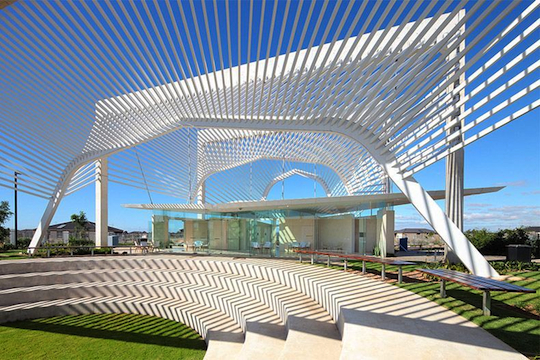 M: Thanks for sharing these stories with us, Fady.
FH: Thanks for that, I really appreciate it.