Most shareholders of Australia's big four banks do their banking elsewhere
Less than half of shareholders in Australia's big four banks are also customers with them, Roy Morgan research data has revealed.
While 1.5 million Australians own shares in one of the big four, only 41% of each bank's shareholders are also customers of that bank.
Commonwealth Bank of Australia (CBA) shareholders have the highest customer loyalty but it still sits at less than half, 49%.
Breakdown of CBA shareholders' banking:
49% CBA,
26% Westpac,
22% ANZ, and
20% NAB.
Westpac has the second best levels of loyalty, attracting 40% of its shareholders as customers. 30% of Westpac shareholders are CBA customers.
37% of ANZ shareholders and 34% of NAB shareholders are also customers of those banks.
The findings are based on Roy Morgan single source data from February 2014 to January 2015, with a sample size of 1505 people.
Click chart to enlarge.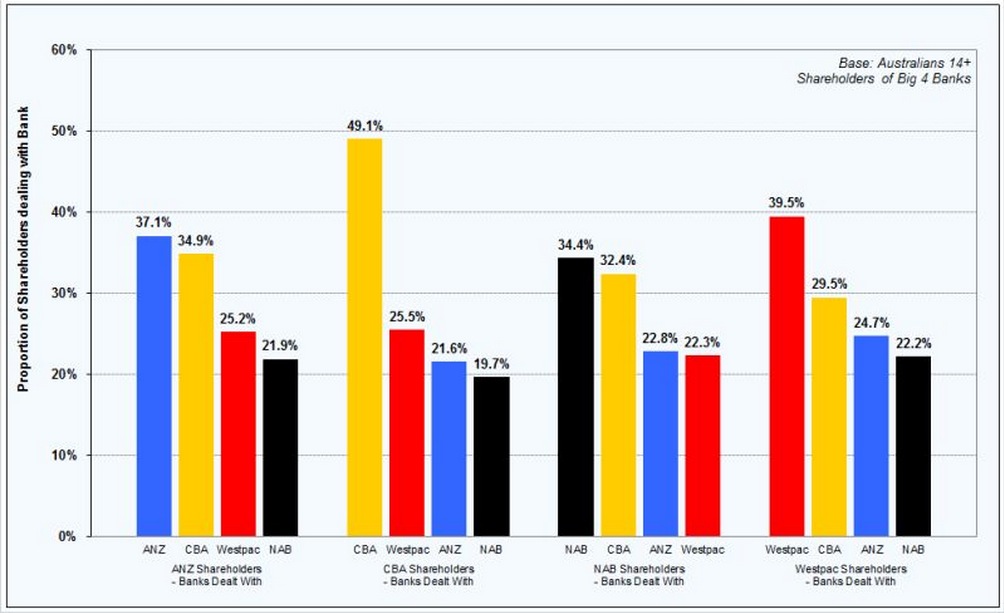 Roy Morgan Research industry communications director Norman Morris is surprised by the findings, which indicate a disconnect between investment and banking decisions.
"Shareholders [are] obviously chasing the best deal for their personal banking and the best investment regardless of where they bank."
He says despite the limited success of past attempts to incentivise shareholders, banks should try to tap into shareholders' favourability towards their brand to convert them into customers.
When considering shareholders who are not current customers as a potential group to direct marketing efforts to, CBA's potential is 450,000 people, NAB's is 400,000 and ANZ and Westpac both have about 300,000.
"Given that these shareholders are likely to have a favourable opinion of their bank from an investment perspective, the next step is to convert them into customers," Morris says.
"Currently NAB offers specific benefits for shareholders with a minimum of 500 shares, while the other major banks do not appear to offer shareholder benefits.
"Finding the right inducement and making shareholders aware of it is now the challenge."