Woolworths slammed for insensitive and illegal Anzac Day campaign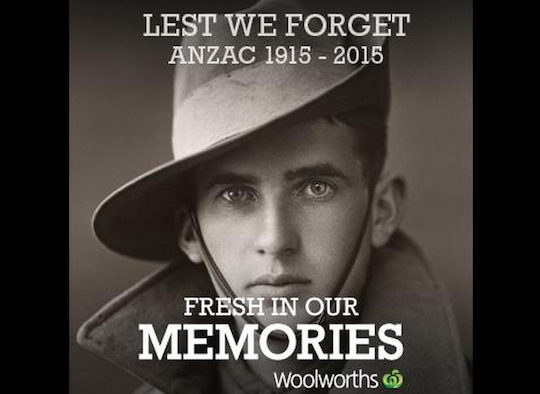 Woolworths has been copping attacks from both mainstream and social media for its insensitivity since launching its Anzac Day 'Fresh in our memories' campaign yesterday. The company was forced to shut down the campaign, which centred around a meme-generator that stamped the company's logo onto pictures of veterans, after it was found to be illegally using the word 'Anzac' for commercial gain.
Minister for Veterans Affairs Michael Ronaldson phoned Woolworths to demand the campaign's withdrawal because the company had failed to seek permission to associate itself with Anzac commemorations, he told the Guardian.
'Fresh in our memories' was a dedicated website that Woolworths set up hoping the general public would upload images of their family members involved in war (as far as Marketing can tell, no one actually used it for anything other than mocking the brand). The meme generator stamped onto the user's image the words, 'Lest we forget Anzac 1915-2015', the 'fresh in our memories' tagline playing on Woolworths' own, 'The fresh food people', as well as the brand's logo.
The Department of Veterans' Affairs website detailing the legal act, Protection of Word 'Anzac' Act 1920, explains that businesses are not permitted to use the word 'Anzac' in relation to commercial activities. It is possible to seek approval for the use of the word from the Department, but Woolworths did not. The penalties for breaching these rules are severe:
"For serious breaches of the Act, a penalty of up to 12 months imprisonment may apply. Under the Crimes Act 1914, a penalty of up to $10,200 for a natural person and $51,000 for a body corporate may be imposed by the Court, instead of imprisonment."
The Guardian named creative brand experiential agency Carrspace as being responsible for the campaign.
One Twitter user, @daspex, tweeted a link to an article on Carrspace's website titled 'Woolworths announces appointment of Carrspace to agency panel', which has since been taken down.
Critics took to social media to slam Woolworths for its insensitivity.
This better be a hoax and not something Woolworths actually thinks is okay. #brandzacday pic.twitter.com/WuV81YrrUq

— Keegs (@keegs) April 14, 2015
@mattburke said: "@Woolworths, this marketing campaign is crass." @DuncanWatson8: "Never fear, Woolworths. Your crass attempt to cash in on Gallipoli will always remain (what else?) fresh in our memories. #brandzacday" @roulla: "In answer to my own question 'what kind of IDIOTS does #Woolworths have working there?' Only the very best! #brandzacday #socialmedia #fail" @King_Soph: "How to avoid a #brandzacday disaster? Don't use ANZAC Day as a marketing opportunity. Bloody brands, never learn."     People even started using the meme generator to create messages mocking the campaign:    
Is this what you meant @woolworths #freshinourmemories pic.twitter.com/xttGJjhFx0 — Discombobulate (@Discombobul8) April 14, 2015
Game over. We have a winner #freshinourmemories pic.twitter.com/QRrrISpiLo

— Nick Stylianou (@kypros1992) April 14, 2015
Woolworths apologised for its actions last night, stating:
"We regret that our branding on the picture generator has caused offence, this was clearly never our intention. Like many heritage Australian companies, we were marking our respect for Anzac and our veterans.
"We continue to be proud supporters of the RSL and Camp Gallipoli in this important year and look forward to working with them into the future."