Episode six of the 'Brand Summit Road Trip': Sawtell with Barney and Kada Miller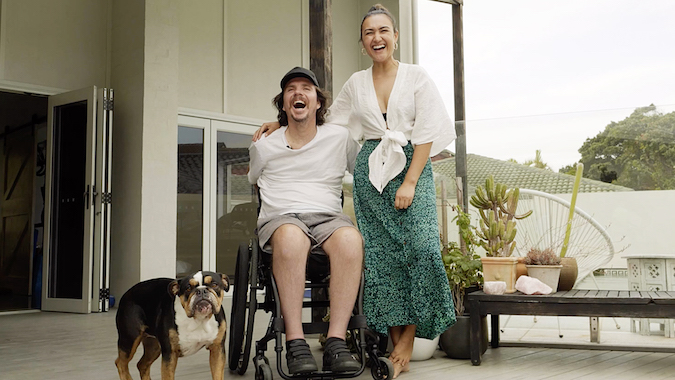 It's the last leg of the Brand Summit Road Trip and our hosts are soaking up the sun and surf in Sawtell, as they talk to surfing champion Barney Miller and his partner and incredible artist Kada.
Just south of Coffs Harbour sits Barney's hometown of Sawtell, where he learned to surf and live by his mother's motto: "A power to win comes from within."
Having been part of the surf culture here for over 30 years, Barney identifies surfing as "a way of life in Australia". And with all the talent this nation has to offer, Barney believes there is a big future ahead for surfing.
After being involved in a car accident in 1999, Barney sustained debilitating injuries that put him in a wheelchair. The Barney Miller Classic Charity Surf Comp was born soon after this – created by Barney's good friend and surfer Joel as a way to raise money for Barney's rehab. Barney soon jumped onboard. Now 20 years on, the surf comp attracts an ever-growing number of competitors each year, with 100 percent of funds raised going to charity.
Pete Chapman and Rosemarie Milsom talk to Barney and Kada about the epic journey they have been on, and what the future holds for the brilliant duo. The couple have come a long way since their first meeting at Sawtell's chilli festival 13 years ago.
Most recently they have written a book together called 'The Essence of You and Me'. Barney has survived major surgery and Kada is rediscovering a new sound for her music, telling stories of love, self-reflection and awareness.
Having just purchased a campervan they look to road trip around Australia, with a mission to talk to schools and teach children the importance of having their own voice, while Kada will be finding her own voice through the joys of music.
This beautiful couple are proving that a little bit of good can go a long way and life is what you make it. Be inspired and watch the episode here.
P.S. In honour of the season finale, this final episode features an exclusive backyard performance by the talented Kada Miller. Enjoy!
P.P.S. Thank you to our viewers for following us on the Brand Summit Road Trip these past six weeks, we hope you've enjoyed a slice of the classic Aussie road trip and everything in represents. Exploring wonderful sights and meeting some fantastic people; that's what it's all about.