How an integrated, customer-first approach drove demand for G.J. Gardner Homes
This case study demonstrates the importance of building a strong brand/customer relationship by creating a multichannel digital strategy. A customer-first approach and some new tech infrastructure allowed G.J. Gardner Homes to gather an unprecedented number of leads.
Background and Objectives:
Building a house is a mammoth effort, which is why only around 100,000 homes are built in Australia every year. It's one of the longest, research heavy sales cycles at approximately 18 months.
National property specialist G.J. Gardner Homes has been working in the Australian market for almost four decades. But the marketing team has witnessed the progressive shift of customers to conduct their research online. The property building industry is not alone – customers have come to expect a multichannel brand experience.
When Alpha Digital started working with G.J. Gardner Homes in February 2019, the opportunity to consolidate the national home builder's approach and grow the national G.J. Gardner Homes brand outside of traditional, offline channels was identified.
Before engaging Alpha Digital, G.J. Gardner Homes had primarily invested in SEO copy to target location based searches. An expanded digital presence was needed outside of its traditional avenues of TV and radio. Alpha Digital's role was to increase site visitation as well as cross-channel engagement with an integrated and informative digital experience that would educate customers about the complexities of building a home throughout their journey. Every click through to the website needed to be served with relevant information.
The goal was to support demand generation for the national franchise network through the new digital approach and help G.J. Gardner Homes to reach its ambitious 2020 target to double the number of annual leads. The key to driving continued growth for the home builder's 80+ franchisees would be to showcase its display homes and expertise online.
Strategy:
"Typically, people start their home building journey after attending a few open houses and realising that their dream home may not be on the market. They set out on building their own home, and then quickly realise that the amount of learning required is almost equivalent to a 'mini-degree'. The role of a reputable home builder, is to educate the customer on all of the factors they are yet to consider" says G.J. Garner Homes' national marketing manager, Andrew Borg. 
"There are no accidents or impulse buys in the sector and customers are constantly looking for reasons to rule out providers to streamline their options during the purchase process. Due to the volume of decisions needed by customers, they look for any reason to rule companies out in those first 6-12 months and narrow the pool down to two or three trusted sources. Therefore, the focus was on building the brand-customer relationship and fostering customer connections throughout their new build exploration."

Alpha Digital and G.J. Gardner Homes started creating digital resources for everything from soil type, landscaping, building techniques, cost saving measures, fixtures and fittings. Educational content was repurposed across all channels to nurture the lengthy sales cycle and increase lead volume above the year on year historical success. The aim was to drip feed the customer information and enhance their building IQ, ensuring there were minimal gaps in resources to maintain engagement with the customer. 
The user experience on the website also needed to realign with the customer-centric content strategy to improve the 40 percent drop-off rate of new visitors. The national website had been set up to support each state and one of the first questions customers were asked was where they wanted to build. The plan was to capture more information about what each customer wanted to build, so the journey could be completely tailored from that point on.
Execution:
To ensure that the business could serve customer needs and know where improvements might lie, a full rebuild of its legacy tech infrastructure was needed. The refreshed, customer-centric approach required a new website and CRM system that would integrate with the performance marketing strategy. Launching in February 2020, the new site acted as an anchor for customers, gathering information about them at any consideration stage. Alpha Digital started tracking on-site behaviour and ad interactions and retargeting audiences appropriately. The marketing partner also used first-party data and integrated search targeting to bid on users differently, depending on how far along in the planning process they were.
The first year together also involved constant CRO testing. One of the most successful changes was finding user friendly ways to showcase home design information, which was previously trapped inside the minds of staff.
Creating the right personas during the form submission stage on the site, also allowed Alpha Digital to build out different content journeys. This ensured that the series of email guides nurtured the customer throughout their own journey of discovery, whether they were downsizing, knocking down a site or a first home builder.
All of the onsite educational content being generated started driving organic search traffic, and could be repurposed across the home builder's automated email flows and social media channels, to keep customers constantly engaged with the brand.
Results:
This fresh approach and new ability to capture customer information gave G.J. Gardner Homes its highest ever lead generation numbers in January, April, May and June this year. While competitors were pulling out of advertising during lockdown, Alpha Digital counselled G.J. Gardner Homes to maintain its spend.
Record April and May months were undoubtedly fuelled by the situation at the time, with customers having time to consider what they wanted out of a home while in lockdown. But with its now established strategic infrastructure, G.J. Gardner was in the perfect position to harness the soaring real estate traffic, onsite and social engagement rates.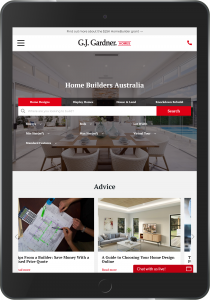 The agile content-first approach also meant that when the $25,000 HomeBuilder grant was released in June, G.J. Gardner Homes was the first to market with a comprehensive content hub ready to go. So while the market conditions proved advantageous, the team was able to put itself in a position to target and engage customers searching for information about the grant and increase organic search traffic by 47 percent in June compared to the same period in 2019.
Having relevant information on hand from day one, afforded G.J. Gardner Homes the opportunity to have conversations with customers early in the grant release and the record breaking numbers contributed to the home builder meeting the goal of doubling leads in 2020 by the middle of October, despite an uncertain economy.
Borg says: "The integrated content approach, new CRM, and email capture techniques enable G.J. Gardner Homes to serve appropriate content at important moments in the customer journey. Having the HomeBuilder grant introduced generated interest, but we still needed to be able to provide relevant information and entice engagement from people. The total number of visitors coming to the site has increased by 44 percent and return visitations are up 73 percent year on year. When people arrive on the website, the value delivered is keeping them there for longer too. Visitors are now spending a minute longer on the site than before February, a 40 percent increase, which is a testament to the content strategy.
"A new customer database has been built over the last 12 months with all new contacts segmented so each customer persona can receive tailored content, boosting open rates to 40 percent and click-through rate to 10 percent. The unsubscribe rate is also down below one percent.
"The new tech stack also allows each digital channel to complement one another. Tailoring messaging and creative based on geo-location and first-party data, has given the brand an advantage over competition. By avoiding hard sell tactics and remaining a source of relevance and education for customers, G.J. Gardner Homes has mirrored the online migration of customer research. Bounce rates are down 44 percent and conversion rates of users on the site are up 16.85 percent year on year."
The fundamentals for the national home builder are now in place and the teams are building towards further innovation.
"COVID-19 has changed how people think about their work and living situations. People now may no longer need to live in cities and the home builder will be adapting its content strategy to nurture these emerging consumer attitudes."