Forget flowers, Helga's lets you say it with sandwiches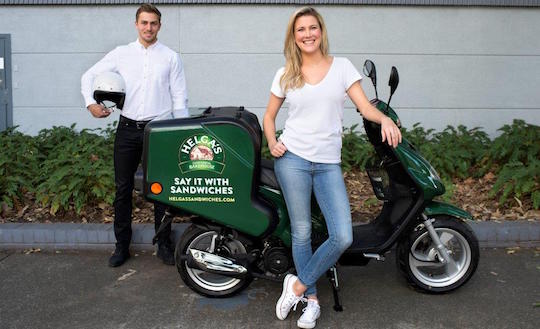 Justine Schofield is the ambassador in a new Helga's campaign that will allow customers to send a gift sandwich to a friend or loved one.
Customers will be able to order a gift sandwich to be delivered by scooter to a chosen address in a new campaign by bread brand Helga's. The promotion will see European scooters deliver sandwiches – including a hand written note – all over Sydney's CBD from 15-19 August, before taking over Melbourne from 29 August to 2 September.
–
Related: Uber Eats recently joined Foodora and Deliveroo in the food delivery playing field »
–
TV personality and former Master Chef contestant Justine Schofield developed the sandwich recipes, and is the face of the campaign.
Each day of the week features one of the five sandwiches, starting Monday with 'Thanks a grain', 'Have a whole meal on me', 'Gift wrapped for you', 'Let me rye you lunch' and 'For your great white appetite' on Friday.
All proceeds from the $6 sandwich sales are going to food relief organisation Foodbank.
For those who miss out or are not situated in Sydney or Melbourne, the option to send a virtual sandwich on social media is already up and running, as part of the 'Say it with Sandwiches' campaign's social media #HelgasSandwiches push. For each virtual sandwich sent, Helga's is donating 50c to Foodbank.
In further support of Foodbank, Helga's is donating two slices of bread for every specially marked loaf sold in Woolworths stores across Australia for the month of August.
"We're hugely grateful for the donations that Helga's 'Say it with Sandwiches' will achieve. With a goal to help provide over 10,000 meals for people that are doing it tough, this is the perfect occasion for people to show how much they care for those close to them, whilst also supporting a much bigger cause," says Foodbank CEO Brianna Casey.
* * * * *
For opinions and case studies on Australian brands and campaigns, purchase a subscription to Marketing
* * * * *