John West brand extension gets a fresh look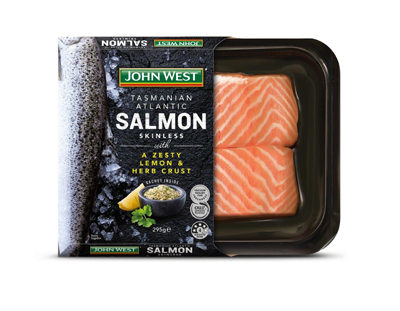 Brand consultancy Landor launches a new brand identity for John West's pre-packed seafood.
John West has been a fixture in Australian lunch boxes and kitchens for the better part of half a century. While the core canned range of products holds significant share of shelf, the brand recently tasked branding consultancy, Landor with creating a new identity to help increase consumer awareness of the pre-packed chilled seafood category.
The redesign is a significantly more contemporary look and feel for the John West Chilled portfolio. The focus on fresh ingredients delivers stronger appetite appeal and clearly communicates John West's expertise in delivering 'the best' for consumers.
The packaging design needed to better convey perceptions of quality and freshness while continuing to reassure consumers of John West's commitment to sustainability, says senior brand manager, Kristie Ellerton. "The more premium, yet simple packaging really heroes the superior ingredients making the range more appealing to consumers."
Tasmanian Atlantic Salmon, Scottish Trout and New Zealand Squid are some of the species within the range which also includes contemporary flavour profiles. The new John West Chilled range is currently being tested in Coles stores throughout Victoria and Tasmania with the national launch planned for this October.
In addition to the packaging redesign, Landor have supported the in-store consumer product trial with the design of a branded point of sale stand which will feature in selected Coles stores throughout the trial period.