Google revamps AdWords for multi-screen campaigns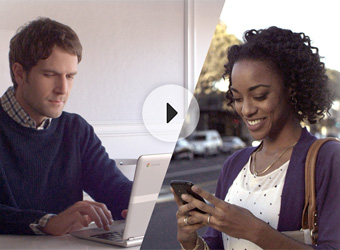 Google has updated AdWords to help advertisers manage multi-screen campaigns. The new system will enable advertisers to alter campaigns depending on where, when and via which device in order to tailor message to the context of the searcher.
"People on the go or near your shop may be looking for different things than someone sitting at their desk," Google's senior vice president of engineering, Sridhar Ramaswamy, explains. "With enhanced campaigns, you'll show ads across devices with the right ad text, sitelink, app or extension, without having to edit each campaign for every possible combination of devices, location and time of day."
Advertisers will also be able to bid for search queries based on location, time of day or device to help direct budget towards the most relevant search occasion. For example, if a breakfast cafe wants to reach people nearby searching for 'coffee' or 'breakfast' on a smartphone, it can bid 25% higher for people searching a half a mile away, 20% lower for searches after 11am and 50% higher for searches on smartphones.
A study by Google last year found that 90% of multi-device consumers move 'sequentially' between several screens in the same day, as well as using dual screens during tasks that enable multi-tasking behaviour.
Read: Google study: Content is King, the screen is Queen and context is God.
"With enhanced campaigns, instead of having to cobble together and compare several separate campaigns, reports and ad extensions to do this, the [advertiser] can easily manage all of this in one single place," Ramaswamy adds.
Enhanced campaigns will roll out to advertisers as an option over the next few weeks, and we plan to upgrade all campaigns in mid-2013.