Gucci online: old-world tradition meets modern digital marketing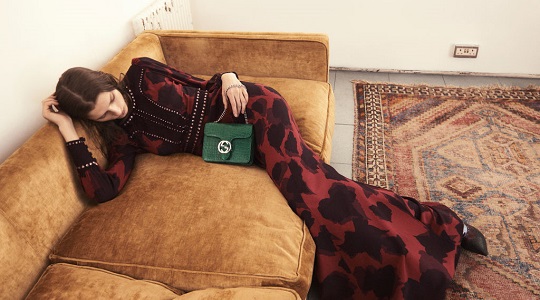 Despite only 5% of luxury brands' sales coming from online, digital  marketing is still vitally important for their success. Tom McNamara and Asha Moore-Mangin, of The ESC Rennes School of Business, discuss Gucci's approach to digital marketing.
Despite being owned by a French company, Gucci is still seen as being the embodiment of Italian luxury. The company, founded in 1921, has a rich heritage that permeates everything that it creates. Less well-known to many of its loyal customers might be how Gucci has been able to combine old world tradition with a deep understanding of modern technology and marketing techniques. The company was ranked number one in terms of 'digital competence' in a 2014 survey conducted by the marketing research firm L2. Gucci was called a "fashion genius" in terms of the development of its online capabilities regarding the use of e-commerce, social media, digital marketing, and the integration of smartphone apps. But why is it so important for a company like Gucci, with such a rich past and such a well-known reputation as a purveyor of luxury, to be skilled at digital marketing and social media?
The answer is simple. While only an estimated 5% of luxury sales take place online, almost 50% of sales start there, with people using the internet to do research before deciding to buy a "must have" luxury item. Unfortunately for Gucci, revenue has been weak recently as high-end customers, especially those in China, have switched to brands that are perceived as being even more exclusive than the ones being sold by Gucci. Even more disturbing, sales have been declining even as Gucci has been seeking wealthier clients. A trend, which if it continues, could cause serious problems for the Franco/Italian Company.
High marks for being tech-savvy
Unlike other luxury retailers, Gucci believes in providing a broad selection of products both in its boutiques and on its website. The reason for this is to ensure that customers have the same Gucci 'experience' in both the real world and the virtual one as well. The company, for its part, was one of the first luxury providers to see the importance of having a well-defined, and well-branded, digital presence. Gucci was an early adopter of Flipboard, a social-network and social news aggregator that combines "The beauty and ease of print with the power of social media". The company has also been investing in its ecommerce infrastructure in an attempt to be well positioned to take advantage of the future growth that is expected to take place in the luxury market (in spite of the company's present difficulties with shoring up its finances). Gucci is also one of the few high-end retailers that allow an in-store inventory search for a particular item to be done online. Unfortunately, the benefits to this strategy are not currently being seen in terms of an improved bottom line.
This digital commitment, while not improving global revenue streams, has definitely improved the company's profile and acceptance by the tech savvy. Experts give Gucci high marks for having introduced sites specifically designed to be used by smartphones and tablets, providing a customized experience superior to the one they would have experienced by visiting the site designed just for desktop computers. This digital tailoring, which favors visuals over functionality, resulted in a 150% increase in online traffic.
A multi-channel approach
Gucci's digital marketing strategy involves a multi-faceted approach using a variety of social media platforms. The company has been known to use elaborate store window displays in conjunction with superbly designed online video ads. Gucci has also cleverly tied promotional campaigns to the anniversaries of some of its iconic products, one example being the 60th anniversary of its famous Horsebit loafers in which famous fashion bloggers were asked to show off the celebrated shoes. Gucci also invited fans to get involved, and simultaneously generated even more interest, by asking them to post their favorite pictures on Instagram. The success of these efforts can be seen in the size of Gucci's online community, with the company having almost 1 million followers on Instagram and well over 11 million fans on Facebook in 2014 alone.
Another example of Gucci's digital skills would be its recent 'Made to Measure' campaign. Here, the company tied the promotion of a new cologne to an existing line of men's suits using Hollywood actor James Franco. The company ingeniously used Facebook, hashtags and social media postings in a coordinated effort to arouse interest in its new fragrance. In previous promotional campaigns, Gucci has used Facebook pages that included videos and apps for locating stores that carry a particular product.
The dark side
However, the digital world, like the real one, is full of nefarious characters. There are many questionable outfits (primarily known as 'click farms') that will take money to improve a brand's image by having scores of people (or algorithms) click on a company's ads or provide fake likes on Facebook. In a blow to Gucci, one marketing study found that 27% of its followers on Twitter were fake, the highest number for all the premium brands investigated (to be fair, this was not as bad as Lady Gaga's estimated 47% fake follower count). A cynic would be forgiven for asking if Gucci used the same level of rigor in finding and exposing fake handbags as it does in finding and deleting fake fans on social media.
Strong partnerships
A real marketing coup for Gucci is the long term partnership that it has developed right in the heart of the media capital of the world, Hollywood. The company recently promoted its continued commitment to supporting the Los Angeles County Museum of Art (LACMA). The goal of the relationship is to "help combine art and film" in Los Angeles. Gucci believes that its involvement with LACMA will help increase its profile with influential people while promoting the brand globally.
In an attempt to reach even more new customers, and potentially, new markets, Gucci also teamed up with Fiat by introducing a limited edition version of the popular 'Fiat 500'. This limited edition version contained seats, an instrument panel and a steering wheel all ensconced in trademark Gucci leather. The car also had the famous Gucci logo on the outside along with the company's signature colors of green and red in pinstriping running along the sides.
However, it should be known that Gucci is extremely discriminating when it comes to working with others. "Partner carefully," warns Nicole Marra of Gucci. The company insists that it wants to have an ongoing conversation with its customers, as well as its marketing partners. Whilst digital marketing campaigns and projects are important, so are building long-term relationships.