Has your brand got Buckley's?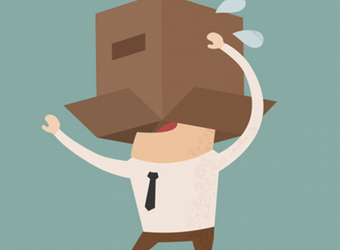 With no guide to the wilderness, how can a brand be the best it can be? Luckily Karl Treacher is here.
You are grounded, you will be getting no pocket money, and if you think you will see your toys or friends again before the weekend, you have rocks in your head. Oh yeah, and that school camping trip you have been looking forward to? You've got Buckley's."
As a kid I often wondered who this mysterious 'Buckley' was. It turns out that William Buckley (left, in a circa 1890-1910 oil painting by an unknown artist) was Australia's first wild white man, a young convict who was given slim to no chance of surviving after escaping from the then-new penal settlement at Port Phillip Bay (now known as Melbourne).
Regardless of my personal confusion around Australian slang, it seems that as children we were incessantly being told when we had been good and when our behaviour had been less than optimal. In our adult lives, our partner or employer often takes on that responsibility. But who exists to tell brands when they have behaved well or poorly? What guidelines exist to help brands be the best they can? In truth, there are many, so let me suggest just a few.
1. Truth
Imagine that Jesus, Buddha, Allah, Moses or whoever you consider to be overseeing the planet appears one morning at the foot of your bed and asks: "What value does your brand bring the world, the community or humanity?" Forget market share, shareholder returns and the like, and focus on the question at hand. How does your brand have a positive impact on the world? This is the most critical question to answer. The answer will inevitably be at the heart of the brand and its value to your customers. Without this, brand distinction and the overall direction of your brand may be difficult to determine, cultivate and manage.
2. Terrain
Where does your brand live? Redefine your market regularly. Trends, genre and value sets are constantly on the move. lf your brand was once the BMW of your industry because your market was overly concerned about the projection of success, you may find that it's now heading for obsolescence due to its limited relevance in the experience economy in which we now all live.
Using analogies such as the car market, takeaway food and elements of weather can be very useful in helping you identify whether your brand is relevant to the right people – right now.
If your brand is designed to deliver value to Mini-driving, kale-eating Millennials, but is actually appealing to Kia-driving pie-eaters, then you may need to re-engineer your brand and value proposition and/or fire your ad agency.
3. Trademarks
Buy a Mac and you can expect brilliantly choreographed software that operates seamlessly with all Apple accessories. Wear a Hugo Boss suit and expect it to last forever (not that you should wear it forever, mind you). Ride a Ducati motorbike and expect the fastest, smoothest ride of your life. Strong brands have very easily observed experiential trademarks. What unique experiences can your customers expect when they buy your brand?
Understanding the differentiating elements of your brand allows you to leverage each unique component. Compiling a list of unique features and benefits is probably the first thing to do, but certainly not the last. Draw a matrix that incorporates your market's needs and desires in correlation to your brand's unique offerings. What comes from this is a list of compelling reasons that your market will buy your brand. Sounds simple I know, but it's rare to find this done well.
4. Appeal
This is the part where you unveil your brand intelligence report or, unfortunately like most, wheel in the market research boffins. Either way you should get an insight into not only what is appealing to your market, but how your brand is being received and why. You would not be the first marketing or brand manager to promote features of your brand that were far from your market's motivation to buy. Nescafé Blend 43 sells itself on the emotional connections between friends and family, when really it is simply the best-tasting instant coffee according to most taste tests.
Specificity around your brand's appeal strengthens the psychological attachment that customers have with brands. Promoting elements of a brand that don't appeal to a customer, or are irrelevant to their purchasing rationale, only detracts from the customer's confidence that your brand understands itself and, more importantly, them.
5. Personality and style
Lady Gaga sells albums because her brand is 'cool'. So is Pink's, yet their styles are vastly different. Your brand will have a style and personality that is (or needs to be) different to that of your competitors. When you go about exploring your brand's style, start simple and build. It is important to do this by personifying your brand. Describe your brand in human terms. This will pay dividends when it comes time to put your brand consistency measures in place. It will also aid in predicting how your brand can and will grow.
Start by completing a police-like profile chart – age, race, gender, height, weight – aspects that illustrate the brand's character. For example, if I were writing basic brand style commentary on Qantas I would conclude: '87-year-old, Caucasian male, taller than most and of solid build. Beaten and bruised by lively youngster Virgin, Qantas is often found imitating Indigenous Australia. Fiercely patriotic, this brand broadcasts itself loud and clear by hanging around national sports stars and teams.'
The more detailed you can be, the better.
6. Language
There are many parts to investigating your brand's language. First, is the tone of voice in which your brand is communicating to your market appropriate/ideal for your brand objectives (how you want people to view the brand)? And, second, is your brand communicating consistently across all channels? Imagine that your brand is a player in the soft drink market. It is up against the large cola giants and wants to be seen as a smart alternative to traditional soft drink, yet the visual language is all about living life on the edge or enjoyment.
Your brand language follows on directly from your brand's personality and style. After describing the person your brand would be, you need to be very clear on the tone, projection, accent and intonation of the voice of your brand character. When this is established, set up some brand consistency indicators and research them. Ask your market qualitative questions about how the brand speaks to them and how it makes them feel. Compare this against your defined brand character's voice and tweak regularly.
7. Community and code of conduct
Someone once said 'image is everything, and perception is reality'. I suspect that person was either David Copperfield (the illusionist, not the Dickens character) or Paris Hilton. It certainly wasn't anyone operating in the modern corporate world. Gone are the days of casting mirages in front of your barren value proposition.
Get clear on your brand's value and instil this truth into every fibre of your organisation and customer experience. When your contract office cleaner gets asked at his/ her Christmas party about the companies they contract to, you want your cleaner to be able to explain what your company is about and why it is of value to someone somewhere. To do this, you need to invest in brand education and establish brand and behavioural guidelines. This is complex and involves HR and communication expertise, but it is well worth the effort. Just ask the people at Virgin, Apple etc.
The wrap
The above seven steps are basic yet fundamental exercises in reviewing and/or building your brand. If you're a marketing or brand manager that isn't completely all over your brand and its unique, consistent appeal to your market then, in the words of dear old Mum, "you've got Buckley's".
Fun fact: Did you know William Buckley did survive his escape and lived for 32 years with an Indigenous tribe in what is now Geelong? And that he was pardoned and lived his life liaising between the British and the native local population?