The 'most important speech in marketing' made waves but will it make a difference?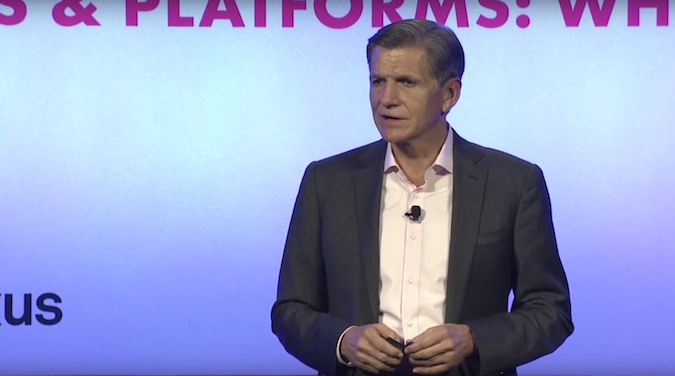 P&G chief brand officer Marc Pritchard's speech last week called for transparency around media buying and viewability.
In a speech at last week's Interactive Advertising Bureau's (IAB) leadership conference, Procter and Gamble's (P&G) chief brand officer Marc Pritchard made a speech calling out the "murky" supply chain of online media buying.
The speech is being hailed as one of the most important in marketing in decades, with many believing it will usher in a new era of transparency between marketers and media agencies surrounding media buying ad spend.
"We have a media supply chain that is murky at best and fraudulent at worst," he said. "We need to clean it up, and invest the time and money we save into better advertising to drive growth."
P&G is in the middle of reviewing its £210 million UK media account which it finalised in the US last year. In the US, Publicis lost a majority of the company's US$2.7 billion account to Omnicom.

P&G will adopt the Media Ratings Council (MRC) validated viewability standard, implement accredited third-party verification, create transparent agency contracts and prevent ad fraud by teaming up with the Trustworthy Accountability Group. With the review in mind, all of its media suppliers and agencies are expected to do the same, or it'll take its money elsewhere, reports Marketing Week.
Related: Debate around the transparency and ethics of media agencies has never been hotter. Is media transparency getting worse or is it time to redress the balance of this debate? »
Generally, Pritchard's call to action is being applauded from both the brand-side and agency side of the marketplace, with parties on both sides acknowledging the need for transparency. There has been much applause and optimism surrounding agency relationships now that an executive from a FMCG giant has publicly called out the playing field.
Some, however, think that P&G aren't going far enough. While declaring the speech to be the most important speech in marketing in almost two decades, Mark Ritson pointed out that MRC standards are on the lighter end of the spectrum. The standard requires that half the ad be visible for one second for display advertising and two seconds for digital video.
"This is a very low bar but, if P&G gets its way, it could well render any half-glimpsed two-second video as being 'viewed' for many years to come," he writes in Marketing Week.
"How many ads can you remember that got their message across in two seconds?" asks Ian Millner, CEO and co-founder of creative agency network, Iris Worldwide. "We should be focusing on creating content and conversations that don't feel like advertising – stuff people actually want to watch for longer than two seconds. That should be the collective bar we set for ourselves," he says.
* * *
Another concern is that no matter how transparent agencies and buyers can be with one another, "the online advertising industry is essentially two companies: Facebook and Google," says agency CEO turned consultant, Bob Hoffman on his blog The Ad Contrarian.
"The rest are rats and mice. The Facebook-Google duopoly has been getting away with murder… Facebook would never voluntarily open up their metrics to third party verification unless clients threatened to pull money," he says.
"Maybe this move by P&G will finally help the advertising and marketing industry grow a pair," concludes an optimistic Hoffman.
Ritson, on the other hand, is perhaps a little less hopeful. "While P&G and its US$7 billion annual ad spend makes it the biggest player in town, the game itself is owned and run by two global behemoths in Google and Facebook that are, respectively, two-and-a-half and one-and-a-half times bigger than P&G."
"It would appear unlikely that either Google or Facebook would let P&G dictate terms to them. It seems even more unlikely that the walled gardens could be brought down with just one simple speech."
The power of the speech, however, can't be denied. "Right now in this moment P&G has such a big opportunity to reset how clients and agencies work. Don't blow it," says Andrew Stephens, CEO at Goodstuff.
–
Further reading