Local engagement key to captivating sport spectators [infographic]
How do you get sports fans to appreciate advertising dollars? Invest them into local sports groups, according to a new survey, that found out of all the sporting sponsorship and advertising opportunities, engaging with local sports group generated the greatest goodwill among Australians.
When asked to choose from a range of options, 30% of respondents to the survey conducted by digital audience profiler, Effective Measure, saw 'great value' for advertisers or sponsors in engaging with local sports groups.
The next most valuable activity for advertisers and sponsors was perceived to be 'inspire to take up sport' at 24%, followed by 'feature a sports icon' at 22% and 'gifts or prizes' at 21%.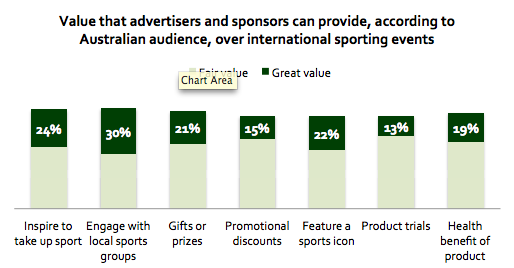 The study also investigated preferred media habits of sports fans and how they're using social media to keep up with sporting news. TV emerged as the overwhelming favourite source of sporting news, with 87% singling it out as their top viewing channel.
While only 9% credited the internet as a main source for watching live or repeated coverage of international major sports events, growth potential for online video was high. For those using online sources to catch up on sporting news, online TV and radio emerged as the top channels for obtaining sports event-related information at 45%, 14% clear of the second most preferred source – official websites.
8% of Australians attributed social media as the best internet channel to access infotainment news on major international sporting events. Effective Measure's report reads, "However, with the viral nature of social media, it is likely that content sharing of current significant events or historical sporting feats will increase the share of Australians accessing social media."
Print and radio were not regarded as main communication channels, with these channels used as a main source by only 3% of respondents collectively.