Mastercard takes sonic branding one step further with its first single
Mastercard has released 'Merry Go Round', a single by Swedish artist Nadine Randle, at CES 2020.
Mastercard collaborated with Nadine Randle and producer Niclas Molinder to develop a song that appeals to listeners and integrates the Mastercard sonic logo.
The sonic logo kicked off Mastercard's audio branding initiative last year; the 'Merry Go Round' single is the latest iteration. The sonic logo melody plays at around 7.6 million payment or engagement touchpoints around the world.
Here, Raina Kamat, Mastercard digital communications associate analyst, explains the sonic branding and how the single builds on the theme:
The song debuted at an iHeartRadio event at the Consumer Electronics Show (CES), currently underway in Las Vegas. "Sound is our next frontier for brand expression and a powerful way for us to reach consumers through the passions that connect us all", explains Mastercard CMO Raja Rajamannar.
"We're thrilled to be partnering with Nadine on 'Merry Go Round' to integrate the recognisable sonic melody – underscoring the many ways that the branding can be used beyond traditional means."
In an interview with Forbes last year, Rajamannar explained the theory behind – and versatility of – Mastercard's sonic brand.
"The visual space is so crowded," he told Jenny Rooney, "so why not have an augmentation with sound?"
"We wanted to create a simple, neutral melody – so we started looking at melodies with appeal, simplicity and hum-ability, if that's a word. We knew that this should be not one single sound but should be customisable per locale, appealing locally but also consistent globally. Different generations have different music tastes, so it needed to be adaptable across different genres and also adaptable across speeds based on context, for example, [played in faster tempo when associated with] a sports game."
Rajamannar is leading Mastercard's brand on a sensory voyage of discovery. Beginning with the visual – simplifying the logo with the removal of the 'Mastercard' text itself last January, through to the audio, right through to taste – with pop-up restaurants in New York and Rome International Airport and brand macarons appearing at events and activations last year.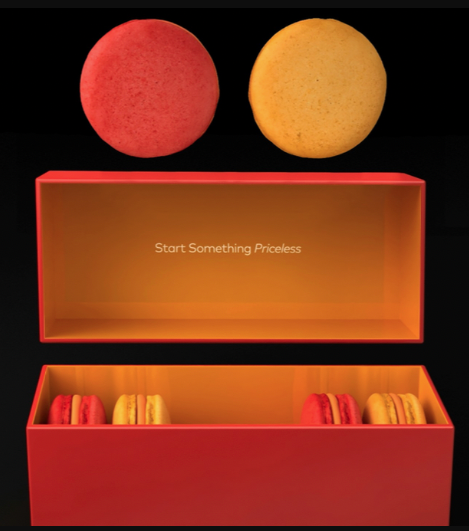 Want to hear more? Here's Marketing's Josh Loh on sonic branding: