Melbourne train station to trial ad-funded WiFi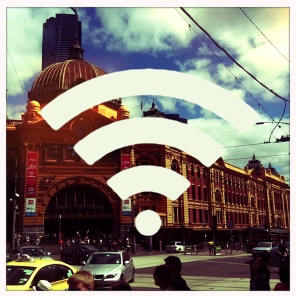 Melbourne commuters will be able to access free wireless internet at Flinders Street Station from next month in return for their eyeballs and a little personal information.
Users who log on to the wireless connection, which will be available from the main concourse and platforms of the station, will be required to provide their age and gender and watch a short ad in order to use 15 minutes of the service provided by GoConnect, a provider of 'video infotainment and interactive advertising'. A GoConnect spokesperson tells Marketing that users can watch additional ads in order to extend their connection.
The service will be introduced as a three month trial in March and extended to all city loop stations if successful.
GoConnect says the free WiFi network will reach over 15 million commuters monthly upon full penetration, a significant online platform for communication with both residents and visitors of Melbourne.
GoConnect will fund the service (supplied by broadband service provider Netbay) in order to deliver advertising on a mobile advertising model it has developed.
GoConnect is currently signing clients, and their offering is separate from the existing outdoor inventory in Melbourne's rail network, operated by JCDecaux. That means brands wishing for a full takeover of a single train station, for example, will have to coordinate with an additional media organisation.
The company's executive chairman, Richard Li, tells the The Herald Sun he expects the service to be quickly extended beyond the CBD to stations such as South Yarra: "Ultimately it will be all the inner city train stations, but you have to start with the most important one first."
The City of Melbourne has committed to providing wireless internet on 33 new trains due to arrive by 2018, as part of the Future Melbourne Plan, but has no plans to upgrade the existing transport fleet due to cost barriers.
Free wireless internet is already available on most Sydney Ferries and has begun to roll out on Queensland's suburban trains.
According to Netbay, the service will provide speeds up to 20 times faster than a 3G mobile network, but speeds will vary depending on the number of users connected at any time.