Men's Minds Matter launches bold suicide-prevention campaign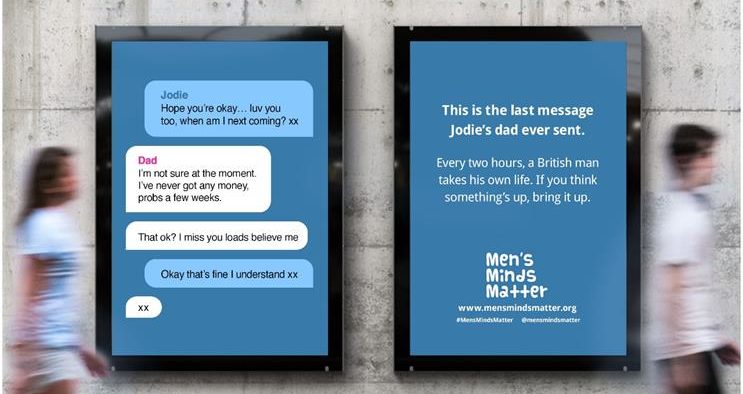 Men's Minds Matter is a UK-based nonprofit focusing on men's mental health. This week it released a new campaign in collaboration with Media Bounty. The campaign aims to get people talking – and asking tough questions. 
The OOH ads present the last text messages sent by fathers, sons, and husbands. The stark design places all the emphasis on these words, as well as the admonition "if you think something's up, bring it up." 
Contrasting the rather innocuous texts and the message that the men who sent them took their own lives. The campaign has an arresting, powerful impact. It's a reminder that while your loved ones may not mention struggles, there are signs. 
The campaign is as important as it is timely. The Office for National Statistics (ONS) reports that suicide is the number one cause of death for men under 45. Men have made up 76 percent of all suicides in the UK over the last decade. 
Media Bounty, an "independent ethical creative and media company", got involved with Men's Minds Matter as part of the former's pro bono initiative. The creative agency donates time and expertise to organisations chosen by their employees. 
Tommy Lee, a senior copywriter for Media Bounty, considers it a privilege to work on this project. 
"For many of us, suicide might feel like something that only happens on the news," says Lee. 
"But the numbers are staggering – we all have a message from a friend that could be the last. It's so important to talk, no matter how excruciating that idea might be. Thanks to the families who took part in the campaign. It's been an honour to tell their stories."
Men's Minds Matter hope the campaign will bring awareness to the need for people to intervene in situations where they suspect a loved one may be struggling. It has also developed a strategy for handling these conversations. 
"At MMM, we have developed a model for intervention, which we believe can save lives," said Nigel Sanderson, MMM's director, in a joint statement with Dr Luke Sullivan, a director and clinical psychologist. 
"Our model explains suicidality at the individual, psychological level," Sanderson went on to say. "This allows us to structure our interventions in a way which targets the mechanisms that lead to and maintain suicidality. We're super psyched to have this nailed down and we're already having success applying the model in MMM and NHS crisis services."
The ads will run throughout the UK on digital billboard space, donated by Ocean Outdoor and Clear Channel, in partnership with BambOOH.
If you or a loved one is struggling with suicidal thoughts, please visit Mens Minds Matter or Suicide Prevention Australia.