Meta supports First Nations businesses ahead of Black Friday
Ahead of Black Friday, Meta has partnered with Trading Blak and 33 Creative to support the BuyBlak movement. The movement and campaign is a celebration of First Nations business excellence and encourages Australians to shop with Indigenous-led businesses.
During November, the social media giant ran an on-platform campaign across Facebook and Instagram. Partnering with Indigenous media and events agency 33 Creative, Meta worked with an array of First Nations creators, partners and artists to capture the diversity of Indigenous culture.
Featuring assets with well-known Indigenous artists and creators including Bianca Hunt, Mitch Tambo and casey Donovan, #BuyBlak includes an anova and below-the-line media push featuring First Nations-owned businesses across Australia. 
Perth-based Menang artist Kiya Watt was commissioned to design the artwork for the campaign. Alongside Watt, 24 other Indigenous artists and creators were engaged to amplify the campaign to their audiences.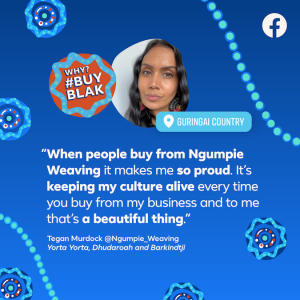 Trading Blak is a space that is committed to showcasing and empowering First Nations businesses. It was co-created by Jarin Baigent to end Indigenous exploitation of culture and community in the business space. "When you buy 100 percent Blak you know that your whole purchase is going into a First Nations-led business that will directly positively impact a family and community," says Baigent. 
The #BuyBlak Friday campaign sets out to build on the BuyBlak movement. Co-founder and co-director of 33 Creative, Mayrah Sonter, spoke about the importance of the movement. "First Nations businesses are a thriving part of our community. We are proud to work with Trading Blak and Meta on the #Buyblak campaign to amplify amazing products," says Sonter. 
"We encourage everyone to buy Blak for Christmas this year and to share with all your friends and family."