Mind the gap: study compares gap between market cap and brand strength of biggest corporates
Google's brand performs better than those with a higher market capitalisation, according to a new study that explores the difference between brand strength and the financial performance of the world's top 100 companies.
The 'FutureBrand Index' is an alternative view of the Global Top 100 Companies list created by PwC. Where PwC's list tracks market capitalisation, FutureBrand's takes this and measures perceptions of brand strength through quantitative research of consumers worldwide to determine a company's 'Cap Gap' – the gap between a companies financial worth and the strength of its brand.
Google was found the be top of the rankings, followed by Microsoft at position two and Walt Disney at position three, each with a positive 'Cap Gap' on the positions they occupy by virtue of their financial worth (third, fourth and 40th positions respectively).
Apple moved in the other direction, falling from first in market cap to fourth place on the brand measure.
ExxonMobil is one of the three largest fallers, the others being PetroChina and Wells Fargo (falling 79 places and 72 places respectively). AbbVie, SABIC, and MasterCard are the three greatest risers (rising 80, 72 and 67 places respectively), indicating they are companies with brands that punch above their market cap weight.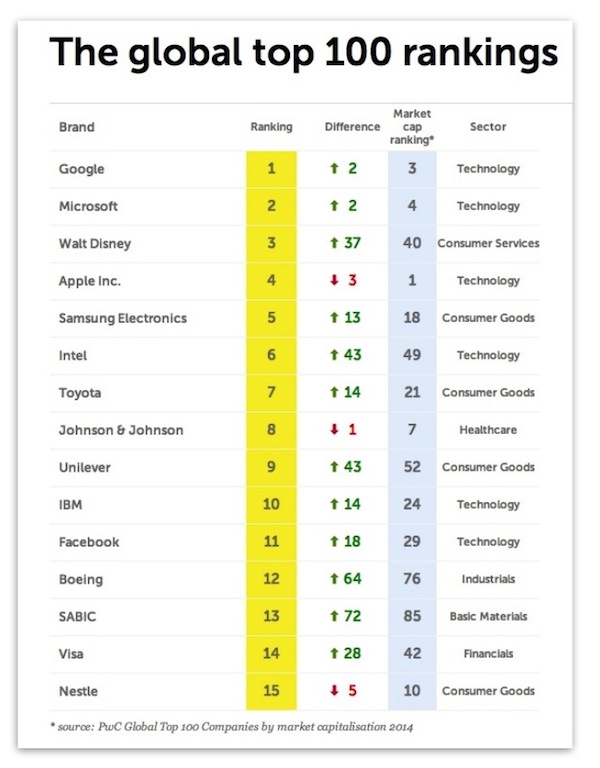 Tom Adams, global head of strategy at FutureBrand says the firm felt it was high time for a reappraisal of how company brands are perceived. Rather, FutureBrand is arguing for a measure, "that takes full account of the affinity felt by consumer stakeholders for their stated purpose and the experience they deliver, to establish a richer perspective on which ones are best positioned to thrive into the future and why," Adams says.
"We might even ask if the strongest company brands are undervalued financially, brand perception being a key determinant of the billions of decisions that inform a company's prospects, from which employer to work for, to whether to buy a product at the given price premium. Crucially, purchase decisions today are guided by knowledge of parent brand reputations, as recent Weber Shandwick research found.
"Google is the clear leader on such measures, but a special commendation goes to the greatest risers who have really grasped the importance of building a strong company brand to confound expectations of a negative 'Cap Gap'."
These include brands that aren't consumer-facing, such as Intel (position six, up 43 from its market cap position), Unilever (nine, up 43) and Inditex (25, up 62), brands operating in a sector that doesn't prioritise brand spending, such as SABIC (13, up 72), or brands suffering by association with a sector with a poor image, such as EcoPetrol (38, up 57).
"Their example of gaining competitive advantage through differentiation along various relevant vectors is a beacon for the companies for whom 'Cap Gap' perhaps has negative connotations," says Adams.
Clifford Tompsett, capital markets partner at PwC, which made the Global Top 100 Companies by market capitalisation ranking available for FutureBrand's research, says: "Organisational perception and reputation are vital ingredients in corporate success in the capital markets and beyond. This study presents a fascinating alternative view of the Top 100 Companies by market capitalisation and the levers the world's leading organisations might pull for even greater competitive advantage in the minds of the informed global public."
"Companies are also brands," Adams says. "Our results show for the first time the extent to which the strongest in 2014 are able to transcend the positions dictated by opinions of their financial worth; opinions which in any case are formed largely by financial institutions."