Murdoch names entertainment arm: 21st Century Fox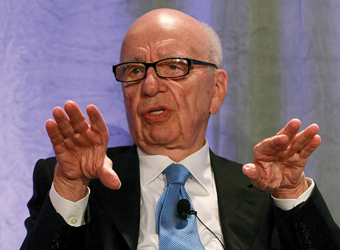 The entertainment arm that will be spun off from News Corp has been given the name '21st Century Fox', its chairman and chief executive, Rupert Murdoch, has revealed.
Murdoch's media empire will be split into two separate publicly-listed companies come June this year, with the publishing arm retaining the News Corp name.
21st Century Fox will include Hollywood movie studio, 20th Century Fox, the film studio Murdoch acquired in 1984, which remains the most profitable arm of his media empire to date.
In a statement, Murdoch says the new name of the entertainment company "draws upon the rich creative heritage of our film studio, while also speaking to the innovation and dynamism that define all of our global media and entertainment businesses and will guide us into the future".
Assets including Fox Broadcasting network, Fox News Channel, FX, Fox Sports, Fox News cable, News Corp's 39% stake in BSkyB, the Fox film and TV studios, National Geographic channels, and interests in various other TV broadcasters across the world will come under the new 21st Century Fox umbrella.
Murdoch will remain the chairman of both companies and chief executive of 21st Century Fox. Chase Carey will become 21st Century Fox's president and chief operating officer.
It has been speculated the decision to split the News Corp empire was due to the News of the World hacking scandal last year which had investors questioning their investments in the newspaper assets of the company – which are far less profitable than the entertainment side.