Coca-Cola stocks up in World Cup 2018 campaign
Coca-Cola has launched its 2018 FIFA World Cup global campaign TVC.
Coca-Cola South Pacific has announced details of its 2018 FIFA World Cup campaign, which aims to leverage the excitement that builds around the tournament.
The multi-million dollar campaign is a TVC that will air during select group games, all Australian games and all knockout ties including the World Cup final.
'Stock Up' features Coca-Cola drinkers trying to purchase a drink in a hurry so as not to miss the tournament action.
The campaign will be supported by additional elements across digital, social and POS. Limited edition FIFA World Cup themed packaging is available in stores.
"Australia is a sporting nation, so it's exciting to continue our partnership with the 2018 FIFA World Cup, one of the most popular sporting events in the world," says Emma Harper, senior brand manager, Coca-Cola.
"More than three billion people globally will tune in to watch the games, with at least 1.3 million of those in Australia, so clearly it doesn't matter if you are an avid soccer fan or not – everyone connects to this global cultural phenomenon," she says.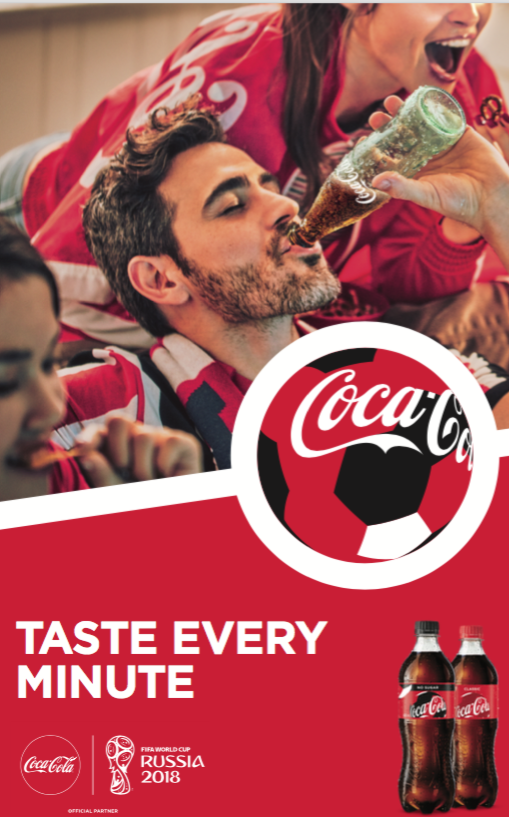 The 2018 FIFA World Cup runs from 14 June to 15 July in Russia.
Last week, Coca-Cola South Pacific announced Powerade's partnership with the Cup tournament with the launch of the 'Always Forward' campaign. By telling the story of the evolution of soccer, the campaign primarily targets young, active males.
"The FIFA World Cup is a truly global consumption occasion and a huge driver of incremental sales. We look forward to announcing more details of the partnership soon," says Andrew Tilly, brand manager at Powerade.
Agency credits: Coca-Cola: Ogilvy, UM, Geometry, Schawk. Powerade: Gemba, Ogilvy Sydney, Universal McCann.
Further reading