News Ltd to bring mobile ad creation in-house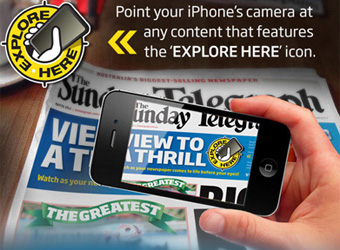 News Limited is setting up an in-house mobile ad production team to offer clients a one-stop shop for mobile campaigns.
From 1 July, the publisher's national sales team will manage the end-to-end sales and creative ad production for its mobile sites.
News Limited's group director of sales Fiorella Di Santo says bringing the service in-house will provide dedicated service to advertisers.
"The potential for mobile is huge and growing exponentially," Di Santo says. "According to the 'IAB PWC Online Advertising Expenditure' report for December 2012, mobile ad spend hit $86.2 million in the 2012 calendar year, up 220% from 2011.
News claims to command 16% market share for mobile advertising – more than any other news publisher – with a total unique audience of 7.2 million per week.
One of the options available to advertisers is the publisher's 'News Alive' which lets readers scan ads in newspapers to bring up supporting multimedia content on their phones.
The sales team will push integrated ad options across the publisher's newspaper and digital properties. For advertisers, to deal with one team for all these platforms will ensure the highest impact for their campaigns. "News Limited has the largest network of national and metropolitan news sites in Australia," Di Santo adds.
"When you combine this audience with our network of newspaper and digital brands, we are able to offer our customers easier access to a truly national, multi-platform network."
A reader survey found 86% of News' mobile site readers use smartphones to research products, 51% purchase products via the device and 45% click on mobile ads.
Big Mobile will cease representation and creative production of News' mobile sites from 1 July, 2013.