The Money Issue – Marketing Magazine launches its April/May 2018 edition
Marketing is pleased to announce the release of The Money Issue, our April/May 2018 print edition.
It is reaching subscribers around the country and is available on newsstands now. Purchase your copy here »
Exploring how money affects marketers money from a variety of points of view, we: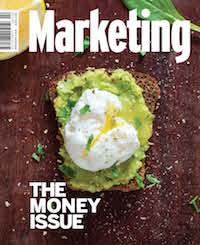 … examine the blockchain phenomenon and investigate how it will change the marketing landscape.
… help you decide whether or not you're getting paid enough with our marketing salaries report.
… understand high net worth individuals as a segment, and learn what marketers can do to garner their attention.
… look ahead to see what B2B marketers need to do to succeed.
… speak to a money mastermind about personal financial data, and how it can be used in non-creepy ways.
… take a look at the future of cash, with the head of retail payment technology company Square.
… learn how to deal with the problems that come with success.
… find out what Australian banks need to do to resurrect their relationship with customers.
* * * * *
To purchase a copy of The Money Issue, or a subscription to Marketing magazine, visit the online shop »
* * * * *