Sydney Deputy Lord calls for the last (single use) straw with new campaign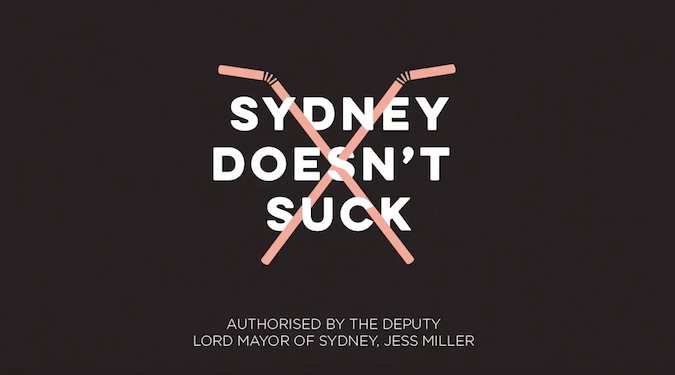 Sydney's Deputy Lord Mayor has backed a campaign encouraging abstinence from plastic straws, 'Sydney Doesn't Suck'.
Deputy Lord Mayor of Sydney and Deputy Chair of the Environmental Committee, Jess Miller, has commissioned the Sydney creative agency Paper Moose for a new campaign encouraging more of Sydney's pubs to join the commitment of banning plastic straws.
"Every piece of plastic that was ever created, still exists. When it comes to straws, Australians use around 3.6 billion of these little turtle-choking-seal-killers each year," says Miller.
"#SydneyDoesntSuck is an umbrella campaign to draw attention to the great work that Sydney's best bars, hospitality and entertainment venues are doing to limit their use of single use plastic straws only to people that really need them."
The 'Sydney Doesn't Suck' campaign features talent from Syndey bars The Lord Gladstone and This Must Be The Place in a playful spot showing a man being persuaded from using a plastic straw, "Actually, I don't need a straw."
"When Jess approached us it was a no-brainer to throw our collective of artists together," says creative director of Paper Moose, Nick Hunter. "Everyone here is passionate about the way we treat our planet, which made it a really enjoyable project to be a part of."
Paper Moose is also the agency behind the NSW Environment Protection Authority's 'Don't Be A Tosser' anti-littering campaign earlier this year. Paper Moose says the campaign had a 92% strong approval among NSW residents.
The campaign is set for distribution on social media, embedded on the pages and accounts of venues participating in the effort against single use plastic straws.
Hunter continues, "As this is a behaviour change campaign we decided to use the mechanic of showing how unacceptable it is to use single use plastic straws when you order a drink, and encourage people and bar owners to think again about asking for them."
Further Reading: