Oh poop!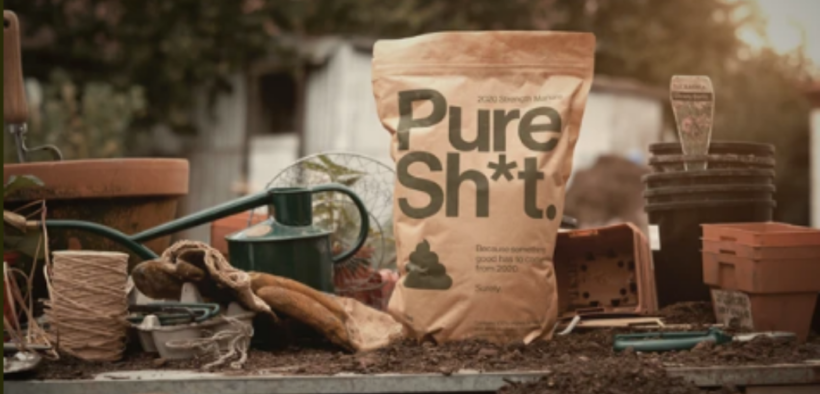 Poop may be just one of the milder adjectives we could use to describe 2020, but a creative content agency in Melbourne has decided to be as literal about the whole darn thing as it can with a campaign aimed at thumbing our collective noses at a sh*t of a year and raising funds for charity at the same time.
Pure Sh*t is a completely organic, dry and odourless manure brought to market by content agency Gen C, which is led by co-founders Jack White and Nicholas Cox. With time on their hands during lockdown and unable to film as usual, the Gen C team has spent the last four months developing the brand (in conjunction with Betta Grower and 'the good cows of Australia'), producing the product and packaging, and putting together a full 360 comms campaign, which was launched last week.
Suited for indoors and outdoors use, the screened and aired manure comes in 1.1-kilogram bags because "something good (like flowers!) has to come out of 2020", says a media release. It is available for $25 a bag and is appropriate for all types of garden, lawn or pot plant with pots 15 centimetres or larger.
Gen C also called on a number of other Melbourne agencies to join the pro bono mission and persuaded Aussie star Gyton Grantley (best known for his award-winning portrayal of career criminal Carl Williams in TV's  Underbelly) to be the face of the campaign via the video below.
Spreading the muck will see 100 percent of profits to Brainwave Australia, a national charity supporting families of children with a brain illness or injury.
"Pure Sh*t has been a real passion project for our team," says White. "We've personally felt the effects of the events of 2020, but equally have felt fortunate to have our health and our homes to work from in lockdown. We know many organisations and individuals have been deeply affected by this year and Pure Sh*t is our way of showing support and helping Aussies see some good come of 2020 through what they're able to grow and the give they enable by purchasing our product.
"Pure Sh*t is about having fun and growing some good," he adds. "Yes, it's a bag of sh*t… but it's also an opportunity to have a laugh and to give back, making it the perfect gift for that Kris Kringle or a friend as a Christmas pick-me-up, reminding them we're all in this sh*t together."
To find out how to grab a bag or donate to Brainwave visit the website.
Creative agency/Gen C Group
Executive director: Jack White
Creative director: Jarrod Lowe
Executive producer: Nicholas Cox
Client director: Britt Lippett
Design: Alex Crampton
Production House/Gen C Group
EP/Producer: Nicholas Cox
Director: Julian Lucas
1st AD: Julian Costanzo
DOP: Simon Walsh
1st AC: Karina Davies
Casting direction/Gen C Group
Production manager: Gemma Murphy
Art Department/Production Design: Imo Walsh
Art Assist: Karli Laredo
Gaffer/Grip: James Thompson
Best Person: Akash Vijayakumar
H&MU: Liz Sharp
Sound operator: Hugh Palmer
Photographer: Chillary
Social photographer: Liam Cockshell
Social videographer: Hayden Sommerville
Production assistant: Max Speer