Olly's online video advertising tip two: Get personal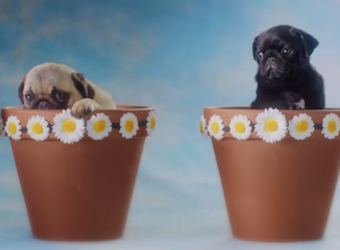 This is the second installment in a five-part series of tips for brands looking at getting the most out of online video ads, by YouTube's Olly Grundy.
The most effective marketing is personal. Of course, that's not easy when you're marketing at scale. But the digital revolution is opening up ways to make mass marketing feel a lot mroe personal than it has i the past.
Here are three very different but clever examples of creative agencies putting some extra thought into how to cut through, entertain and speak to their audience.
Pedigree gets dog-lovers involved in charity project 
To build a bond with their dog-loving customers, Pedigree asked people to get involved in efforts to support dog shelters. They made this as easy as possible: all people had to do was watch a video of cute puppies. Because YouTube pays content creators for views, Pedigree promised to give every dollar they earned from views to dog shelters, and encouraged people to share the video with friends to increase the number of views. Instead of splashing news about a donation across a network, they got people personally involved, and made their campaign mean something to people. Check out the insanely cute puppies of Colenso BBDO's multi-award winning campaign:
iSelect plays on the skippable ad scenario
Skippable ads are a familiar part of YouTube. People either skip them, or let their curiosity lead them on. iSelect played on this, with a pre-roll ad that started with a startled actor exclaiming:
"Woah! If you click that skip button, it could cost you $900!" iSelect showed that they knew the viewer was seeing the ad on YouTube, and referenced the decision the viewer was about to make. It's like a TV ad that knows you are about to get up and make a cup of tea. By showing some understanding of the viewer's context, the ad feels more personal, and less like an imposition.
Procter & Gamble taps into YouTube 'celebrities'
YouTube 'celebrities' are different from other stars: they are born from a community that was involved in creating their success, feels passionately about them, and with which they interact on a daily basis. YouTube celebrities answer emails, respond in videos to questions and engage in two-way exchanges with their fans as if they were friends. Procter & Gamble realised this, and encouraged purchases at Walmart enlisting beauty influencers EleventhGorgeous to create a custom video integrating their CoverGirl brand. By doing this, they tapped into a personal connection on the platform on which it was forged. To their fans, the link-up was not a distant celebrity endorsement: it was advice from someone they felt they really knew.
We are far from the point that mass marketing can fully replicate a one to one interaction (this is probably a good thing). But creative use of digital technology means advertising today can feel more relevant, more engaging, and more personal.