Skye by Crown competes in property as an object of desire
Campaign: Branding and launch of Skye by Crown residential development
Client: Crown Group
Agency: Play Communications
Background
The Australian off-the-plan property industry is not only impacted by various economic pressures, questionable consumer confidence and media headlines such as 'The Asian invasion' and 'Is the bubble going to burst', but on a local level, the influx of new developments in Sydney's south and inner-west are putting increasing pressure on developers to compete heavily on price.
Crown Group's latest residential development in North Sydney, Skye by Crown, faced fierce competition on multiple levels. Within a one-kilometre radius, four competitors offered a comparative product (The London, Montrose, Belvedere and Atria) competing heavily for both investor and owner-occupier markets.
Having launched prior to Skye by Crown, these developments had absorbed significant demand. Competitor price points were up to 20% lower than those with which Crown Group was about to enter the market.
Additionally, over 100 developments across New South Wales, Victoria and Queensland compete in the same product category for attention and dollars of national and international investors.
Our marketing challenge was to invent a brand, design and build an industry leading display suite and sales centre, and implement a launch strategy with a budget of no greater than 1.5% of the project's gross realisation.
Furthermore, it was critical the marketing team created a sales environment supportive of price escalation on the launch day for the future sales rates to be maintained.
All of this with a lead time of fewer than 90 days – quite possibly the shortest gestation period for any brand, let alone one about to sell one of the world's most expensive products: property.
Objectives
Crown Group is no ordinary developer or project marketer. Right from the outset, the brief to Play Communications was clear.
We could not compete with conventional marketing strategies and tactics to achieve our sales objectives and margins. Rather than openly offering and selling product, our approach was to build momentum from the inside out, ultimately creating a sales vacuum – a 'consumer pressure cooker'.
Supported by a highly targeted connection strategy, this approach enabled us to clearly differentiate Skye by Crown from competitors, maximise prices and drive consumer demand within a narrow sales funnel. We needed more than 3000 enquiries and more than 200 face to face appointments (based on market conversion rates) to build the kind of momentum needed to deliver on the single launch day.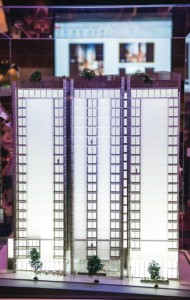 Strategy
While most residential property marketing projects are directly focused on 'consumers' (owner-occupiers and investors), we did not have the budget to generate the direct consumer reach necessary to achieve our targets.
We therefore deployed a multi-tier, inside-out segmentation strategy to attract the necessary audience for a lower cost per contact, targeting: › external agents › offshore and third-party intermediaries such as financial planners, and › the general public.
In an intense few weeks, we recruited a network of financial planners and offshore specialists giving them the opportunity to be among the first to offer the product at launch. While sales margins are lower with this audience, the objective was to create interest and word of mouth among highly targeted prospective buyers.
Second, the opportunity was extended to local agents. Once momentum and initial interest was established, we launched to the wider market maximising buyer competition for launch.
By the launch day, Skye by Crown broke local market records with more than 4500 direct enquiries over the final six weeks of the campaign.
Execution
First, we developed a brand strategy to position Skye by Crown as 'an object of desire'.
We celebrated preciousness and scarcity and, unlike most property marketing campaigns, the brand was based on the emotional connection with the product, rather than the product itself. Gone are the days when you could connect with a property purchaser with a message of 'three bedrooms, two bathrooms for X dollars!'
The creative execution was phased, starting with a symbolic sculpture of the building to create intrigue before revealing the actual product.
Second, we developed an influencer engagement campaign seeding the opportunity to sell limited stock to a handpicked group of agents, financial planners and international buyer representatives. Enquiries, expressions of interest and pre-booked appointments were mathematically modelled and closely monitored to avoid pre-launch over-investment and to maximise post-launch budgets.
A private, off-street display suite was built on the fifth floor of the current site offering invitation-only viewings of interiors, styling options and actual views. This invitation was extended via a direct marketing and digital expression-of- interest campaign one week prior to an exclusive private launch.
At this stage final prices were not revealed, nor could potential buyers acquire a particular apartment. They could, however, secure a place at the pre-launch for a refundable deposit of $5000.
At the pre-launch we designed a consumer journey that delivered a premium brand experience while driving consumer demand. Appointments were pre- scheduled, stock was released in phases and prices were increased with each new release amplifying urgency and desire.
After pre-launch we re-opened expressions of interest and extended the campaign to complete final sales and pre- promote future releases.
This was all done in a tight eight-week campaign.
Creative
The creative strategy was directly informed by the marketing strategy and brand strategy of Skye by Crown, bringing to life the preciousness of this development.
The first phase of creative featured a symbolic, abstract representation of the product, creating intrigue and desire to learn more. We used a transmedia storytelling approach to release elements of product information and hints across channels and consumer touch points.
During the future phases, the objective was to slowly cement the actual features of the building, creating story highlights such as the Grand Entrance and the Skyedeck – a rooftop garden and infinity pool. Parallel to the creative 'reveal' of the product, information was drip-fed to agents and other influencers in the lead-up to pre-launch.
A single-minded call to action to a dedicated mobile-enabled m-site captured leads centrally and enabled the Crown Group sales team to effectively manage enquiries.
Since launch day our detailed purchaser research and demographic data has allowed us to be even more targeted and maximise our return through various other innovative media.
Media used for the launch campaign included: print advertising, email marketing, direct mail, brochures; mobile marketing and telemarketing, online display advertising, social media, event marketing, website and SEO (search engine optimisation), video marketing, café and office tower Wi-Fi lead generation, signage, display and sales centre and offshore exhibition.
Results
This record-breaking campaign was Crown Group's most successful launch in history. Within the first day of the pre-launch, we generated $110,032,000 of sales, exceeding the target by 57%. This was achieved with a marketing investment of 0.041% of sales. This equates to a cost per sale of $4420.60, which is 18% lower than anticipated.
Out of 110 released apartments, 104 were sold within eight hours, exchanging a contract every five minutes across 10 solicitors.
There were six price increases implemented within four hours delivering some of the highest per-square-metre rates in Australian history. One of the penthouses sold for $3.38 million (over $24,000 per square metre), a studio apartment sold for $560,000, a one-bedroom plus study sold for $870,000 and a two-bedroom plus study sold for $1.208 million.
The hype at pre-launch was unparalleled, with queues lining the street. One buyer only found out about the opportunity on the day and committed to buy a $1.125 million apartment.
Out of 290 projects across the nation during the campaign period, this campaign has been the highest performing campaign on realestate.com.au nationally.
The development has gone on to have these results acknowledged by the International Property Awards. Winning the Development Marketing category in the Asia-Pacific region, Skye by Crown in late 2014 will go on to compete in this category internationally.
At the time of publication, Skye by Crown has commenced construction and is due for completion in 2015.