Private label surges again, claims two thirds of some categories
Private label products continue to surge, hitting a quarter of supermarket sales for the first time, but in some categories its share is as high as two thirds of the market according to IBISWorld.
Butter, sugar, bread and milk ranked as the most dominant for private label, with supermarket-owned products commanding 68%, 67%, 56% and 55% of sales in these categories respectively. And according to IBISWorld's forecasts, the dominance of the usually cheaper alternative is set to grow to 30% of overall supermarket sales within the next five years.
IBISWorld General Manager the researcher's Australian operation, Karen Dobie, says the private label march continues to be driven by cost of living concerns, and with the introduction of the carbon tax, more Australians are expected to turn to away from brands.
"In 2007-08, private label accounted for just 13.5% of total supermarket sales meaning the segment has grown by more than 85% over the past five years", Dobie says.
In dollar terms, Australians are expected to spend $85.9 billion on groceries in 2012-13, with IBISWorld tipping $21.6 billion of this will be spent on private-label products, up from $19.7 billion in 2011-12 and $9.96 billion five years ago.
Looking forward, this figure is expected hit $31.8 billion by 2017-18, representing growth of nearly 50% between then and now.
Private label's growth is influenced by the strength of supplier brands and the nature of product differentiation within categories, Dobie adds. "Dry grocery items and chilled packaged food categories have been the strongest performers for private-label products – although alcohol has also been a strong contender for Woolworths and Coles."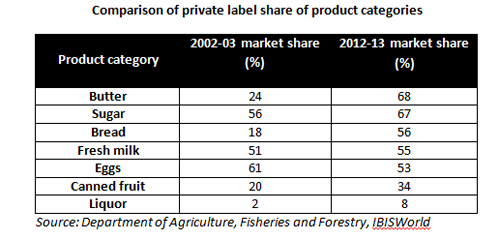 However, private label isn't having it all its own way in every category. Branded products have staged a fight back in egg sales with private-label declining from 61% to 53% of market share in the past ten years as free-range products gain popularity. Chocolate, confectionery, soft drinks, cosmetics and sanitary products remained strongholds for branded offers, with consumers opting for trusted, quality brands when purchasing these products.
While private label is most popular with Australia's low-income families (those earning less than $44,000 per annum), accounting for over 40% of their total grocery bill, families in higher income brackets (those earning above $75,000 per annum) have been turning in increasing numbers. Private label currently accounts for about 15% of groceries among this income bracket.
Growth in premium private-label products is also expected to impact on the market, blurring the line between home brands and branded products and leading to more aggressive competition across the grocery industry.