Realestate.com.au enlists Arnold Schwarzenegger to assault Australian screens
A new brand campaign for R
ealestate.com.au 
starring Hollywood icon Arnold Schwarzenegger is hitting screens with a high-impact media schedule, commandeering all free-to-air and Australian subscription commercial television and major digital advertising networks simultaneously.
REA Group's new brand campaign for Realestate.com.au hits this week with a high-impact media schedule. It used Nielsen and OzTam data to inform its strategic multi-channel and cross-platform approach. The seven television commercials starring Arnold Schwarzenegger, to be rolled out in the coming weeks, will capitalise on the 6.20pm time slot when many Australians are watching television while using a digital device.
An estimated 2.7 million Australians experienced the premiere on Sunday, 3 August of the new realestate.com.au brand campaign, 'Australia Lives Here'.
The campaign aims to show property seekers that Realestate.com.au offers much more than property listings.
The series of television commercials begins when Arnold Schwarzenegger discovers realestate.com.au in his search to move back to his beloved Austria.
Under the incorrect assumption that the '.au' is an Austrian site, Arnie goes through a comedy of errors in his quest to find the perfect home, despite the gentle prompts from his in-the-know Australian assistant, Dylan.
Realestate.com.au group manager marketing strategy Natalie Feehan said the campaign was a culmination of six months of work refining the company's brand strategy to support future growth.
"The brand has been known and widely accepted as Australia's number one property site. The fact is, we know our audience engages with our site throughout the property cycle, not just when they are buying and selling, so we wanted to expand perception of the site by creating an engaging campaign that tells a story."
Agency BWM's managing director Mark Watkin said the idea of using Arnold Schwarzenegger was deliberately left-field.
"When we conceived the creative idea of Arnold as the lead character, it was because we wanted cut through and to make people think differently about the realestate.com.au brand. The campaign ultimately is about discovery; so that people are curious to find out more."
Feehan said Arnie's story discovering realestate.com.au would show viewers parts of the site including suburb profiles, sold price information, investment data and editorial content.
Mediacom chief executive officer Mark Pejic said the media schedule would help allow the story unfold through a narrative.
"The media schedule was planned to amplify the high impact of creative at launch in a way that would get Australia's attention. Beyond launch, it's really interesting to see a story like this play out over time across television, online, social media, print and outdoor media."
Arnie said he hadn't had this much fun on the small screen in a long time.
"I had such a fantastic experience making the commercials for realestate.com.au with acclaimed American comedy director John Hamburg. I learnt a lot about Australia in the process, like how to say Wagga Wagga. I also found it's hard to find a home with a cheese cave or professionally equipped gym," he said.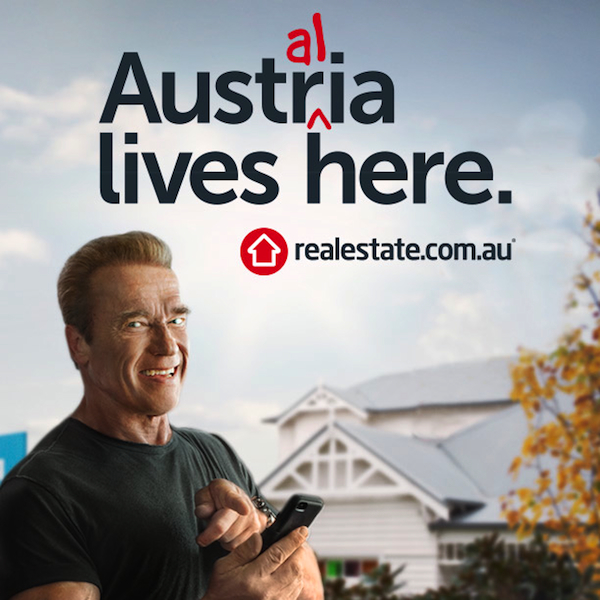 Realestate.com.au has set up a campaign webpage at realestate.com.au/auslives here and a hashtag, #ausliveshere on Twitter.