Red Bull launches Shazam campaign to promote new flavour in New Zealand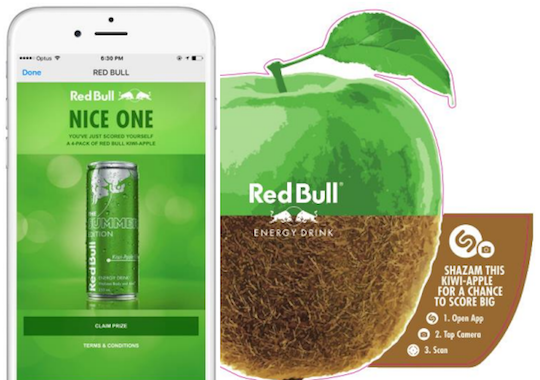 In a New Zealand exclusive, Shazam has partnered with Red Bull to promote the brand's new kiwi-apple flavour.
Energy drink giant Red Bull has partnered with Shazam to roll out Shazam-able decals throughout New Zealand to promote its new kiwi-apple flavour.
Users can visually Shazam the kiwi-apple decals for a chance to win prizes including tickets to the Rhythm and Vines music festival, and Red Bull merchandise.
The campaign is Shazam's first major visual campaign in New Zealand, with 1500 decals placed across Auckland, Wellington, Christchurch and Queenstown, and an additional 300 point-of-sale stations set up at selected Red Bull stockists.
"Connecting with our audience in new and interesting ways via established channels is incredibly exciting for us," says Sophie Ericksen, brand manager at Red Bull.
–
Related: Earlier this year, Kit Kat used Shazam-able packaging to promote its 'The Breakers Party' mock election campaign »
–
"Utilising Shazam's visual recognition technology felt like a no brainer in the instance, given the relevance of the platform in this market and the remarkably simplistic consumer journey that it was able to provide," she says.
Since its launch in 2008, and venture into visual recognition in 2015, the Shazam app has exceeded 20 billion total Shazams, and users now Shazam over 20 million times per day.
"It is truly exciting to be partnering with one of the world's most innovative and engaging brands, as part of its launch plans for a new product variant," says Shazam's VP Asia Pacific Steve Sos.
"We are particularly excited to have been able to extend further the work recently done with the team at Homegrown Music Festival in Wellington and very much look forward to seeing where we can take the relationship moving forward."
* * * * *
For the best in insight and opinion on apps and other technology shaping the industry, purchase a subscription to Marketing magazine
* * * * *