Good Guys brand will be retained under JB Hi-Fi ownership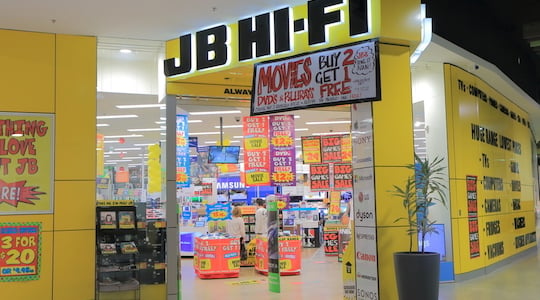 JB Hi-Fi will maintain separate go-to-market strategies and support offices for the newly acquired The Good Guys, after announcing its purchase of the retailer for $870 million.
JB Hi-Fi will acquire 100% of the privately-held retailer The Good Guys, increasing JB Hi-Fi's footprint to 295 total stores across Australia and New Zealand.
"The Good Guys is a high quality Australian retailer with an excellent track record. We are very impressed by what the owners and management have achieved with the business since its establishment and the leading market position they have created," says JB Hi-Fi CEO Richard Murray.
The Good Guys CEO Michael Ford has agreed to continue his leadership of the Good Guys under JB Hi-Fi ownership and the company says the acquisition will allow it to open Good Guys outlets in new areas.
Each brand will maintain independent go-to-market strategies and independent support offices. In a statement, JB Hi-Fi management estimates the acquisition will deliver net synergies of $15-20 million per annum to the combined business after a three year integration period, excluding one-off implementation costs.
Though JB Hi-Fi primarily deals in home entertainment and The Good Guys in whitegoods and appliances, the brands do have many crossovers in product range (including LG and Samsung electronics), and therefore have, until this point, been competitors.
The Australian Competition and Consumer Commission (ACCC) did not oppose the acquisition, based on the two brands' focus on different categories and customers.
"JB Hi-Fi has traditionally focused on selling consumer electronics, with stores located mostly in shopping centres or CBDs," ACCC chairman Rod Sims tells Business Insider Australia. "On the other hand, the Good Guys has mostly focused on whitegoods and other home appliances, with stores generally located in home centres or similar locations," he says.
The acquisition is expected to be finalised in late this year or early next
Founded in 1952 as Mighty Muirs, The Good Guys has grown into a network of 101 stores throughout Australia. For the 2015-16 financial year it generated $2.09 billion in revenue.