Retailers going mobile: reverse the traditional thinking and get creative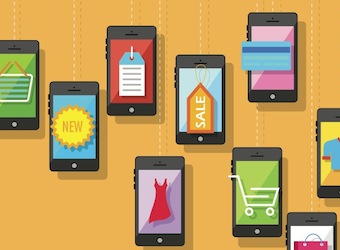 Is a strategy for mobile really that important? It's a question Joe Barber hasn't been asked for a long time… until he attended a recent seminar on technology in retail.
I must admit I was shocked by the general lack of understanding about where mobile now fits within the technology ecosystem in respect to consumer behaviour in retail. There is a growing chasm between those that have embraced mobile
and those that continue to ignore it. Surprisingly, it's not a small segment that are dismissive of mobile. I am shocked almost daily at the brands that have no mobile solution – not even providing online trading capabilities.
Many retailers still do not have a mobile-adapted site. Unfortunately, for some that have attempted some form of adaptation or responsive approach, the experience is poor. I was using a major electronics retailer's online mobile site and it switched between a mobile and desktop view two to three times before the navigation finally led to a 404 error. I clicked 'full site' and it was ignored – a very poor experience.
I can't decide which is worse: those without any mobile solution or those retailers who have a very poorly considered and badly implemented mobile site. Both see consumers simply clicking away to a competitor!
The future is here
Take a look at the Apple App Store and search for 'retail'. There are no more than a handful of Australian retailers providing on-device apps to improve the engagement experience and increase conversion rates. In the US and the UK, the numbers are far more significant, even when accounting for differences in market size.
There are a few good mobile apps leveraging in-store and online features from scanning to finding which store has stock. They are becoming more than just an online shopping interface. But as yet none are leveraging mobile payments in the manner done by Apple stores. Why should an app be restricted to online usage? Why not allow sales staff to use an app to take payments in store, to search product stock levels, to display specifications, to email customers with further information? That's a complete salesperson's set of tools and utilities, including a register.
Sounds futuristic, right? Well, it's happening in the US and will be here soon. Consumers will expect it. They will embrace it. Spark a consumer's interest with something different, interesting or funky and they'll not only load the app, but browse the inventory. If done right, then you can build a personalised experience and engagement with the consumer.
Email: it needs to be done right
Here are some numbers that help position mobile. Facebook estimates over 800 million active daily users with over 70% being mobile-based. 'Rag trade' online sites average over 65% of visitors on mobile (excluding tablets) and 57% of sales conversion on mobile. Consumer electronics online is even higher for visitors, probably driven by the fact that in-store or on-location comparative shopping is not as prevalent in the rag trade.
The most interesting statistic is that SMS campaigns continue to achieve a click-through and sales conversion rate approximately 2.5 times the rate of email. Much of this, I believe, is caused by poor use of email rather than the limitation of the medium. With over 90% of personal email now read on mobile, the construction of email content needs to be adapted to the medium – it's imperative that you get the message across in the first three lines of plain text. It therefore needs a powerful call to action.
Take a look at your email inbox on a mobile device. Two, maybe three, lines of preview are displayed. I get frustrated when I see the message: 'If you cannot see this email, click here' or 'This email sent to [email protected] – click here to unsubscribe'.
If I don't get to see the pitch or offer, just 'noise' text, I usually just delete or ignore.
Consider carefully when doing email marketing that the majority will be read on mobile and the highly graphical formats may not exactly have the impact intended or be displayed as they would on a desktop. The first few lines need to engage the consumer within a few seconds. Many emails I receive are now primarily text-based – a change to suit the mobile medium.
App, app and away
The biggest trend this year has been the adoption and usage of mobile apps to supplement or replace a mobile website. There are numerous benefits and the few statistics around tend to reflect a significantly higher shopping frequency and conversion rate. There are some great Australian examples such as Dick Smith and Masters – both apps support in-store scanning as well as 'at home' online purchasing.
Mobile apps have a number of significant advantages over a mobile website. They put your brand on the screen and can be designed with far more engaging navigation and interface animations and options. With intelligent device caching, the app will deliver blisteringly fast performance and provide a level of tracking and usage that's linked to the device and user.
The first step, however, is to create the right incentives that encourage consumers to download and install. Once apps are installed, stats show that consumers are five times more likely to browse the retailer's products on a regular basis than if they go to a web browser to connect. I use two to three online stores regularly and all of them via their app – it's faster, more flexible and easier to use than a mobile website.
Unfortunately, apps can be expensive, especially when they require duplicated development for Android and iOS. However, the returns are there and the ability to control and manage the interface well beyond basic web controls delivers a far more immersive experience. Recently, I have started to see full source code libraries of 'ready to brand' apps that save 90% of the development costs.
Most importantly, consider the features of the app that leverage the device and deliver functionality that consumers want, use and will talk about. Features like receipt scanning and storage, purchase history, extended warranties and warranty tracking – all free features benefiting the consumer but putting the app into a whole new category of retail shopping tools and driving more regular usage.
Parting thoughts
So, in summary:
Mobile is definitely a critical medium for retailers with expected usage over desktop to exceed 75% by end of year,
a mobile solution is now more important than a desktop solution in respect of revenues – if you can only afford one, then start with mobile,
mobile apps deliver exceptional sales conversion rates and provide the flexibility to create new innovations and features,
consumers need a reason to install the app, so give incentives to load – don't just expect a mass uptake because it's got your brand on it, and
encompass features that are high impact for consumers – free features that aren't directly revenue oriented, but actively enjoyed and appreciated by consumers.
Mobile usage now exceeds desktop and by end of year the conversion (purchases) rate on mobile will also exceed desktop. It's no longer 'how do we adapt desktop for mobile', but should be 'how do we build an optimum solution for mobile and then adapt to desktop?' Reverse the traditional thinking and get creative – consumers love it.
On-device apps are the next step in creating an exciting shopping experience and enabling a new model of consumer communications and personalisation.