SE Asian challengers twice as profitable as developed world multinationals
Southeast Asia's leading brands are about to become global household names according to a report by Boston Consulting Group which identifies 50 'challengers' to watch.
AirAsia, Wings Air, Indofood, Petra Foods, Hyflux, PPT and Axiata Group were among the brands featured on the list which was dominated by companies from the food and beverage industry and agricultural-commodity industry.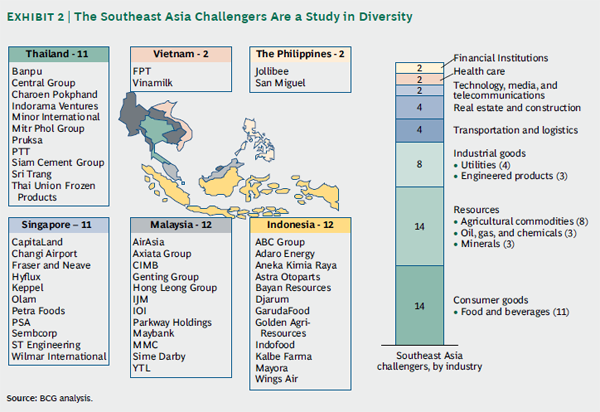 According to the report: "The list of the top 50 companies represents a study in both geographic and economic diversity." Malaysia and Indonesia each have 12 companies on the list; Singapore and Thailand have 11 each, and the Philippines and Vietnam have two each.
BCG said: "Growth is the trademark of the challengers. They are expanding twice as fast as their global peers… and are more profitable. If Southeast Asia were a nation it would qualify as a high profile BRIC. Global companies overlook the region at their peril."
The Southeast Asian region has a GDP of $3 trillion – larger than that of Brazil or Russia – and its growth exceeded 7% from 2005 through 2010.
The success of the region has been attributed to five factors: the rise of the consumer class, global demand for resources, low-cost production, favourable public policy and bold growth ambitions from its leading brands.
Common characteristics of 'challenger' brands noted in the report were fast growth, mergers and acquisitions to expand into new countries, and sophisticated supply chain capabilities. The companies in the list carved out global niches, used their country's natural resources and mastered trading conditions in emerging markets in order to win their success.
Malaysia's AirAsia grew 43% between 2006 and 2010, is known for its operational excellence (25-minute gate turnarounds) and innovation (being the first carrier in the region to embrace e-ticketing), and derives nearly three-quarters of its revenues from overseas.
Showing similar growth trajectories were Singapore-based Petra Foods, with 32% revenue growth since 2006, and financial institution CIMB, with 25% growth between 2006 and 2010.
Indorama Ventures of Thailand, the largest global producer of polyethylene terephthalate (PET), was given as the best example of a global niche player due to its manufacturing presence in the US, Europe and Asia. The company's revenues have grown 56% annually since 2006, reaching $3.2 billion, with 86% of these revenues generated overseas.
Indonesia's Mayora a food company specialising in coffee, instant foods and snacks, was cited as an exempilar of generating sales from emerging markets, exporting to 80 countries. Its revenues have grown 38% annually since 2006 and reached $842 million in 2010.
Overall, the group of 50 challengers saw annual sales growth of 18% over the decade to 2010, versus 9% for their global peers and 7% for members of the S&P 500 index.