Sinking bubbles – Guinness brand profile
This feature first appeared in the May 2010 issue of Marketing magazine.
Over the course of his toughest assignment yet, Sean Greaney came to understand the 119.53 second perfect pour and a brand that took 250 years to grow.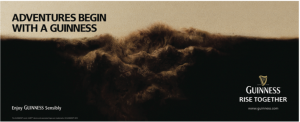 There's really only one way to get into the correct state for certain pieces. It's with this in mind that I unscrew the top of a big bottle of the black stuff – a meal in a glass, Irish birth control, the Irish divorce attorney – and give a nod to nine AM. This could be a long day. I don't remember my very first pint of Guinness fondly: something akin to an oyster when you're still in the single digits age-wise. It does seem to be a taste you grow into or are culturally required to learn to love (excuse me while I stop my ancestors messing up their graves). But once indoctrinated, the beer (and brand) instils an impressive zealotry in its drinkers.
Here we are, two paragraphs in, and the first pot is at half empty – and look at that, I'm already revealing my worldview. I think it's time for some pub yarns, don't you?
No really, it was this big…
In 1759, Arthur Guinness struck a deal that my hallmark paranoia scarcely allows me to believe, despite numerous confirmations from those in the know. He signed a 9,000-year lease on the site of the Saint James's Gate Brewery (Guinness' first brewery) for £45 a year. Everyone I speak to at Diageo (the brand's parent company) confirms this, every online nook and cranny confirms this and even that throwback's den, the library, confirms this. I ask Ben Farlow, regional brand director, Asia Pacific, in an excruciating number of different ways, but his response…"Forty-five pounds back in those days was probably a lot of money, but Arthur Guinness was the type of character – a pretty special character in many ways actually – but he was the type of character who would look forward and take a gamble.
This was land in the backside of Dublin that maybe back in 1759 might not have been considered as that great a value, but 250 years later it's some of the best land in the city. It's true." Seems like a reasonably hedged bet to me, but one that nonetheless paid off in pints – two billion a year in over 150 countries actually. From this base in Dublin, Guinness grew to be the largest brewer globally by the late 1900s. Farlow is humble regarding the marketing aspects of this growth, pointing out that the brewer didn't begin advertising until 1929. He puts it all down to product. "We still today assume the majority of that success, if not all of it, [comes down] to the quality of the beer, and it was quality and quality alone that drove us to become the biggest brewer in the world."
He does concede some marketing halos, however, pointing out that the brand owns the colour black, especially in its category. Black and the harp logo are two of the constants in Guinness' brand continuity. The image, adopted in 1862, harks to the Irish coat of arms, but faces right instead of left. A subtle indication of the direction of both Guinness and the Irish: respect your heritage, but growth and adventure are always outside your borders. Adventure is all about testing limits and seeing a little further. Exactly what pub arguments tend to be about: 'who went the furthest in any ill-fated, over-boozed, ego-tastic endeavour?' It was these Guinness-fuelled, heated moments that the brand eventually decided to disarm.
In 1951, Sir Hugh Beaver, the then general manager of Guinness Breweries, got into a Monty Python-esque barney over which was the fastest game bird in Europe, a stoush that of course led to the conception of the Guinness Book of World Records. A Guinness employee recommended to Beaver that the twins Norris and Ross McWhirter, students who were running a fact finding agency at the time, compile the book. Three years later, the first edition was ready and 1,000 were printed. The book's popularity surprised Beaver, who said at the time, "It was a marketing giveaway – it wasn't supposed to be a money maker." A year later the company released a 197-page edition, which hit the top of the UK's bestseller lists in under four months. The book was released to the US in 1956, selling 70,000 copies. The '90s saw the pendulum swing toward nannying, which pushed the book away from cataloguing certain records, such as 'the highest number of cigarettes smoked in a 24-hour period' (300 by the way, as gagged up by King Zog of Albania). Diageo sold the rights to the book in 2001.
For many Irish though, the brand meant stability. In 1906, with 3,240 employees at the brewery and Catholics' proclivity for a few offspring, 10,000, or about one in 30, Dubliners relied on the brand to provide dinner. I've stared down some daunting brand histories before, but Guinness is its own case. A two-hundred-and-fifty-year history is an excellent reason to break with our company style guide: you can't appreciate that kind of number in digits. This beer is older than Australia – or at least the way the majority of us were taught Australian history. It beached on our shores well before we became a federation: 150 years ago. The brand has overcome economic hurdles that are almost laughable in their antiquation. The year 1834 saw the UK's glass tax repealed, allowing the company to bankrupt a few masons and stop bottling in stoneware. Well before this, the brand was a more diversified brewer. Until 1799, four years before his death, Arthur Guinness was a purveyor of both ales and porters. The popularity of porter saw the end of Guinness ale and, in turn, led to the stout I've been enjoying far too much of lately. It's this age that has left a significantly leverageable history all over the globe.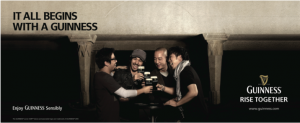 Good for you
Each morning as I stumble in a gruff haze toward the tram I pass a piece of Guinness history. A toucan on the side of an Irish pub tells me 'Guinness is Good for You!' – the tagline for Guinness' first campaign. Dear paranoid, litigious or 'PC' readers, please relax your bristling and halt your goose-step toward the keyboard. I genuinely believe it's these scrawled remnants that anchor us to our past, more than any affected attachment to Southern Crosses or Union Jacks… these lingering spectres of a zeitgeist past. But Farlow is quick to join that side and point out, "It's not something that we communicate today, whether that be in Asia or further abroad. We don't support health claims, and adhere to a pretty strict marketing code. So it's not something that we communicate any longer, but we're definitely proud of our history." Instead, he says, "We communicate a consistent message of 'Guinness is a beer of substance for men of substance'."
Despite this, the tagline was in use as late as 1981 in a Singaporean campaign, 'He's a real Guinness drinker'. This TVC is an artifact of the historical pendulum and well worth a look; it's about as far from the philosophic 'Who is James Boag?' as possible. There are few remaining regulatory bodies that would allow the blatant encouragement of multiple rounds at the bar these days; it does make me nostalgic for a time when we looked after ourselves… by drinking heavily. While the first explicit advertisement may have come late in Guinness stout's history, the brand saw some serendipitous earlier promotion: 135 years before this campaign, an etching of a man dining beside a barrel of Guinness porter appeared in The Gentleman's Magazine (the world's first published magazine). And in 1824 the now-extinct Guinness porter brew was advertised in a Dublin newspaper. And then there's some of the earliest guerrilla marketing.
In 1954 Guinness dropped 50,000 bottles overboard from ships in different oceans. Each bottle contained a message which finders could tear off a part of this message and return it to Guinness Exports to be rewarded with a personal reply and memento. The brand reports receiving bottles from Liverpool's docks, the Bahamas, Tahiti, the Azores and Mexico. Oh, and the message may have mentioned, and asked the finder to pass on that, 'Guinness is Good for You!' Not that the brand's ever far from contention. An incredibly funny, insanely viral and totally unendorsed, 'Guinness TVC' recently made the rounds on YouTube. We'll skirt around the creative content by pointing out it features a lack of skirt and shirt, but fortunately no spurts. It's quite – hmmm – MA15+, but it had me fooled when I saw it first last year. Farlow toes the line, saying it's inspiring to see Guinness fans so enamoured with the brand that they're willing to give their own take on the company's tongue in cheek promotional efforts, but is quick to deride the specific execution. "Guinness and Diageo abide by an extremely strict marketing code, and we're governed by those principles. I'm sure that our adorers are able to spot a fake ad, and can notice the difference between the ad that you're referring to and more iconic Guinness advertising."
Although most marketers push the line that their brand's advertising is iconic and heralded far and wide, Guinness is one of the few brands that can make that claim legitimately. From its initial John Gilroy executions – 'My Goodness, My Guinness!' – still adorning so many pubs, the famous dancing man eyeing off that seductive tulip glass of black stuff in 'Good things come to those who wait', to the more recently orgiastically awarded 'Surfer' (you know the one, black and white, commanding voice, waves becoming metaphysical horses) the brand has been well-stewarded in its executions. There's a particular bravery in shying away from the skirts-and-less (and-even-less) humour most booze brands go for. While the 'big idea' is frequently trashed publicly, the secret love affair many marketers and admen have for it is kept pulsing by brands like Guinness. Its latest European creative ambitiously decides to own the biggest idea of them all: life. The creative features a number of vaguely Irish men running the full gamut of creation, from dragging grass as carpet across mountains, to planting coral in a three-piece suit, to belting pegs in the earth to divide continents and catapulting forests to erection. It harks to a budget most of us would do terrible things for. Filmed in New Zealand, Canada and Fiji, the TVC employed a rocket scientist, a nine-second underwater portion of filming took three days, while the Canadian portion required three months of preparation and was filmed at minus 30 degrees, causing catapulted trees to splinter into ballista size arrows. It also required five helicopters and 30 four-wheel drives to 'bring it to life' – the campaign's tag.
Unlike so many global brands, Guinness learned early that redubbing its North American or European creative was not the answer. The brand's success in Asia – well before other Western brands were drawn to these pregnant markets – grew thanks to an early focus on developing creative tailored to culture. Until recently, that message was 'Believe'. The 'Believe' campaign was essentially a modernisation of 1950s messaging: drink Guinness and you'll succeed, you'll get the girl, you'll get the fast car, you'll get the job etc. Crossed fingers hoped that consumers wouldn't 'Think'. Guinness' current unifying thread in Asian markets is now more closely aligned to its global efforts through a reinterpretation for the market: 'Rise together'. "'Rise together' is about drawing the energy and magnetism of the beer and actually magnifying that for a creative collaboration, and guys working together to create amazing things. So what you've got is very different marketing campaigns at an executional level in parts across the world, but an idea borne from brand personality and values which is consistent," says Farlow. And it seems it is this empathy with different cultures that is behind the brand's baffling success in certain markets.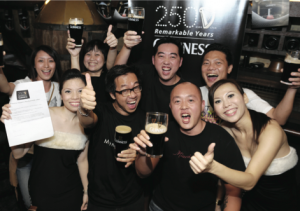 Internationalist
The meal in a glass landed in Asia not long after its first barrels rolled onto Aussie shores. A little over 140 years ago Singaporeans and Malaysians began grappling with this acquired taste – a moment please while I take my next neck-craning, addiction-forming swig. The brand's venerability has led to enviable, odd and unique multiple home-ground advantages. "Interestingly for a lot of our consumers in south-east Asia, they think it's a local brand. You talk to a lot of Malaysians, they think it's a Malaysian beer brand… But broader than that, as I mentioned earlier, in Australia and New Zealand we've been in the market for some time now, over 150 years. Japan, we launched in the 1960s and we enjoy significant market share in the premium beer category there. Korea is just a massive success story for us at the moment: they consider us the Mercedes of beers, synonymous with quality and style. Indonesia, the largest market in Asia Pacific for us, is currently the fastest growing Guinness market in the world, and we're reporting growth in excess of 20 percent right now. So we've enjoyed a long history across many parts in Asia… I think if you look at the beer category as a whole over the next five to 10 years, the opportunity to grow in Asia is quite exciting, as it is for a lot of brands, but definitely in our category, and I think Guinness is in a great position to capitalise on that growth."
I press Farlow on this fortuitous native perception, but neither he, nor the brand's marketing division, can take credit for it: "I think it's just a long and established history. To be 250 years old means you've passed through some generations, and it means grandfather to father to son has passed on the brand through time. When Guinness was first introduced into south-east Asia – because the local distributors needed to be established to sell and market the beer in these countries – on each of the pint bottles was placed an animal image, which was on the neck of the label of the bottle, and that animal was representative at the time of the local distributor. So no matter what product that local distributor was peddling, this particular image of an animal would appear on that product, and on Guinness, which was a new product for them to distribute with their local markets. As I said earlier, [their customers] weren't that familiar with international brands. So still today in Singapore, you'll notice the likeness of a red-tongued dog on the neck label of all our pint bottles. You'll notice the likeness in Malaysia of what looks to me like a British Bulldog: at least that's what I call it, but they just call it a dog. And I see that as an important element of our history and as part of the world. Guinness is the type of brand that has its roots squarely based in Ireland. However, I think our values go beyond our borders. And our history, as I've highlighted, is often made up by local stories and local folklore. As well as the actions that we have done in our marketing, there's this great packaging example. So these strong partnerships that we've established over time still live today, partnerships with distributors, but, even more importantly, partnerships with local consumers."
He continues to relate a story that I can't help but feel is somewhat disingenuous as, during our interview, I hear the flipping of pages, the tapping of a whiteboard and a person use the word 'consumer' to refer to a specific human. Nonetheless…
"This is a true story that happened to me quite recently at a 250th party in Kuala Lumpur in Malaysia. I had a local consumer come up to me – and he'd heard who I was; he'd heard that I was the boss of Guinness. And he decided to come up to me and I thought, 'Here we go, a consumer is going to give me a piece of their mind.' And he chose to tell me just a few simple words – he didn't speak very good English, but it was good enough for me to understand. And he told me, 'I like what you're doing, but don't ever forget, I own the brand, not you; and it ain't your brand, it's mine.' I think that isn't just typical of the character of our consumers, but also typical of the legend or legacy if you like, that Guinness has established in so many markets and so many parts of the world." This success in Asia hasn't been predicated purely by either age or adaptive communication. Deference to product is reiterated at every step throughout my Guinness research. In Asia, and many 'foreign' markets, the product isn't the deep ruby red Guinness Extra Stout I'll be claiming on my tax return this year, but Guinness Foreign Extra Stout. The spreadsheet is indicative of Diageo's global strategies – the parent company collects roughly 50/50 from each variant. Far from trip-hopping Irish louts, sullying sidewalks with bodily fluids, ducking in for a craic at several 'locals', the Asian perception of Guinness is closer to cognac. A beverage to savour. And despite our reception of European creative, Australians have a respect for Guinness closer to that Asian sensibility. "It's the type of beer that you progress into. So a lot of our marketing and support has responded in many ways to that consumer feedback: the depth of character, the depth of taste and the type of drinker that enjoys it. There are probably three big areas that we focused on over the last three to five years that I think are representative of our success in this part of the world. The first is great communication, and that communication is 'Rise together' here, and that's about bringing creativity to your drinking situations. We consider it to be enjoying Guinness at the moments when great things happen or ideas are hatched, which is very relevant to social drinking behaviour in Asia. The second is the meal occasion, and we're focusing our efforts on certain channels and certain times, and what you find is quite consistent across Asia – beer is drunk with food, and enjoying good food with good beer, often with family and friends. So time together with broader extended family and friends is not a special occasion, but more an everyday thing in Asia. And Guinness plays a real key role in being the type of beer that mixed generations enjoy together. And I think food matching activities in certain channels is a key component of our success in Asia.
"And the third is big, bold marketing campaigns. More recently, it's been about celebrating our 250th year. Bringing the Black Eyed Peas to Kuala Lumpur was a significant event, and that was done in unison with other major cities around the world in the celebration of Arthur's Day (24 September). But others are Bold Chemistry – a supergroup in Indonesia with which Guinness has quite a significant involvement. And Hong Kong Sevens, which happens to be on this week. So big, bold marketing campaigns where experiential activity and creating great brand experiences at the heart. And the only final thing I would say that's behind our success in Asia is what I was referencing earlier around quality, great tasting beer, great looking beer. "One of the fi rst breweries in the world outside of Ireland was in Kuala Lumpur, Malaysia and, for four years running, it has been awarded the League of Excellence, which is actually the key award in the brewing industry for what's considered to be the most expert brew outside of its home brewery… We're marketing the brand based on its core values, brought to life through great occasion driven marketing programs, bold big campaigns and great communication."
In Asia, this has meant integrating the 'big idea' campaigns with executions at restaurants, driving home the 'Rise Together' concept. "Beer is a people's brand, and success in any market for a beer brand relies on that." I pig-headedly assume history and tradition are still held in high regard in most Asian cultures, 250 years of both must surely be an advantage? "It plays a certain role," agrees Farlow. "Last year there was a lot of it. It's pretty rare that any brand gets to enjoy its 250th year, so it was the cornerstone of a lot of our marketing activities over the last 12 months. I think we draw our authenticity and I think we draw our power from our history, but I don't think it's necessarily at the forefront of all our marketing efforts. I think you don't become as successful as we have over that period of time without evolving your brand messaging, and I think Guinness is known to be quite contemporary, incredibly up-to-date and at the forefront of not only marketing techniques and initiatives, but also the way the brand is presented. It's got an iconic look and feel. Black is a colour that Guinness owns, that transcends its industry. It's always presented in a premium and consistent manner. So local insight, local relevance, local occasion is often how you become successful, but you don't market and distribute your brand in those types of channels by compromising the type of brand or who we are, and I think that's been the secret of the success." In presenting the stout I decided to stay away from the excessively covered European markets, and the concessions to Guinness' Asian market have been quite interesting to see elucidated. But more interesting than this market is the brand's significant stake in a continent few brands look at as a serious profit opportunity. Africa is usually brought up in reference to multinationals only as a corporate social responsibility initiative, but, for Guinness, Africa is big business. Some sources indicate as much as forty percent of Guinness worldwide is both brewed and sold on this continent. Farlow believes the brand is known as an international one, and to some extent I'll concede that. I don't believe it'll ever stray too far from its Irish ancestry in other markets, but with a Methuselah brand like this you find yourself making some concessions to industry propaganda, even believing it may be true: "A lot of people do know it to be Irish, but for most they know it to be international, and the advantage that comes with that – and it is a cornerstone of a lot of what we do actually – gives us the sense, because of our proud history and our far reaching success, an iconic status," says Farlow.
"It's a brand that's synonymous with premium-ness, and I think being international plays a big part in that. It's a symbol of quality and careful craft. I think European origins give a sense, in our industry, of long traditions of great beer making and great brewing. But what Guinness brings, that I guess a lot of other international beer brands lack, is a sense of style. And this style being quite unique to Guinness. It's manifested itself at times as a bit quirky. At other times, as sophisticated. It's an intelligent wit. It's a cleverness that is not used loosely in the way that the brand is marketed and perceived, unlike maybe a lot of other beer brands that use humour to bring to life their brand personality. Guinness would always use its humour in an incredibly clever, much more intelligent way. I think it is largely international, it brings those types of advantages to the perceptions of the brand." Oh yeah, they also brew it in Nepal.
No paper tiger
Once a year four-leaved clovers, leprechauns and dubious claims of ancestry (but really – my last name was McAuliffe before my great grandfather's itinerant kerchief-thieving sister emigrated! I'm Irish!) rise to the top of our minds like so much stout – literally. Few of you will fall off your chairs at the suggestion Saint Patrick's Day sees to a considerable surge in Guinness sales. On 18 March, franchisees of Irish pubs everywhere seriously reconsider that cherry Porsche they thought they couldn't afford. While we're on this tangent we may as well answer the chicken or the egg question around Irish pubs and Guinness: the concept is one the brand championed and exported, initially throughout Europe during the '90s. So why have I dedicated an entire subheading to the bloody obvious? Well, in exploring the day that the great Murphy turns a blind eye, it comes to my attention that Guinness' brand character led to its association with an altogether quite different holiday.
"I think it plays a little bit into what I was saying earlier, around local relevance, and they see it very much enjoyed as a local brand, and the best example of that is in Indonesia, Singapore and Malaysia and southern China. Chinese New Year is seen as an opportunity to celebrate with Guinness, and Guinness is the market leading brand and enjoys that position for the year. But during Chinese New Year, our sales spike, our penetration into local drinking occasions heightens, and it's actually seen as a must have in any family Chinese New Year celebration. Not too different to what Guinness is seeing with St Patrick's Day in other countries, and I think that's a great example of what the brand has become, and I think that is a sign of a true international brand." Once again, when pressed Farlow happily concedes there was no marketing activity designed to penetrate this major holiday, but rather the fortuitous adoption is cemented through promotion: "I think it's just over time. Chinese New Year – and, please, I am not an expert – but from what I understand, over the course of a couple of weeks, it's an opportunity for Chinese to get together with family and friends and celebrate life, celebrate each other and foster their relationships that they hold dear. And a big part of those types of celebrations is to enjoy good food and good drink, of which Guinness is often the fi rst choice, and probably plays a little bit into the generational piece that all generations have enjoyed Guinness. And it's part of the fabric of these types of communities and, hence, is a safe choice. Some of the more specific activities over the last couple of years that have helped our share position in these markets, we do a Chinese New Year pack: you'll see a Guinness tulip glass, which is synonymous with Guinness. We did a Chinese version of that as a collectable. We did packaging that brought to life the celebratory nature of Chinese New Year, so there was a pint, as well as a six-pack of Guinness done as a Chinese New Year pack, and then countless promotions, events, experiential activity bringing to life the values of Chinese New Year around celebration, good times etc, with Guinness' values."
This is all not to say that Saint Patrick's Day isn't also celebrated in Guinness' Asian markets – in Farlow's own sentiments the Irish are a well-travelled people and many couldn't be separated from a specific stout. Rather, in these markets Chinese New Year simply eclipses Saint Pat's in volume.
"In Asia broadly [Saint Patrick's Day] is quite small. In Australia it's quite significant, and over the course of the six to eight weeks in the lead-up and the day itself, it's critical to our annualised activity. But in Asia it is quite small. It's enjoyed in major cities like Seoul, Hong Kong, Singapore, but doesn't really stretch too much further than that," says Farlow.
Guinness has always had the prescience to know its future lies on the trade winds. In 1958 the chairman of Guinness Exports laid down a challenge to secure the brand's future. He set aside a jeroboam of champagne to be opened only when world sales exceeded home sales. The bottle was at least 42 years old on opening in 2000 when world sales hit 50.6 percent of total brand volume – I have to hope it was drunk as black velvets: a not-incredibly-popular cocktail of champagne and stout. The outsider wasn't just a potential buyer, however. 1886 saw Guinness become the first major brewery incorporated as a public company on the London Stock Exchange.
"In the US, for example, we often index highly in terms of consumer perception and brand equity. The key now is to bridge the gap between the passion consumers hold for Guinness and sales volume. There are lots of opportunities in the US and elsewhere, and we are working to translate detailed consumer insights into sales strategies," says Brian Duffy, global brand director. "Guinness is the only beer brand where there is a ceremony around the pour."
The myths around how to pour the perfect pint of Guinness have led to competitions from Dublin to Dubai – OK, maybe not Dubai – but definitely Darwin. Observing this, the brand is now rolling out 'pour your own' stations. "It's still a pilot. We're enjoying some success with it in Ireland at the moment. We've got a couple positioned in North America as well. I think we're rolling soon into the UK. Essentially they're a station at a table where you're able to pour your own pint, and this is essentially monitored by the station itself, by the fi x and the local staff in the hotel. And it just gives people an opportunity to interact with the beer and have more of an experience." Monitoring what? Ensuring that you've paid for it of course, and are 'drinking responsibly'. "It doesn't give you a score for your perfect pour. I think the best person to give you a score is often your best mate rather than us. But it's supported by promotional staff and well-trained staff in the hotel who use the opportunity to teach you how to pour a perfect pint, so you're not left to your own wiles; we give you a helping hand to show you how best to pour and enjoy a Guinness and then you're able to practise that," explains Duffy.
By way of personal experience – or, more accurately, observation of partners – touch has been known to increase affinity with a product for some time. The research now backs it up, Joann Peck and Suzanne Shu published their study in October 2009's The Journal of Consumer Research, finding touch increases perceived value. And, by 2007, 10 million glasses of Guinness were being downed daily. Quite a number when you consider how the brand is positioned and perceived – a drink to be taken seriously, in the surprising words of a friend of mine absolutely unenamoured by marketing buzz. Crafting your own will only grow that perception.
From the paradoxically auspicious and hazy vantage point I'm afforded having crawled inside this brand – rating excess consumption as important as research and interviewing – it seems to me it is one of the few featured in this magazine with a success that hasn't been predicated on marketing. Guinness' growth has involved floating it to shores and allowing the black stuff to do the rest: organic, brought to life, rising alone. Or as Farlow put it, "A ruthless pursuit of every pint being great tasting and great looking." Cheers.