Status Quo stars in new Coles ad with another parody song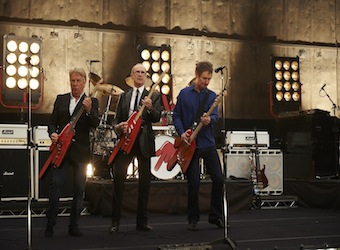 First it was 'Down Down', the song from ancient English rock band Status Quo that pummeled television and radio airwaves courtesy of the Coles ads of recent times, and now they are back again.
Coles, today, will screen and stream the follow-up signature tune from Status Quo, with the band's 'Whatever You Want' from the 1979 album of the same name, set to divide and conquer.
The band's guitars are custom-made big red 'Down Down' hands with drummer Matt Letley even 'using' the apparatus on the drums, with the ad coming on the back of the widely criticised, cringeworthy Normie Rowe 'No added hormones' TVC from last year.
Coles' latest multi-million dollar price-cutting campaign is yet another lyric-substituted doozie for the family market, that the supermarket chain has dominated for the past few years.
Here's the ad, and watch for the awkward interaction between the elderly lady and Status Quo keyboardist, at the 38 second mark.