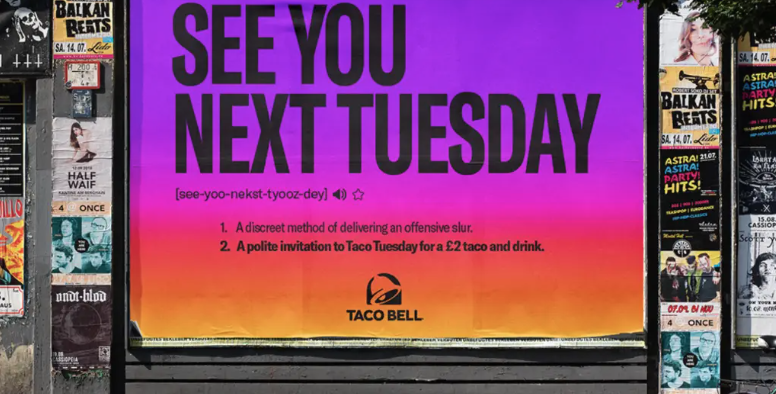 Fast food chain Taco Bell is celebrating "Taco Tuesday" in the UK by putting a positive spin on a common slur on a billboard. "See you next Tuesday" might be often used colloquially for a word we won't be running here in Marketing mag, but Taco Bell's risk is worth the reward.
The agency behind the eye-catching billboard The Or has taken a 'Cheap Tuesday' offer and ran with it. For £2, customers can treat themselves for a taco and a soft drink every Tuesday. And, in a time of economic crisis, two quid for a meal is an absolute steal.
To advertise this special, Taco Bell's latest out of home campaign spells out "See you next Tuesday". It's a way to stop passersby, and only in the fine print do you find out just why you're being technically insulted on a billboard.
Taco Bell and its cheap offer
Lucy Dee, head of marketing at Taco Bell UK spoke about the edgy campaign. "Life can throw all sorts of curveballs at you and we all deserve something to look forward to," says Dee. "The Or have perfectly grasped this through the lens of British humour, creating an eye-catching campaign that frames Taco Tuesday as a weekly highlight and unmissable pick me up."
Dan Morris, ECD at The Or added to Dee's comments. "The incredible offer of a £2 taco and drink in this economy is almost guaranteed to become a landmark weekly moment," he says. "In fact, it's so powerful that Brits may even start using 'See You Next Tuesday' as a way to describe the uplifting spa day for your soul that bargain tacos give you, rather than to hint at a certain offensive slur. Hopefully."
So, next time you think you're being called a 'See you next Tuesday', check the fine print. Perhaps it's not as sinister as it looks.