Sale events were once just nice opportunities for extra savings, but present economic pressures are forcing greater consumer interest in days like Black Friday, reports Scott Rogers-Jones of Similarweb.
For the average Australian, times are tough right now. 
With interest rate rises back on the agenda and inflation remaining stubbornly high, the usually festive Christmas season ahead could stretch already strained budgets beyond breaking point.
But rather than cancel Christmas, Australian consumers are adapting.
After analysing Australian web traffic and search engine queries over the past year, Similarweb has discovered an emerging consumer trend where shoppers desperate to make every dollar go further are flocking to online sales events. 

Retail sales events of 2023
When combining the seven largest events (Amazon Prime Day, AfterPay Day, EOFY, Click Frenzy, Boxing Day, Cyber Monday and Black Friday), we can see searches began spiking in May with a 223 percent surge in sales-related queries.
While this initial spike in activity was likely buoyed by the tax-time specials on offer during EOFY sales, there have consistently been more than 340,000 sales searches every month since.
Last month, however, this activity went into overdrive with almost a million individual sales event searches.
If the end of the financial year was behind the flurry of activity in May and June, what has been the catalyst for October's spike?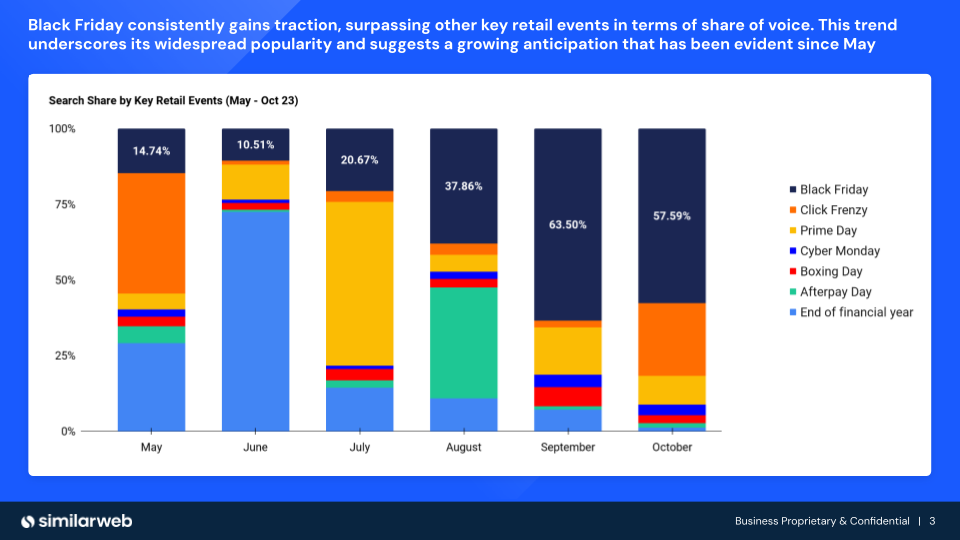 Despite being relatively new on the Australian sales calendar, Black Friday is now by far the most popular retail event. 
Black Friday takes place on 23 November this year but there has been significant consumer interest in the event since July, when more than 20 percent of all sales searches were for Black Friday.
This sustained interest over the past four months shows us that consumers looking to make ends meet are planning their purchases around these events and – in the case of Black Friday – are doing so far in advance.
While there is some monthly fluctuation each month (EOFY saw the highest interest in June, Prime Day in July and AfterPay day in August) the continued interest in Black Friday over so many months suggests Australian families will be scouring the sales for Christmas presents this year.
In comparison, Boxing Day sales see relatively little interest. Our assumption here is that because Boxing Day is after Christmas Day, it is held too late to feature in Santa's shopping plans.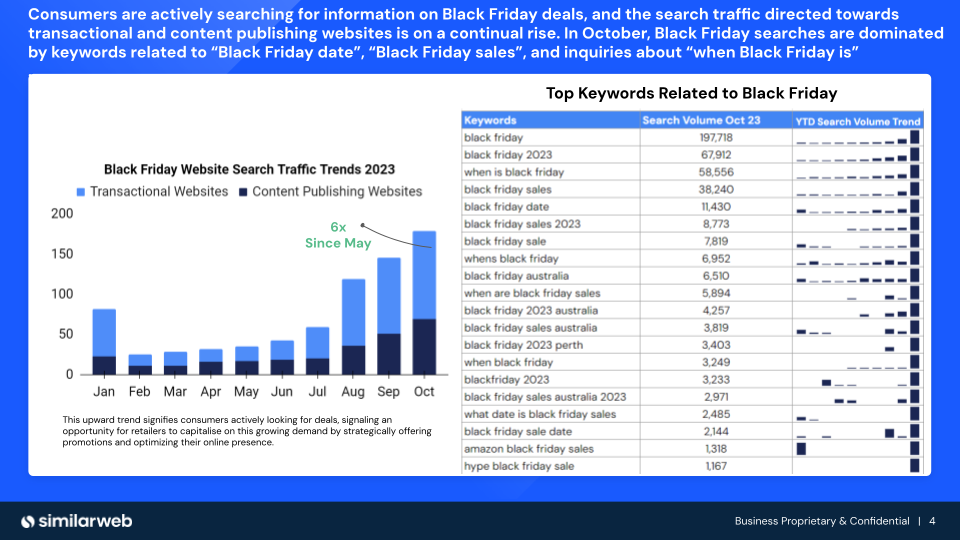 Black Friday the retail standout
If we zoom in to the specific searches driving Black Friday interest, we can see the nascent nature of the event means Australian consumers are still coming to grips with its logistics.
Unlike Boxing Day, which is always tied to 26 December, Black Friday's date shifts each year. As a result, some of the leading searches were around general information like 'when is black friday', 'black friday date' and 'when are black friday sales'.
Marketers can leverage this information to tailor their promotional strategies, enhance online visibility and optimise their websites for these key terms.
One strategy to capture the attention of consumers actively searching for Black Friday information could be to post blogs well in advance, highlighting when the sale takes place and teasing some of the brand's planned deals.
Australian retailers, much like consumers, are still getting used to the event, but there are some clear standout brands gaining massive traction through Black Friday search activity.
JB Hi-Fi is in a league of its own, commanding fifty-eight percent of all related traffic to transactional websites. Catch, Big W, The Good Guys and Target are also effectively marketing their upcoming sales, with each securing more than five percent traffic share from Black Friday keyword searches.  
However, not all Black Friday searches are generic.
The products dominating interest
By analysing the top product searches we can uncover the trending items that will be in high demand this year.
With school formals around the corner, 'formal dresses' and 'graduation dresses' are generating significant interest. Given Black Friday's timing in late November, this trend will likely appear every year.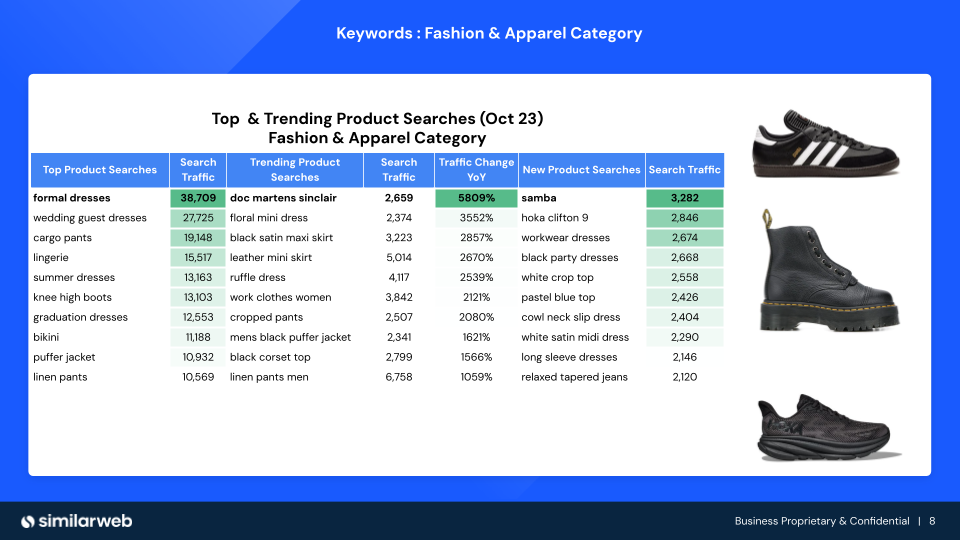 Shoes are also high on the shopping list with searches for 'Doc Marten Sinclair', 'Samba' (a model of Adidas shoe) and 'Hoka Clifton 9' growing rapidly.  For marketers, this data is invaluable when planning Black Friday promotions. By offering special deals, discounts or bundles around these products, your brand can stand out from the competition during this key event.
While we've seen an uptick in fashion and apparel related searches, Black Friday has traditionally been an event geared towards consumer electronics. As such, shoppers of these products know to expect significant discounts during the event.
Perhaps unsurprisingly the PlayStation 5 (PS5) is the most sought after product in this space – it is no doubt included on the Christmas lists of many Australian children. 
Kindles and iPhones are also extremely popular – appearing in the Top Product Searches, Trending (fastest growing) Product Searches and New Product Searches – as are portable air-conditioners. 
With warnings to expect a particularly hot summer this year, it makes sense to see these feature so prominently.
However, one product's popularity in this data isn't as clear cut: Ninja Creami.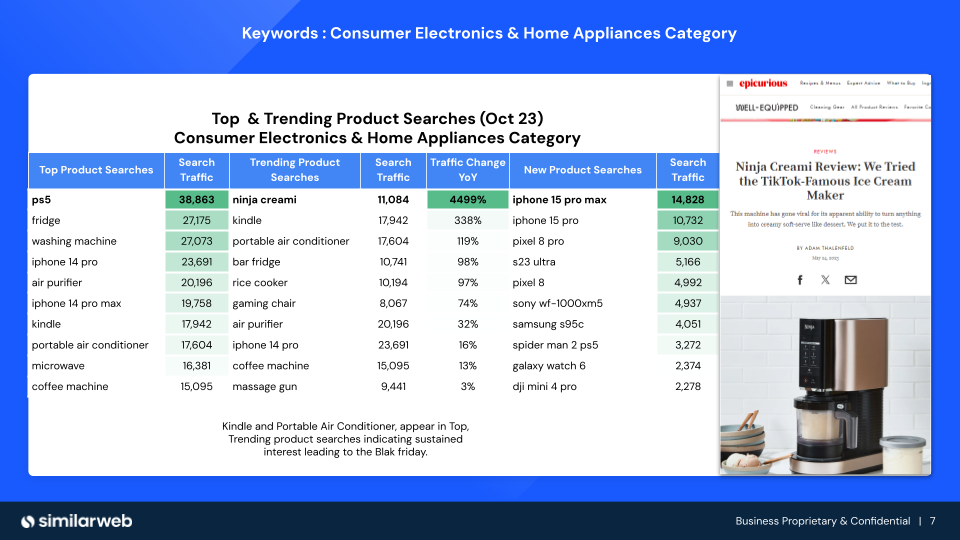 The TikTok influence on Black Friday
The Ninja Creami is essentially a home ice-cream maker. Typically for appliances like these, it is rare to see a specific brand feature so highly – we'd expect to find the generic term 'ice-cream maker' as we see in this data with 'coffee machine', 'microwave' and 'rice cooker'.
So why has this particular product seen almost 4500 percent growth? 
TikTok.
There is a TikTok trend that has featured prominently in feeds over the past few months of influencers sharing their Ninja Creami recipes. From ice-cream and gelato, to smoothies and protein bowls, videos of people using this appliance are seeing massive engagement due to how quick and easy it is to use.
Not only does this insight help digital marketers optimise their Black Friday messaging, it also shows the direct impact an effective social media campaign can have on generating demand.
Until interest rates and inflation return to more manageable levels, Australian consumers will continue to feel the cost of living squeeze. Retailers too are struggling with the cost of doing business, so data-driven insights like these can help ensure every marketing dollar you invest gets the most bang for buck. 
Scott Rogers-Jones is enterprise sales manager at Similarweb ANZ. For more of his analysis into consumer trends, click here to check out his webinar: 'Surviving the Cost of Living Crisis: An Australia Ecommerce Market Analysis'.