Tony Ferguson weight-loss brand's journey from rock bottom to all-new in nine months
For weight-loss brand Tony Ferguson, quick early growth was followed by ambitious overseas expansion plans, a reputation for being a 'quick fix' and an eventual slide into administration. Now, pharmaceutical company Symbion has teamed up with Terry White Chemists to take over and relaunch the brand with a renewed brand mission and look – all pulled together in just nine months. 
The Tony Ferguson weight-loss brand has endured some struggles since an initial bout of fast growth. The brand's weight-loss program involves regular consultations with a pharmacy representative and the use of products such as meal-replacement ready-to-drink shakes. Since starting up in 2006, local success inspired the brand to expand overseas but a series of issues led to the company going into administration last year.
Since then, two key stakeholders have teamed up to rescue the brand, Terry White Chemists and pharmaceutical distributor Symbion. The companies took over in December 2013 and the Tony Ferguson brand has relaunched in September 2014 with new products, packaging, digital assets and a renewed mission focusing on 'weight loss for life', distancing the brand from the reputation it developed as a 'quick fix' program.
Marketing manager Scott Haywood talks us through the brand transformation the small team pulled together in just nine months.
Marketing: Let's start by talking through what the brand is about and what that's involved in the relaunch.
Scott Haywood: Okay, so just by way of background, Tony Ferguson was launched initially in late 2006, it had meteoric rise in a very, very short period of time, it was developed specifically for, and only available in pharmacies. It was a weight-loss program based on meal replacements for convenience, but also for the first time in pharmacy it had a consultation model – a support mechanism built in. People would go to their pharmacy and speak to the pharmacist or a pharmacy employee, often a naturopath or something like that, and so they would be getting the support they needed as well as the shakes. That led to some really successful weight-loss stories, word of mouth spread and before you knew it it was a huge brand overnight. Since that time, because they had such meteoric rise, they got very ambitious – they decided to go overseas to markets like the UK and South Africa and they kind of dropped the ball a little bit. In that time I suppose the standards dropped in-store with that lack of focus, and so people tended to buy the product off the shelf without consulting. And so the weight loss wasn't as high and people weren't as successful.
So we've completely relaunched. We've revamped and improved the whole existing product range and we're expanding the range so we've added a whole host of different products in different categories. We've got effectively two distinctive ranges – a behind-the-counter range for members only, the ones that you can buy only in a consultation, our practitioner-only range. And we've got an off-the-shelf range, so its pretty much includes things like calorie-controlled snacks, ready to drink shakes, but anyone can buy those.
M: So previously there weren't two distinct ranges. There were products that were supposed to be practitioner-only but then people were actually just buying them?
Correct, originally that was the case. Over time, the brand dabbled in some off-the-shelf products, but we're taking it to a whole new level. We've opened up our markets – some people might not want to go on the program but if they're looking for a healthy lunch or snack they can drop by their local chemist.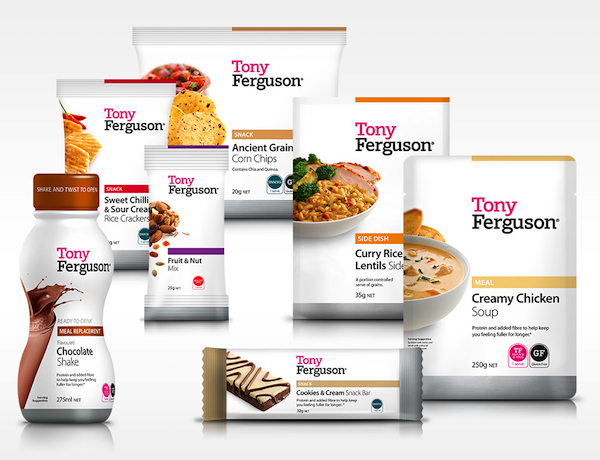 M: At the point that the company went into administration, it had been around for eight years and the market would have changed dramatically, including health guidelines and things like that. How has what people want out of a weight-loss program changed since the program was originally started?
SH: Absolutely, it's such a complicated market – there's people that want different things. That's why different diets become popular for a while and then they tend to fade away.
But we know what works – Tony Ferguson knows that support is a really really important part of it. Most people want convenience, so we tend to see success of the meal replacement shakes. So we combine those things, they're the core elements. We've redesigned our weight-loss shakes so they're a bit more filling, they've got more protein and fibre in them to keep people feeling fuller for longer.
The reasons people tend to go off diets and weight loss generally is that they're hungry or they lack the willpower and give up. That's the role of having a support network in place. The other thing is they take failure as an absolute, so they may have a weak day or a weak couple of days and all of a sudden they think they're a failure and they're not. So one of the things that we want to instill is, and thats where the support comes in, people go off their diet plans on a regular basis but doing it for a day's not a failure – you can hop back onto it the next day.
M: And is there more competition in this space in recent years?
SH: Absolutely, there's a whole lot of competition in pharmacy, and obviously Light N' Easy, meal delivery services and all that sort of stuff are starting to grow as well. It's a very competitive industry, always has been, but just gets more and more competitive every year.
M: How do you cope with that in terms of segmenting the market and looking at who your ideal customer is?
SH: We're certainly not quick-fix, and the brand probably got a reputation for being quick fix. That's why we changed our positioning statement to 'weight loss for life' because it genuinely is about weight loss for life. We're not typically there for people who just want to lose a couple of kilos, drop a dress size for an event that's coming up, we're for people who want to lose a significant amount of weight, whose BMI is significantly high. Our goal is to help people lose weight with our products, but then eventually educate them about portion control and the five food groups, so that by the time they've finished our program they'll actually just be eating a normal healthy diet. We almost want them not to be consuming our products in large quantities moving forward, and thats the ultimate success for us.
M: How do you deal with keeping a consistent brand image through the in-store consultants? It must be difficult to control in a way.
SH: It is difficult but they get comprehensive training – you can't sell the product to a member without having been qualified or trained. We have regular updates, we send them emails each fortnight with any updates on the program and a reminder to things. We've got our state sales managers who are always out visiting stores, talking to the consultants about the processes and procedures and that sort of thing, so we take that very very seriously. Operational success is the key and we take it very, very seriously.
M: What about your promotional strategies to get more people on board? Is it mainly through the chemists or have you been getting into digital marketing and that sort of stuff?
SH: Point-of-sale in store is a really significant one. But we've had a national advertising campaign since our launch on the first of September, which is the first one in quite some time. In certain markets it's at saturation levels on TV, we've been in all the major national women's magazines at launch, and obviously digital you mentioned. We've relaunched our Facebook page, we've got a brand new website, we've got a dedicated members database website that has weight-loss tools that our members can access and recipes and those sorts of things. We're about to launch a new phone app, that will allow them to track their weight and check off all their meals for the day and that sort of thing. So it's been quite a comprehensive program.
M: Starting out long ago in terms of the digital space, things must have changed quite a lot in how those channels work for you?
SH: Absolutely, one of the significant changes is when Tony Ferguson first launched, forums were really really big, and a lot of people used the Tony Ferguson forum to offer each other support, and get support and advice and share stories. Since that time, forums have pretty much died off and Facebook has taken over. So not only do we have a Facebook page but we have a support group page thats a members-only section on Facebook, acting the same way that the old forums did. It's amazing just how active people are on it, you can see that people's enthusiasm builds and they really do get encouraged by sharing their journey and other people's journeys at the same time.
M: Great, and what about the packaging itself? What changes have you made to the look of it?
SH: For the practitioner-only range of products, we wanted that to appear as scientific as possible, so we took any appetite appeal cues off the packaging. There were some very small cues like on the chocolate shake packaging there was a cut-off of a block of chocolate on there, and on the strawberry one there was a picture of a strawberry. We completely removed all of those. Making it easier for people to understand, we developed a series of symbols particularly around the five food groups, and so all of our products contain a symbol that they relate to the program.
Someone who's looking at their meal plan for the day can look at the product packaging and see the direct link between the eating plan and the product. But obviously on the off-the-shelf range, the impulse range, the brief was quite different. It was all about dialling up the appetite appeal, making it as attractive as possible, and if anything maybe dialling down the scientific element of it. So completely briefs, but at the same time the challenge was to make sure that people knew at a glance that they could see that family resemblance between them. I think Ishimodo did a fantastic job in doing all of those things.
M: Thanks so much for the chat, Scott.
SH: No worries. It's got off to a great start and we hope that momentum continues.