Tourism Australia CMO on showcasing the coast, tackling conversion and achieving digital greatness
Tourism Australia recently announced it is working on a major campaign to be launched next year showcasing the aquatic and coastal regions of Australia.
Shooting from late September to mid November in all Australian states and territories at a cost of about $5 million, the aquatic and coastal edition of 'There's Nothing Like Australia' will feature lesser-known locations (including Katherine Gorge, Rottnest Island, Lake Burley Griffin, Glenelg, Kangaroo Island and Tasmania's Three Capes Track Walking Experience) alongside world-famous destinations (including Sydney Harbour, Great Barrier Reef, Whitsundays and Twelve Apostles).
Tourism Australia plans to spend $40 million launching the campaign in January and February 2016 in all its key markets including China, US, UK, New Zealand and Japan.
CMO Lisa Ronson has had "a very, very big but fantastic" nine months since taking over the role from Nick Baker in February. With a career background spanning multiple industries – banking, retail, telco and FMCG – Ronson is enjoying her introduction to the tourism industry and the TA team.
Marketing caught up with her between flights around the country to chat about how she has settled into the role, key challenges for TA, and the strategy behind the new campaign.  
Marketing: You took over from Nick Baker as Tourism Australia CMO in February. What can you tell me about some of the challenges you've faced so far?
Lisa Ronson: My areas of focus since I started have been very much on focusing on my team and my people, getting to know them, understanding what their challenges are, and structuring the marketing team to be a lot more streamlined, a lot more simple, and to enable some great collaboration and innovation, some new fresh thinking.
The second focus is, I'm not from the industry, so it's been very important for me and for my learning to get out and spend a lot of time with the industry again understand what are their challenges, how can we help and how can we keep getting better and better and better.
And really setting up the campaign construct for what are going to be the proof points for 'There's Nothing Like Australia' in the coming year and years, with aquatic and coastal being a focus.
The other one's been from a digital point of view.
M: You mentioned that you're not from the industry. How has TA been compared to places you've worked before? Has anything surprised you about this industry?
LR: I've always been up for a challenge and changing industries. My perspective's always been, if you put the customer at the heart of everything, you do then you can learn the different industries fairly quickly. The Australian tourism industry is such a positive industry, it's growing, we've got some great product and great experiences. It's just a really terrific position to be in to be selling your country and representing all of those great industry operators that are offering fantastic experiences that a lot of them aren't offered anywhere else in the world.
M: We're speaking to lots of senior marketers lately that talk about marketing being a transferable set of skills that can be applied across industries, as well as it being refreshing for companies to take on people from across industries to get different insights.
LR: It is. The beauty of Tourism Australia is we're very much a marketing and partnership driven organisation; that's at the heart of everything we do. So it's probably a little easier than in maybe some other industries where I've worked, where it wasn't at the heart of everything.
M: Before we talk about the new campaign I just wanted to touch base on the website. Is that what you meant when you said you'd been focusing on digital?
LR: Yes, it launched I think the week I started. It's a marked improvement from what the previous site had been. But I've always got a big vision for things and I do so very much for digital. Obviously it's just continuing to grow in a multitude of different channels, so it's always about looking at the user experience and making sure that we're absolutely delivering. You can always improve what's already good so that will be my focus, to really make it fantastic – from good to great.
READ: New Australia.com takes Tourism Australia to the cutting edge of content, co-creation, data trends »
M: Is it mostly incremental changes now or has there been anything major that you've needed to look at and change direction?
LR: There've been some minor and some major. So it's small tweaks in user experience, just making it easier for the user to get quickly to the product that they want to get to and get them as close to the booking as they can, because conversion's one of our bigger challenges.
Then also starting to look at pulling through user-generated content, so taking the best of our social channels and integrating that a lot more through australia.com and australia.cn because we get 1200 photos a day from people, and a lot of it's just great content and there's something so authentic about telling the whole story of Australia from a TA perspective, from the industry and also the consumer's perspective, so we're really looking at leveraging and optimising that.
I'm big on the simplification agenda, to make it very, very easy for the customer to get to where they need to go.
A lot of people don't understand the proximity of things; where different locations are in Australia, so looking at itineraries and really focusing on what are fairly simple tools for planning a holiday, just really want to make sure that we're giving that our best.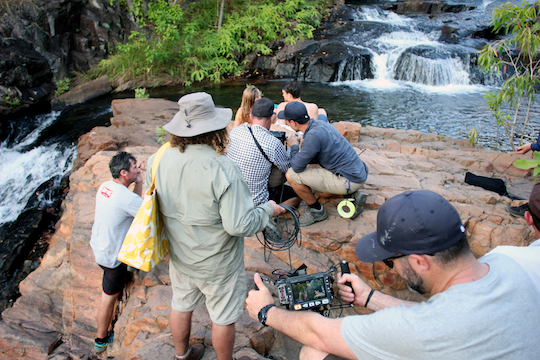 M: OK, so tell me about the upcoming campaign. What is the strategy behind the choice to focus on aquatic and coastal?
LR: It's a big competitive advantage for Australia. It's a really big reason why people travel to Australia; to have those aquatic and coastal experiences that they may not be able to experience in their own country. If we're trying to invite the world to experience the Australian way of life, which is what we're essentially trying to do, then aquatic and coastal plays a big role in that.
What we were finding is we were losing a bit of ground to our competitors and dropping a little bit in terms of salience with consumers. When you look at some different analytics, we were going back in search terms and things like that. We've got an absolute jewel in the crown with the Great Barrier Reef and the work we've done on the partnership with Atlantic Productions on the Great Barrier Reef documentary [with David Attenborough] we just felt that that again is a key proof point for the country. And then telling the broader aquatic and coastal story will really give us that strength again and that competitive advantage that we have been losing ground to some competitors more recently.
READ: Tourism Australia enlists David Attenborough to promote Great Barrier Reef »
M: Who are the biggest threats in terms of competitors?
LR: It depends by market but I can generalise to say one of the ones we've looked at is Hawaii. They've really started to market their aquatic and coastal offering really, really well. That would probably be the main one because when you look at all our research, the perception of our aquatic and coastal versus Hawaii's is about the same before people come here, but then after they've been, we really over-deliver in terms of those perceptions. They think we're good, but we're even better when they go. Hawaii's about on-par; people expect it to be good, and it's good. But we're that little bit above.
M: So am I right in understanding that the way it's working now is you have the broader platform of 'There's Nothing Like Australia' then each time there's a campaign it focuses on a different angle – there was 'Restaurant Australia', and now this aquatic and coastal one – is that what you're doing?
LR: Largely, however my strong view is that people's perceptions take a long time to change, so i'm not kind of approaching it that we'll have one campaign every six months for the next x-type years, which in other industries it's important that you do that.
For us, with food and wine, that's going to continue to be a really big focus for us because perceptions take time to change and we've got such a good and broad and diverse offering, like we do with our aquatic and coastal, we can keep telling that story because it's an important story to tell.
We know that they're both big drivers of consideration for a travel destination so we can keep reinforcing that for quite some time and there's a good intersection between aquatic and coastal and food and wine, you know, our amazing seafood. To a lot of both eastern and western markets, the freshness of that offering is what they really desire as part of their overall holiday.
M: Definitely. Speaking of which, for this particular focus, aquatic and coastal, who's the target market?
LR: We've got plans to roll it out in all of our markets throughout the world. We're spending about 40 million in the first half of next year to really leverage the campaign around the world. Our big markets are China, US, UK, New Zealand. But having said that, aquatic and coastal and food and wine will feature in all of our markets' marketing plans for this current year we're in and the remainder of the year.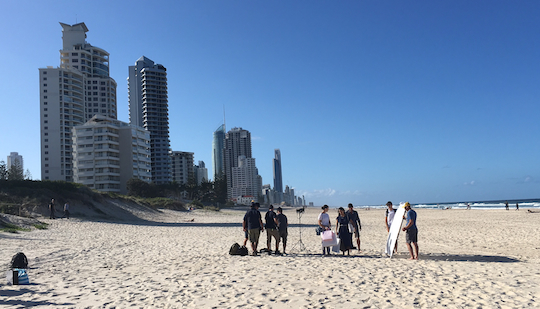 M: Does that mean you're not necessarily planning to come up with a new angle for another campaign after this? You'll just focus on these two for a while?
LR: They're the two main ones. Our campaign construct for the year ahead is, food and wine, aquatic and coastal, and then the sub-proof points are:
indigenous, because we've got some fantastic and unique experiences in indigenous product and that's what travellers are largely seeking,

events – we're looking at business events and events more broadly to create that sense of urgency to come to Australia, and

we're looking at a premium strategy as well, to focus on that really high yield customer.
M: What's the biggest issue with Australian tourism or how the country's perceived by people in other markets of the world that you're hoping to tackle?
LR: We've got great perceptions in most countries around the world. People think of Australia and they really want to come and visit, but the issue is in the conversion.
It's that conversion challenge of 'I want to go to Australia, I'm going to book it now' rather than it being more of a bucket list destination.
M: Why are people so hesitant to commit? Is it because we're so far away? Is it because we're expensive?
LR: Again, it varies by market. Overall, it is a bit of a distance thing, particularly when you go further and further away in the world, and it's a perception of 'oh gosh, it's so far away, and it's so big and how will we get around and I'll need a long period of time to see Australia', rather than thinking about it as they might think about Europe or the US to go, 'well I'll do east coast, west coast, and I'll do it in a couple of bites'.
It's changing those perceptions and understanding of what you can do, even in a shorter break, in a week or even just a  bit more, you can really see and experience a lot.
M: Thank you so much for your time.
LR: No problem.