Toyota, Lego and AFL – an unlikely trio makes memorable moments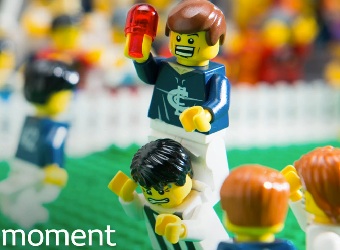 Digital communications agency, Mighty Mighty, are behind a new campaign for Toyota that recreates AFL Football's legendary moments using Lego and stop-motion animation.
The animation took over 60 hours of painstaking work to create, and the Lego figures in AFL jerseys had to be specially made at Lego's workshop in Chicago and flown to Australia.
The short animation will run on the outdoor screens in Federation Square through Finals Week, is hosted on Facebook and YouTube and made simple for fans to share with their social networks.
By bringing Lego and Toyota consumers together around a spectacular AFL moment, the campaign aims to connect multiple groups of fans with a memorable moment in AFL history.
"This is a unique piece of content for Toyota that brings to life a truly legendary AFL moment. We are looking forward to seeing this across the big screens in Federation Square throughout Finals Week," says Nic Lloyd, sponsorship manager, Toyota Australia.
The campaign centres around creating rich and sharable content, providing Toyota's fans with inspiration for creating their own video entries to the 'Legendary Moments' promotion.
Mighty Mighty co-founder, Chris Parker, says the project was more fun than he bargained for: "It is not every day that you are given the opportunity to connect three of your passions, cars, sport and Lego," he says.
The AFL will use the content across Melbourne during finals week.
http://www.youtube.com/watch?v=FRPtifEhYVU&feature=share&list=UUhaWSe-UQyKBgAElbT7AsZA