Typographer hand-paints bespoke advertising for new Kirin Cider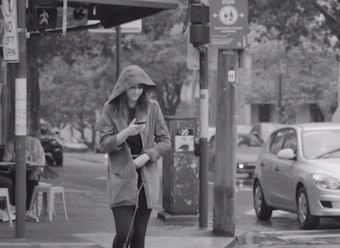 In launching their new cider range, Kirin has gone to unique lengths in marketing and advertising their four fresh cider flavours inspired by Japanese heritage and ingredients such as Fuji apple, mandarin, plum and ginger. Rather than designing ads in the traditional design mode, Sydney-based typographer Gemma O'Brien has hand-painted bespoke advertising displays for a targeted ATL Outdoor campaign.
It's a human touch, and an earthy move by Kirin that tries to connect the user on an organic level. "Crafting lettering on a large number of billboards was always an ambitious undertaking," admits O'Brien, "but it was great to be a part of Kirin Cider taking a leap with this concept, and is testament to the brand's pursuit of Inspiring Creativity.
Perhaps capitalising on the unique character nature of hand-drawn Japanese letters, O'Brien says that "The nature of this style of typography is direct and spontaneous; each billboard is unique and retains the authenticity of the hand-drawn strokes. I'm really looking forward to seeing how people interact with this campaign."
Matt Tapper, national marketing director at Lion is inspired by the innovative nature of the latest Kirin project. "The distinctive branding of Kirin Cider means you cannot help but take notice of it  – we hope that this outdoor campaign will spark intrigue and encourage people to share their 'Inspired Creativity' moments on our social media channels," he says.
Kirin Cider – Gemma O'Brien #inspiredcider from Kirin Cider on Vimeo.