The TV spot that's so good it might air at the Super Bowl for free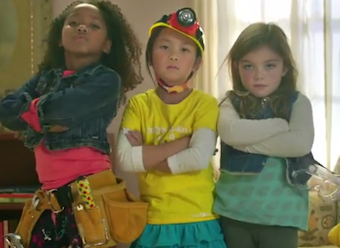 GoldieBlox, a toy manufacturer creating toys for girls who want to be engineers has created one hell of a TV spot, smashing gender stereotypes and reworking one of the possibly most anti-feminism songs of the '80's, 'Girls' by the Beastie Boys to empower young girls to want more out of their toys.
The two minute spot has received over 4 million hits over the last week and is quickly becoming an internet sensation. The spot features a complex 'Rube Goldberg' contraption that the young girls put together instead of playing with their stereotypical "dress ups" and "pink dolls".
GoldieBlox is also currently in contention to win a free Super Bowl ad paid for by Intuit as part of a small-business contest.
Take a look.
http://youtu.be/UFpe3Up9T_g