V energy drink and Halo 4 cross-promotional campaign
Campaign: V Halo 4 promotion – packaging, POS, promotion, digital
Client: Frucor Beverages
Agency: Saltmine Design Group
Background
Frucor Beverages leveraged an opportunity for its energy drink brand, V, to connect with target consumers through video gaming by forming a partnership with Microsoft for the launch of the next instalment of Halo, the Xbox 360 game series with over $2.8 billion in sales worldwide.
Through this partnership, V delivered its biggest ever consumer promotion, a multifaceted campaign centred on the launch of the highly anticipated Halo 4, in which consumers won special edition Halo 4 Xbox 360 consoles every hour for eight weeks, among other money-can't-buy prizes.
The large-scale activation began as a national on-pack promotion and then expanded to include five different account exclusive promotions for Woolworths, Coles Express, 7-Eleven, IGA and Caltex.
Saltmine Design Group designed over 60 touch points for the campaign, including packaging, point-of-sale and digital design, as well as sourcing the prize pool and providing full promotional management and fulfilment.
With prizes including a unique, custom- made gaming pod complete with a special edition Xbox console and TV valued at $50,000 and a Jeep Wrangler skinned with the background pattern of the promotional V green cans, the total prize pool came to a value of more than $450,000.
Objectives
V Energy Drink wanted to deliver its biggest ever consumer promotion to engage consumers around the passion point of gaming. The key objectives were to:
Grow top-line sales by switching consumers in the category to V through the offer of a new, limited- edition flavour and money-can't-buy prizes in a nationwide promotion, and
switch elapsed gaming consumers back into the V brand by offering a promotion that appeals to them.
The specific objectives for Saltmine were to:
Seamlessly bring together two brands, V and Halo 4,
create a limited-edition promotional can for the V green range, including a promotional lock-up that could translate across all touch points,
bring the Halo 4 brand to life on a limited-edition V can – Purple Plasma – while maintaining the design integrity of both brands,
create launch support in more than 60 different touch points, including packaging, point-of-sale and digital,
ideate promotional mechanics and unique prizing for a major national promotion, as well as five account exclusive promotions, and
provide seamless promotional management including trade promotion permit applications and prize fulfilment.
Strategy
The starting point was to address the design challenge of how to merge the world of V with the world of video gaming. Saltmine's creative team was inspired by common themes and graphics that could link V Energy Drink with Halo 4 to ensure seamless brand collaboration. The team identified Master Chief (Halo's enhanced super-human soldier) as an iconic figure of the Halo game franchise and an inspiration to bring to life on pack.
Running concurrently with the creative team's research, Saltmine's activation project team developed the execution plan for the promotion and began ideation for the prizing and mechanics for the six promotions, which included responsibility for sourcing the prize pool and full promotional management. There was not only the national on-pack promotion to consider, but also five different account exclusive promotions, each of which required a unique, money-can't-buy prize, trade lottery permits, mechanics and fulfilment, as well as point-of-sale and digital support materials.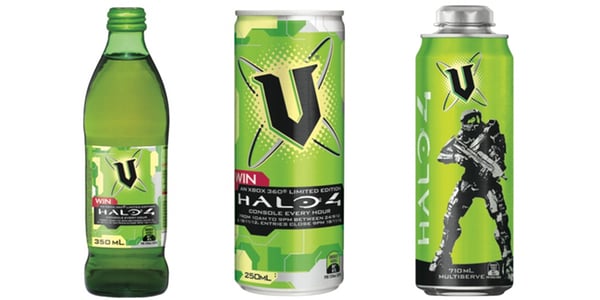 Execution
The first task was to develop packaging for the existing V green variants, as well as the new limited-edition flavour and a new 710-millilitre resealable can – never before offered to consumers. The packaging design would communicate V's partnership with Halo 4 and launch the large-scale nationwide promotion. Saltmine's creative team mixed the darkness and moodiness from the Halo gaming imagery with the prominent V brand mark and iconic V green colour. This ensured the design remained true to the style guides of both brands. The patterned background of the core V green range and multipacks was inspired by Master Chief's armour.
A 'win' lock-up device was created to clearly display promotional details on the front of the pack. Master Chief was further leveraged on-pack for the limited-edition tropical flavour 'Purple Plasma' and the brand new, giant 710-millilitre green can, which featured an image of him in full. The designs were then rolled out across multipacks as well.
To ensure an impactful launch, Saltmine developed an extensive point-of-sale suite comprising 17 pieces including 3D wobblers, posters, floor media, fridge stickers and a 1.5-metre standee of Master Chief. Elements of the game were also transferred into the point-of-sale design, with bottles and consoles emerging from the vortex, creating an interactive concept for the consumer.
The promotional lock-up from the packaging was translated to the point-of- sale suite for message consistency.
Saltmine also designed the promotional hub page, through which consumers could enter all the different promotions.
The website was optimised for use on mobiles and tablets. The campaign rolled out online through V Energy Drink Australia's Facebook page, boasting over 480,000 fans.
In addition to the major nationwide promotion, Saltmine created five account exclusive promotional campaigns, with amazing money-can't-buy bespoke V prizes. These included such prizes as a custom V Halo 4 gaming pod, designed by Saltmine. Other prizes included 12 limited edition Halo 4 Xbox 360 consoles, four surround sound systems, a trip to (the electronic entertainment expo) E3 in the US and a trip to Comic-Con – every gamer's dream.
Results
The final result was a strong brand campaign, supported by six compelling consumer promotions with designs that deliver strong standout in-store.
Over eight weeks, the successful promotion:
Received over 195,000 entries,
exceeded Frucor's ambitious case sales target by 3%, and
saw the limited-edition flavour sell out in less than five weeks.